Patriots vs. Ravens: How Baltimore Will Attempt to Cover TE Rob Gronkowski
Al Bello/Getty Images

Stopping New England Patriots tight end Rob Gronkowski is practically impossible.
With the Baltimore Ravens coming to Gillette Stadium this Sunday in a battle for the AFC Championship, Ravens coach John Harbaugh is going to have his hands full trying to find a decent matchup against the hulking tight end. This isn't something new, however, as Gronk's emergence has probably left multiple head coaches up at night this season.
Gronk is Tom Brady's favorite target, or at least he is the "1b" to Wes Welker's "1a," and he is a dominant force in the red zone.
Last year as a rookie, Gronk hauled in 10 touchdown passes on just 42 receptions. This season, the monstrous tight end went berserk. He smashed the all-time tight end record for touchdowns by grabbing 17 (the previous record was 13), and he even added a rushing touchdown for good measure.
Gronk stands at 6'6" tall and weighs in at 265 pounds—getting in his way is not fun.
This past weekend against an undermanned Denver Broncos secondary, Gronk gathered three more touchdown receptions. With Brian Dawkins out, the Broncos secondary lacked the physical presence necessary to contain such an imposing tight end and were left scrambling all night.
While Big Rob was pretty wide open on his last two touchdowns, his first touchdown catch was spectacular.
This Sunday, Harbaugh will have a few options. Let's dissect each potential defender and figure out which gives Baltimore the best chance at slowing down touchdown-machine Rob Gronkowski.
Begin Slideshow

»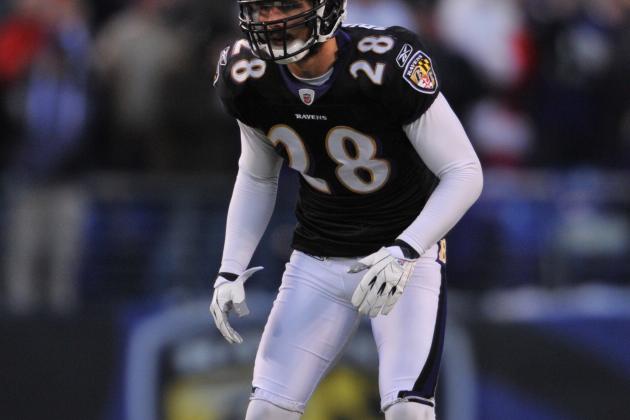 Larry French/Getty Images

Tom Zbikowski is a fighter. Literally.
Zbikowski was a boxer in college and, after taking a hiatus to play for the Baltimore Ravens, continued his boxing career during this summer's NFL lockout. He's a beast of a man, vicious as a hitter on unsuspecting wide receivers and tight ends.
Unfortunately, his toughness and tackling hasn't translated to much NFL success.
Zbikowski is Bernard Pollard's backup and will likely remain as a backup this Sunday. His size and strength would be an asset against a player like Rob Gronkowski, but his coverage skills are not up to par.
Z could see time as a "shadow," but asking him to cover Gronk one-on-one is a joke. Expect limited snaps from the hard-hitting safety.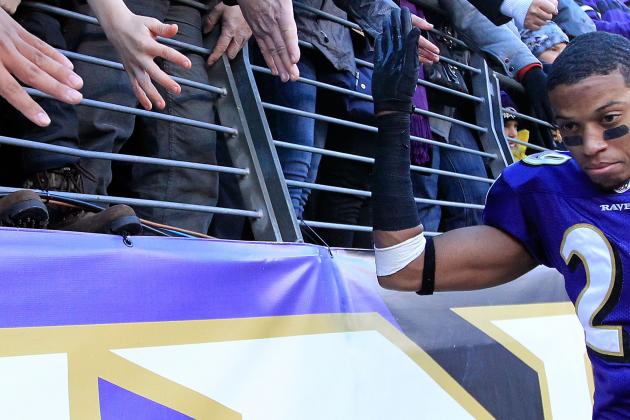 Chris Trotman/Getty Images

For the starting CB2 on a top Baltimore Ravens defense, Cary Williams has gone pretty under-the-radar this season.
Williams was a seventh-round pick back in 2008 and finally got his chance to start this season. While the interceptions aren't there yet, the Miami native displayed strength as a tackler (he finished with 78) and adeptness as a playmaker (despite no picks, Williams forced two fumbles and defended 18 passes).
It is hard to get a read on where Williams stands this season. He seems to have graded out pretty well and he beat out a talented cornerback duo of Jimmy Smith and Chris Carr for the No. 2 spot. Other than that, there isn't much fanfare surrounding his ascent from special-teamer to starter on one of the NFL's best defenses.
With his speed and height, Williams would be an ideal matchup for a different New England Patriots tight end—Aaron Hernandez. I don't believe Williams matches up physically with Rob Gronkowski, and expect coach Harbaugh to keep Williams on Hernandez, Wes Welker or Julian Edelman.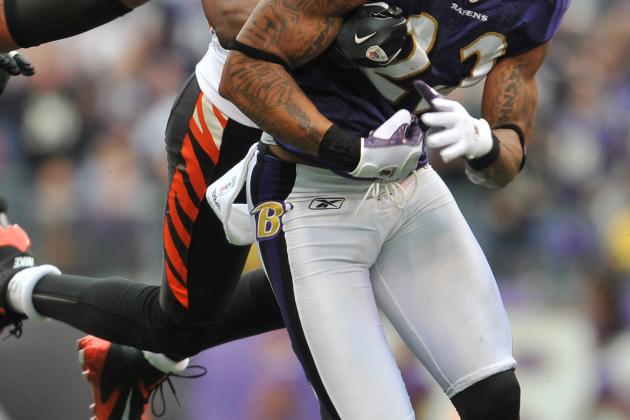 Larry French/Getty Images

Rookie Jimmy Smith is the Baltimore Ravens' third cornerback, but he is one of the most physically gifted in the NFL.
With his size and athleticism, he would seem to be an ideal fit to guard Rob Gronkowski. He has a knack for the big play (despite limited playing time, Smith had two interceptions and eight passes defensed) and really improved as the season went on.
The first-round pick was expected to start across from Lardarius Webb but ended up missing the first six games of the season with a high ankle sprain that he endured on Baltimore's first kickoff of the year. His tenacity and explosiveness made him a draft-day must for Ozzie Newsome and the Ravens' brass.
Smith had a solid year, but had a lot of trouble in Week 15 against 6'5" wide receiver Malcom Floyd. Floyd torched Smith and the Ravens secondary for five catches, 96 yards and a touchdown (with Smith trailing in coverage).
The rookie will likely see some time against Gronk on Sunday. Smith should be thrown on Gronk as Baltimore mixes its coverages in an attempt to confuse quarterback Tom Brady.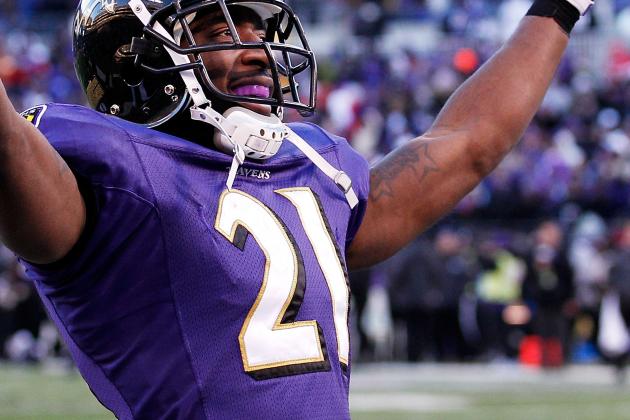 Rob Carr/Getty Images

Lardarius Webb has been phenomenal this season.
Bleacher Report NFL lead writer Matt Miller wrote the following about Webb:
No cornerback in the NFL has me more excited for the start of the 2012 season. Webb is poised to explode next season. If he's somehow still under your radar, it's time to expand your network. Webb graded out as a top-five cornerback for me this year...Webb has All-Pro potential.
Hard to argue with the guru on this one. Considering Webb's size and skill level, I am fully expecting Coach Harbaugh to match him up one-on-one with New England Patriots catch-wizard, Wes Welker.
Welker led the NFL in receptions (122) and yards after catch. Taking away Welker is just a piece of Baltimore's defensive puzzle this Sunday, but with Webb the Ravens at least have someone they can count on to limit Tom Brady's favorite wide receiver.
I do not expect Webb to spend any time matched up against Rob Gronkowski.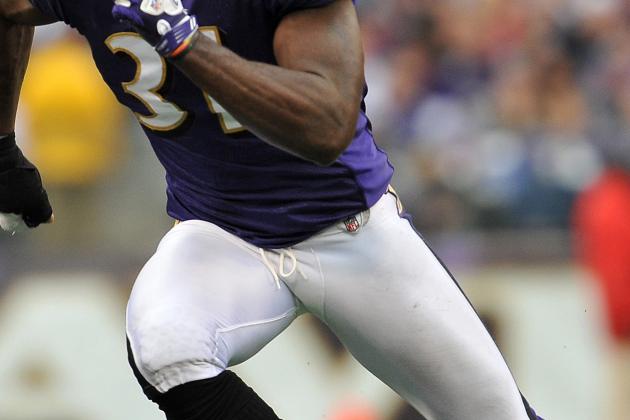 Larry French/Getty Images

Bernard Pollard has some of the best size in the NFL at the safety position. An all-around player, Pollard finished with 75 tackles, two sacks, one interception and three forced fumbles.
One of the most punishing hitters in the game, we all remember what happened when Pollard matched up against Tom Brady as a member of the Kansas City Chiefs in 2008.
The Purdue grad is a very good tackler, a terrific blitzer and has a knack for jarring the ball loose with his pulverizing hits. However, as a cover man Pollard leaves a lot to be desired. I'm not saying he can't cover, I just wouldn't consider it to be one of his strong points.
With that being said, Pollard should see significant time one-on-one against Rob Gronkowski.
The New England Patriots tight end was magnificent this season, but did meet his match in the Pats' Week 4 game against the Oakland Raiders in the form of safety Tyvon Branch. Branch, a similar build to Pollard, hit Gronk at every turn and limited the star tight end to just one catch for 15 yards.
While Gronk has certainly improved, judging by the fact that he has at least four catches in every game since, Branch did lay out the blueprint for slowing No. 87.
Play him tough, play him straight-up and smash him every chance you get.
That is Pollard's game, and I think Coach Harbaugh will test that matchup throughout Sunday's contest.
Rob Carr/Getty Images

Ed Reed was spectacular in the divisional round, helping shut down the Houston Texans offense with an interception and four passes defensed.
Reed definitely didn't have one of his finest seasons this year, finishing with just three interceptions, but with his performance last weekend, I highly doubt Tom Brady and coach Bill Belichick will be overlooking him in team meetings this week.
Arguably the greatest safety of all time, there is no debate that Reed is the best ball-hawk in NFL history.
He somehow comes up with every tipped pass, every overthrow and really any pass thrown in his direction. His instincts are second-to-none, and he always is in the right place at the right time.
Brady has long said that Reed, along with Pittsburgh Steelers safety Troy Polamalu, is one of those guys you need to be aware of every second of every game. Because if you don't, he will make you pay.
On Sunday, Reed will probably do his usual thing. He will play "centerfield," roaming around, trying to read Brady and make plays. Whether that involves Rob Gronkowski or not depends on the play, but I would be shocked if Coach Harbaugh limited Reed by putting him exclusively on Gronk patrol.
Reed will affect this game, no doubt, just don't expect it to be against New England's No. 87.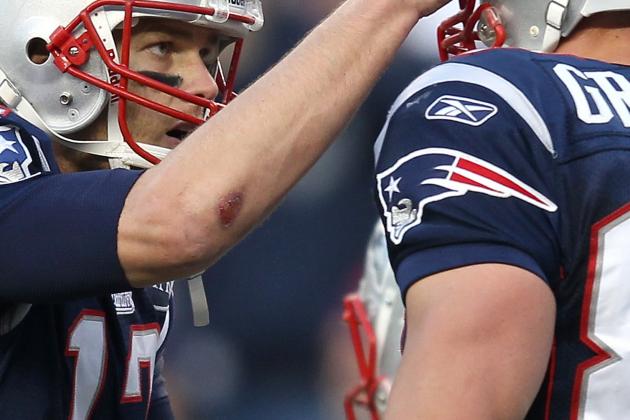 Jim Rogash/Getty Images

With the Baltimore Ravens' aggressive style of defense, I would be surprised to see many double-teams on Rob Gronkowski outside the red zone come Sunday. The Ravens will mix their coverages, probably with Bernard Pollard, Ed Reed and Jimmy Smith all taking turns on Gronk.
Inside the red zone, Gronk will probably get double-teamed, with a combination of Ray Lewis and Jameel McClain underneath, and Reed or Pollard over the top.
No matter what happens, I expect Gronk to have a pretty big game.
Baltimore, like basically every other team in the NFL, isn't well equipped to handle the New England Patriots' remarkable trio of Gronk, Aaron Hernandez and Wes Welker.
With single coverage all over the field and ample time to throw the football, Tom Brady should be able to dissect the Baltimore secondary.
If, however, Terrell Suggs, Haloti Ngata and Co. can put pressure on Brady up front, the Ravens will have a chance to hold a red-hot Patriots offense under 30 points. As usual with New England, it will all come down to offensive line play.
If the line holds, expect Gronkowski to continue his romp through the playoffs with another monster game. However, if the line falters, the Ravens may just be able to contain the unstoppable New England tight end.