Monday Night Raw Results 1/16/2012: The Top 5 Questions Going Forward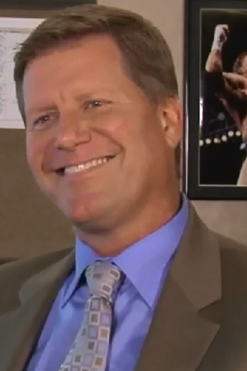 http://www.thejohnreport.net/2011/12/11/the-sunday-sharpshooter-john-laurinaitis-is-awesome-and-you-know-it-by-thomas-briggs/
John Laurinaitis snapped. I know I'm scared.
Tonight, we witnessed two matches involving Jack Swagger, "Funkasaurus" and Chris Jericho doing nothing. Again.
As I do every Monday night following Raw, I present the "Top Questions Going Forward."
These questions are meant to stimulate conversation and give us pause, so we can examine current storylines.
Shall we have it?
Begin Slideshow

»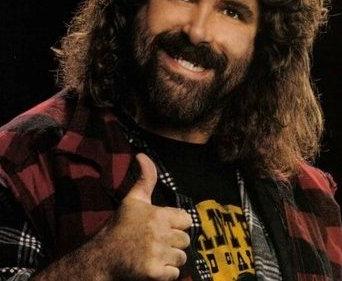 http://www.poptower.com/mick-foley.htm
"Just go away" are the words Dolph Ziggler screamed into Mick Foley's face tonight. I could not agree more with Ziggy.
I am sorry this article is starting off so strongly against a guy like Mick, but enough is enough. We have seen the best of Mick Foley and I just cannot support him anymore. I have always respected Foley's contributions to the WWE, but his time is up and he needs to get off television.
Foley has proven repeatedly in the last few months that he can no longer handle a mic like he used to. Tonight he also confirmed that he would NEVER be able to put on a decent match again.
The fact that he is teasing a return to the ring is just maddening. After thirty seconds in the ring, Foley was panting and breathing hard. Even the most diehard Foley fans have to feel somewhat embarrassed. The man is clearly out of shape, even for Mick Foley's standards!
I was open to Foley coming back in a support role or even a General Manager role, but after his "This is your life" segment with John Cena, I began to question if a full time on-air role would be good. After tonight, I am convinced Mick Foley needs to retire, period.
WWE Creative should just play reruns of the "Attitude Era" if they want to keep bringing back guys like Chris Jericho, Foley and the Rock. We have seen the best of what guys like Mick Foley have to offer, and there is no reason to tarnish their legacy by making them look like shells of their former selves.
I do not want to come across like a Foley hater, which some are quick to label me as if my view differs with their own, but at what point does the WWE move on from these guys and start creating the stars of tomorrow?
The Attitude Era is dead and you cannot bring it back by having guys like Foley march out there and embarrass themselves in today's WWE. I love seeing stars of yesterday make surprise visits, but that does not mean I want them to come back and try to party like it's 1999 anymore.
It may not be a big deal if Foley were to enter the Royal Rumble match as one of his personas, but it will hurt the current roster if they made Foley one of focal points of the match. I do not need to see Mick Foley trying to win the Rumble so two of his kids can watch him fight.
Instead, I'd rather see young, up and coming stars fighting it out to the end to earn a shot at main-eventing Wrestlemania.
The Rumble has always been a great place for rising stars to get their break. Guys like Shawn Michaels, Steve Austin and Yokozuna all began their main-event pushes after winning the Royal Rumble match.
The WWE currently has a few guys that could greatly benefit from a Rumble victory, or at least close to one. Mick Foley has no place as one of the last competitors in the Rumble because that takes away from current or rising stars.
The only point in having Foley come out and steal the show is to provide a temporary feeling of nostalgia to fans my age.
I am sure some readers are upset with me for suggesting that Foley leave, but I will remind everyone that Foley would never had gotten his place in history if others before him did not leave the spotlight.
As much as I loved watching that era of wrestling, it is over. I want to see the next era we will be talking about 10 years from now.
Mick, it is time to hang up your sock and let others have a turn.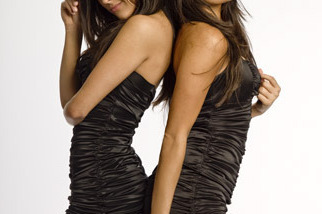 http://1.bp.blogspot.com/
I'm sure if we wait a few more weeks, we will understand why the WWE is having all of these tag team matches involving the divas.
Oh wait, I temporarily forgot that the WWE does not care about the divas and just throw them in repeat tag team matches for some reason.
Two weeks ago on Raw we all had to watch the Bella Twins beat Eve and Kelly Kelly. This week Kelly Kelly and Alicia Fox defeated the Bella Twins.
What do these matches prove?
I am sure I have typed that sentence before but I am forced to type it again, since we watched yet another meaningless tag team match involving the divas. The worst part is that we are basically watching the SAME match over and over again! Why should I care if this time the Bellas lost?
How about a No. 1 contender's match to determine who will face Beth Phoenix?
I know, I forget who Beth Phoenix is as well. She is the Diva's champ that only comes out at pay-per-views to face someone who just gets thrown into the match with her.
Does anyone enjoy these tag team matches? Aside from ogling Brie Bella, I lose interest after the bell rings. These matches are meaningless and do nothing to further the division.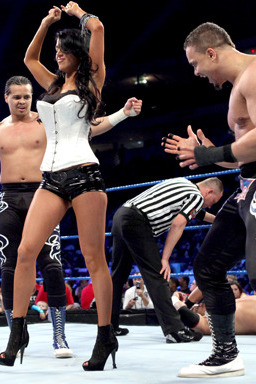 http://quickwrestlingnews.com/2012/01/breaking-news-new-wwe-tag-team-champions/
Is it just me or have there been a lot of championship matches on Raw and Smackdown?
Two of the major contributors, among MANY things, that lead to the downfall of WCW was relying on older stars and having title matches on weekly shows instead of PPVs. Well, I have covered the "older stars" portion of this article, so let's talk about title matches not being on pay per view.
I am not suggesting that the WWE should not have a title match here or there on Raw or Smackdown but you have to admit that we are getting a lot of them lately. It seems like the Heavyweight Championship is up for grabs every week on Smackdown!
Tonight we saw the United States Championship change hands after Jack Swagger destroyed Zack Ryder. Two weeks ago on my Monday night segment, I posed the question "Will Jack Swagger face Zack Ryder at the Royal Rumble?"
Instead of facing off at the Rumble, the match was simply a filler match on Raw where no one seemed thrilled with Swagger getting the victory.
The Tag Team Championship changed hands at a NON-TELEVISED house show! If this was 1981, I could understand, but how in the world does anyone in WWE Creative think it is a good idea to have the tag team titles changes hands at a house show?
Tonight on Raw, Air Boom cashed in their rematch clause to face the new champions, Epico and Primo.
Why couldn't a match between Air Boom and Epico and Primo wait until the Royal Rumble? Why have the titles change hands at a house show?
When you have all of these title changes happen on the weekly shows, it only hurts the prestige of the titles.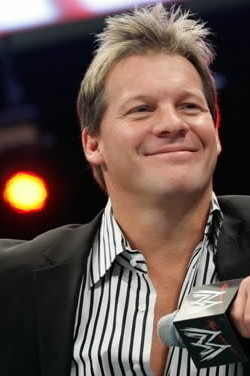 http://www.fanpop.com/spots/chris-jericho
Oh, that's right! Chris Jericho's return is brilliant and his non-action is speaking louder than if Jericho himself got on the mic. I forgot because Jericho can never do wrong.
Chris Jericho was inserted into the main event tonight on Raw and all he did was jump into the ring, pump up the crowd and then leave while the match was still going on.
He still has not said anything; in fact all he ever does is smile like an idiot and wear a jacket that Jeff Jarrett donned back when he was doing his country-singer gimmick.
I admit that I still do not see the point in Jericho's return, but after three weeks I would like to at least have a sense of his intentions.
Everyone likes to use the argument that we should "let things play out" or "have patience." After three weeks of doing nothing, you have exerted all the patience I had at this point.
As fans we like to cling to our favorite wrestlers, but I am here to be objective and criticize anyone I feel deserves it. To justify Jericho's actions, or lack thereof, is absurd at this point.
This article is coming across strong, and I know it. After weeks of the same things occurring on Raw, I feel like I have a right to vent some frustration and reach out to my readers in an effort to get answers.
Intricate storylines that play out over time still give you something to bite on every week. I am not asking Chris Jericho to reveal every minute detail about his return, the cryptic promos or his intentions going forward, but you have to give us something before we forget why it is so important you came back in the first place.
What do Jericho's actions mean to you?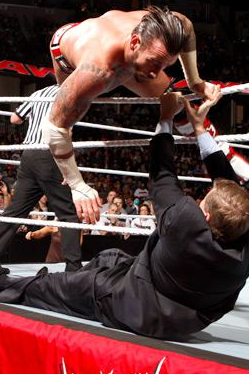 http://www.mylatestdistraction.com/?p=11732
At the end of Raw, CM Punk humiliated John Laurinaitis with yet another brilliant promo. Laurinaitis became so worked up that he assaulted Mick Foley with a microphone before the show went off the air.
There was only one glaring mistake I saw on the last segment of Raw and that was when John Laurinaitis revealed that he did indeed intend to screw CM Punk at the Royal Rumble.
Really?
John Laurinaitis' character has been so neutral that I even asked my readers last week if they felt he would ever turn into a full-blown heel. I guess I should have waited a week because that answer is now upon us.
The unfortunate part is I feel like the WWE blurted out a key part of the feud instead of showing it. For weeks, many have questioned if John Laurinaitis would screw over Punk and I believe the suspense would have been intriguing leading up to the Rumble.
Now what do fans have to look forward to with the Dolph Ziggler-CM Punk match? What was the point of having Johnny Ace snap on episode of Raw instead of having him doing it at the Royal Rumble?
Although we are still not entirely sure of the motivation for Laurinaitis' hatred of CM Punk, I still think the WWE could have waited before having John Laurinaitis reveal his true intentions.
What do you think of John Laurinaitis' meltdown tonight and where do you see this feud going?
Let me know below and make sure to list the questions that came out or Raw for you. Also remember to follow me on Twitter @ClassicJoeyMac.
Keep it classic,all!