Kyrie Irving Is Proving His Doubters, Like Me, Wrong
January 17, 2012

Gregory Shamus/Getty Images
I am officially on record as saying that if I was drafting for the Cavaliers this past summer, I would have taken Derrick Williams at No. 1 and Kemba Walker at No. 4 to have what I thought would be the best duo available.
The biggest reason I had not been on the Kyrie Irving bandwagon with the first pick is because I generally do not get into watching much college basketball until mid-January or early February.
Therefore, I did not see Irving at all early in the season before he hurt his foot. I saw him in Duke's two tournament games, but wasn't really blown away—albeit because he wasn't 100 percent.
Who I was blown away by in one of those Duke games was Derrick Williams. I had been leaning in the Williams' direction, but that game really put me over the top with him.
And since I am a big UConn basketball fan, I've seen a ton of Kemba Walker throughout his three years in college. I think very highly of him as a player and a person.
Well I sit here today and gladly eat a dish of fried crow because I was dead wrong.
Kyrie Irving was far and away the best player from the 2011 draft class. And I'll even add that my early returns on Tristan Thompson are very good as well.
So far in this young season, we've seen Irving and the Cavs go up against several of the other top picks from that draft such as Williams, Walker, and Brandon Knight. The Cavaliers have won each matchup and Irving has been a big part of each of those games.
In head-to-head matchups against the other two point guards, it was clear to anybody who watched the games that Irving is the superior player (Interesting stat from Monday's game against the Bobcats: Irving had a +/- of +8 compared with Walker who was -21.).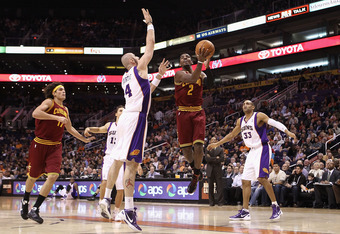 Christian Petersen/Getty Images
In only 27.1 MPG, Irving is averaging 17 points, 3.1 rebounds, 5.1 assists, 0.82 steals and a team-leading 21.4 PER. If you extrapolate that out to per 48-minute numbers, it looks like 30.1 points (eighth in the NBA), 6.1 rebounds, and 9.3 assists. He's also shooting very well with a .473 FG, .400 from three-point, and .892 FT.
But with Irving it goes far above the stats. What he's showing on the court with his play is fantastic. It's such a simple thing to look at a player and know that he has "it". And I don't think there's any doubt that Irving is going to be a great player.
He can do everything you want from a point guard. He distributes the ball very well many times, even making a pass that leads to an assist for another guy—a hockey's assist if you will.
He does this so well when he penetrates into the lane. Instead of forcing a shot or a contested layup, he kicks it back out to the open man.
He can shoot. And I think this is such an underrated part of his game. When you think of the best point guards in the league, many of them were not good shooters in their early years (Steve Nash being an exception). In fact, Irving is already a better shooter than both Derrick Rose and John Wall.
The threat Irving possesses with that shot opens him up to drive the lane and do what he does best: To finish at the rim with either hand. Already this season, he has had at least a half dozen highlight-worthy moves and finishes that make you jump off the couch.
He really is a very complete player. His defense and decision-making—while not bad will get better with time. After all, he's only played one more game in the pros than he did his whole college career.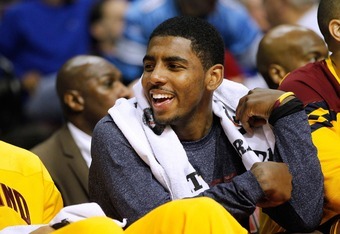 Gregory Shamus/Getty Images
I'm thrilled that the Cavs didn't do what I thought they should do. I couldn't be happier to be wrong about Kyrie Irving.
And I'm so excited to watch this kid grow into a truly great player.
Go Cavs!
Believeland.
You can follow Benjamin Flack on Twitter @ClevelandFlack.