2012 NFL Mock Draft: Robert Griffin III and Best Athletes Available
January 17, 2012

Ronald Martinez/Getty Images
If you like watching the best young athletes in America put on colorful baseball caps, shake hands with middle-aged men, hug their loved ones and smile for the cameras, the NFL draft is the event for you.
The 2012 edition will be no different, with a host of college football players with the sort of size, speed, strength and athleticism that tend to leave fans slack-jawed and GMs drooling over their big boards.
As you might expect, a number of said ex-collegians figure to hear their names called on Day 1. 
1. Indianapolis Colts (2-14): Andrew Luck, QB, Stanford
Sorry about it, Peyton Manning. Either you're tutoring Luck for a year or two or you're on the way out.
2. St. Louis Rams (2-14): Matt Kalil, OT, USC
Decree No. 1 of the Jeff Fisher era: Protect Sam Bradford.
Decree No. 2 of the Jeff Fisher era: Draft Matt Kalil to provide said protection.
3. Minnesota Vikings (3-13): Morris Claiborne, CB, LSU
Yeah yeah yeah, Tyrann Mathieu this, Honey Badger that.
But if you're in search of the best corner in college football, you need look no further than the other end of LSU's defensive backfield, where Morris Claiborne tends to play.
The 6'1", 285-pounder had plenty of big plays of his own (i.e. a big kick return against West Virginia, a pick-six in the SEC Championship Game, a leaping interception at Mississippi State, etc.), none of which earned him a nickname but all of which in combination contributed to his being named a first-team All-American and the Jim Thorpe Award winner.
He's got all the tools in his arsenal to be a dominant, shutdown cover corner in the NFL—size, speed, agility and a ball-hawking mentality—and figures to make the Minnesota Vikings, whose pass defense is subpar, a very happy team.
4. Cleveland Browns (4-12): Robert Griffin III, QB, Baylor
It's not every day that world-class sprinters play football, and when they do it's usually at wide receiver or corner.
But that's only part of what makes Robert Griffin III such an enticing NFL prospect, albeit a rather significant part. What the Heisman Trophy winner lacks in prototypical size (6'2", 220 pounds) he more than makes up for in speed, athleticism, arm strength and escapability.
Oh, and RG3's a pretty smart dude, too—he finished up his undergraduate work early enough to pursue a graduate degree in political science before declaring early for the draft.
The Browns appear to have all but given up on Colt McCoy as their franchise quarterback and seem certain to snag RG3 if and when they're given the opportunity to do so. He's not a perfect fit in Pat Shurmur's West Coast offense, but with his brains and physical ability he should be able to adapt just fine. 
5. Tampa Bay Buccaneers (4-12): Trent Richardson, RB, Alabama
Yeah, I know, Tampa Bay's defense was turrrible, as Charles Barkley would say.
But so was its running game. The Buccaneers picked up just 91.1 yards per game on the ground—third-worst in the NFL. That should come as little surprise, not with the likes of LeGarrette Blount, Earnest Graham and Kregg Lumpkin carrying the bulk of the load.
Not exactly a murderer's row of running backs.
Meanwhile, Trent Richardson, far and away the best running back in this draft class, should be available at No. 5, assuming the Browns don't opt for the Heisman Trophy finalist over the guy who actually won the darn thing. The 5'11", 224-pounder is an absolute beast out of the backfield, with the size and strength to run over defenders and the speed to scoot right around them.
Certainly Josh Freeman wouldn't mind having a backfield buddy to help him out, either.
6. Washington Redskins (5-11): Dre Kirkpatrick, CB, Alabama
The Redskins could very well give away the farm for the chance to move up and draft RG3.
But if they don't, they'd do just as well to improve their woeful secondary. Alabama's Dre Kirkpatrick is the best corner available and, frankly, isn't all that far behind Mo Claiborne in this draft class. He also happens to have two inches on Claiborne, which should allow him to match up with just about anyone out wide in the NFL.
7. Jacksonville Jaguars (5-11): Justin Blackmon, WR, Oklahoma State
What makes Justin Blackmon such a tremendous receiver? Is it his speed? His superb route-running ability? His unparalleled body control? 
How about all those things and a dash of "wow"?
Any way you break it down, Blackmon, the two-time Biletnikoff Award winner, is the best pass-catcher on the board in this draft.
Now, assuming the Jaguars haven't given up on Blaine Gabbert, last year's first-round pick, after just one season, they'd do well to find him a competent receiver to throw to. Given all the things I've just mentioned about Blackmon and Jacksonville's position in the draft, GM Gene Smith would be wise to bring Blackmon on to be Gabbert's security blanket. 
8. Miami Dolphins (6-10): Riley Reiff, OT, Iowa
Matt Moore would appear to be entrenched as the starting quarterback in Miami heading into the 2012 season. The Dolphins would do well to upgrade their offensive line—especially at right tackle, where Marc Colombo has been abysmal—to ensure that Moore can stay upright for a full season.
Enter Riley Reiff, on the right. 
9. Carolina Panthers (6-10): Quinton Coples, DE, North Carolina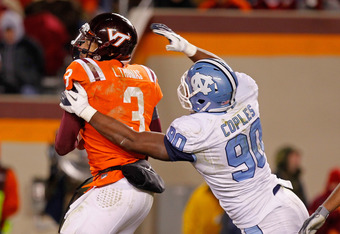 Geoff Burke/Getty Images
If the Panthers had anything resembling a defense, they probably would've been a borderline playoff team. They were equally terrible against the run as they were against the pass, though with top-tier rushers always at a premium, chances are they'll go that route with their first-round pick.
Charles Johnson could use a buddy on the other side of Carolina's D-line, and who better in this draft to be that guy than Quinton Coples?
The North Carolina product didn't exactly have his most productive campaign in 2011, with 7.5 sacks for the Tar Heels, but that doesn't change the fact that Coples, at 6'6" and 285 pounds, is an absolute monster off the edge.
And it's not like the dude's just a big bag of meat, either. Coples has some serious pep in his step, more than enough to leave NFL quarterbacks shaking in their boots. 
10. Buffalo Bills (6-10): Devon Still, DE/DT, Penn State
The Buffalo Bills need help on defense. Devon Still is good at playing defense.
'Nuff said.
11. Kansas City Chiefs (7-9): Jonathan Martin, OT, Stanford
Jonathan Martin is everything a team could dream of in an offensive tackle: big, strong, athletic, tough and, with his Stanford education, smart. He'd be a perfect fit along a Chiefs offensive line that's been decimated by injuries and retirements in recent years.
12. Seattle Seahawks (7-9): Ryan Tannehill, QB, Texas A&M
Tarvaris Jackson is a franchise quarterback.
Try saying that five times fast without either laughing or crying, depending on how you feel about the Seattle Seahawks.
Ryan Tannehill is a bit of a reach at this point in the draft, but Pete Carroll's going to have to find his pet signal-caller eventually, and Tannehill's the best he'll find here. 
13. Arizona Cardinals (8-8): Luke Kuechly, ILB, Boston College
Arizona spent a ton of money upgrading its linebacking corps this past summer and its run defense still stank up the joint. Luke Kuechly is the best there is on the inside in this draft class and will make the Cardinals coaching staff mighty happy.
14. Dallas Cowboys (8-8): David DeCastro, OG, Stanford
Last I checked, the interior of Dallas' offensive line was flat-out awful. David DeCastro should help to mask the problems posed by playing the likes of Phil Costa and Montrae Holland up front.
15. Philadelphia Eagles (8-8): Dont'a Hightower, ILB, Alabama
The Eagles' run defense never quite recovered from the departure of Stewart Bradley, though it did improve significantly as the season went along and Juan Castillo realized he wasn't coaching the offensive line anymore.
Hence, look for Dont'a Hightower, the defensive MVP of the BCS title game, to get the nod here and to bring some serious attitude and athleticism of his own to the middle of the Eagles' D.
16. New York Jets (8-8): Courtney Upshaw, OLB, Alabama
There's a reason Rex Ryan called blitzes so much this season, and it didn't necessarily have to do with how much he trusted Darrelle Revis and Antonio Cromartie on the outside.
Rather, Ryan realized just how poor his front seven was at getting pressure on opposing quarterbacks. It certainly didn't help that Bryan Thomas, the Jets' best pass-rushing linebacker, tore his Achilles during the 2011 campaign.
Enter Courtney Upshaw, an athletic specimen at linebacker with plenty of prior experience playing in a 3-4 scheme. The 6'2", 265-pounder piled up 9.5 sacks for Nick Saban's national champions while terrorizing teams around the SEC. He and Muhammad Wilkerson will comprise one heckuva pass-rushing tandem in the AFC East for years to come.
Tom Brady will be none too happy about it.  
17. Cincinnati Bengals (9-7): Janoris Jenkins, CB, North Alabama
Thanks to the generosity of the Oakland Raiders, who so desperately shelled out draft picks to pick up Carson Palmer, the Bengals will have the opportunity to draft Janoris Jenkins, the most notorious bad boy in the class of 2012.
Jenkins will fill Cincinnati's need at corner beautifully while fitting in just as comfortably in Marvin Lewis' locker room full of social deviants.
18. San Diego Chargers (8-8): Nick Perry, OLB/DE, USC
San Diego's pass rush dropped off considerably in 2011, with only one guy on the roster (Antwan Barnes) registering more than four sacks.
Nick Perry is still a bit raw, but with a bit of coaching and refinement the USC product has the potential to be a defensive star, thanks to his tremendous physical gifts.
19. Chicago Bears (8-8): Alfonzo Dennard, CB, Nebraska
Tim Jennings will be a free agent come March, leaving Chicago's secondary untenably thin in a division with Aaron Rodgers and Matthew Stafford. Alfonzo Dennard isn't particularly tall for a corner, but he has the strength and speed to cover just about anyone who'd dare challenge him. 
20. Tennessee Titans (9-7): Melvin Ingram, DE, South Carolina
Is it just me, or are there a ton of teams that need help pursuing the quarterback?
The Titans certainly fall into that category, seeing as how they managed just 24 sacks this season, seven of which came courtesy of Karl Klug.
Yes, Karl Klug, Tennessee's defensive tackle. Melvin Ingram should help quite a bit in that department, Klug or no Klug.
21. Cincinnati Bengals (9-7): Cordy Glenn, OG, Georgia
So long, Nate Livings! Helloooo, Cordy Glenn! 
22. Detroit Lions (10-6): Peter Konz, C, Wisconsin
Dominic Raiola has been a good sport, sticking with the Lions through 10 terrible seasons before finally sniffing the playoffs this time around.
Unfortunately, the guy's 33, is owed $4 million and isn't particularly good anymore. Meanwhile, Peter Konz is the best center to enter the draft in the last few years.
As heartwarming as it would be for Detroit to reward Raiola's loyalty, the team must remain more concerned with winning football games than sticking with sentimentality, especially with the young core currently at its disposal.
23. Cleveland Browns (4-12): Alshon Jeffery, WR, South Carolina
Ah, yes. Julio Jones, the gift that keeps on giving to the Cleveland Browns.
Assuming the Browns snatch up RG3, they'll need to find him a top-notch receiver to pair with him, just as the in-state rival Bengals did last year with A.J. Green and Andy Dalton.
Now, it's not every year that you find a wide receiver who can run as fast or fly as gracefully at linebacker size as Alshon Jeffery. Of course, 2012 is a special year, so there are two such receivers, Michael Floyd being the other.
But Jeffery is bigger (6'4", 229 pounds) than Floyd and he doesn't come saddled with Floyd's considerable baggage. He'll be an excellent pitch-and-catch partner for RG3, or whoever else ends up under center in Cleveland.
24. Pittsburgh Steelers (12-4): Zebrie Sanders, OT, Florida State
One of these days, Ben Roethlisberger will go down with an injury and won't be able to just get back up and keep playing.
The Steelers don't ever want to see that, so they'll do the smart thing and upgrade their offensive line, starting with Zebrie Sanders at tackle.
25. Denver Broncos (8-8): Michael Floyd, WR, Notre Dame
Nobody would mistake Tim Tebow for a great passer, but neither would anyone suggest his receivers are any good, save for the occasional big game from Demaryius Thomas.
Adding a pass-catcher of Michael Floyd's caliber would change all of that. The 6'3", 224-pounder is big enough, strong enough and fast enough (and gosh darnit, people like him) to haul in the ball wherever and whenever Tebow may choose to throw it.
Floyd's almost a mirror image of Thomas, which could hurt his appeal to the Broncos. Then again, with the way Thomas performed against the Pittsburgh Steelers on Wild Card Weekend, having two of him might actually appeal to the folks in Denver.
26. Houston Texans (10-6): Kendall Wright, WR, Baylor
If you watched either of the Texans' playoff games, you probably noticed that Jacoby Jones is the football equivalent of a black hole across from Andre Johnson. As such, Houston could use as legitimate No. 2 receiver, someone to elevate the team's passing game from an afterthought to a reliable, if not downright effective, Plan B behind Arian Foster and the Texans' ground game.
Kendall Wright just so happens to be a native Texan and a pretty darn good receiver in his own right. The 5'10", 190-pound speedster played a big part in RG3's Heisman Trophy campaign, catching 108 balls for 1,663 yards and 14 touchdowns while torturing defenses with his incredible quickness.
He'd be a perfect complement to Johnson, regardless of who, between Matt Schaub and T.J. Yates, ends up under center over the long haul.
27. New England Patriots (13-3): Whitney Mercilus, OLB/DE, Illinois
Little-known fact: Whitney Mercilus is as merciless on the football field as his name suggests.
Not-so-little-known fact: He's also a tremendous pas- rusher, with the size (6'4", 265 pounds) to play as an edge-rusher on the line and the speed and athleticism to fly in from the second level. Mercilus led all of college football this season with 16 sacks, 17.5 if you include his contributions from the Kraft Fight Hunger Bowl.
Thanks to the New Orleans Saints' thirst for Mark Ingram in last year's draft, the Patriots will have a chance to add Mercilus to their much-maligned defense. New England was particularly paltry against the pass, allowing the second-most yards while struggling mightily to get pressure on opposing quarterbacks.
Mercilus is something of a pass-rush expert and, as such, should help the Pats tremendously to improve in that regard.
28. Green Bay Packers (15-1): Jerel Worthy, DE/DT, MIchigan State
The Packers' worst fears came to fruition to rather devastating effect in their 37-20 loss to the Giants.
No, not ball security, though that proved to be a huge problem for Green Bay. I'm referring, instead, to a defense that was among the worst in the NFL this season, plummeting from fifth in total yards allowing in 2010 to dead last in 2011.
The line, in particular, never seemed to recover from the loss of Cullen Jenkins, as B.J. Raji seemed to spend more time filming awkward State Farm commercials than plugging running lanes.
Jerel Worthy would take care of that problem quite nicely.
29. New York Giants (9-7): Lamar Miller, RB, Miami
The Giants finished dead last in the NFL in rushing this season, thanks to subpar seasons from Brandon Jacobs and Ahmad Bradshaw. Jacobs isn't likely to return and Bradshaw can't exactly be counted on to carry the load every down.
Lamar Miller, on the other hand, is big enough to carry the ball 20 to 25 times a game and fast enough to make people miss.
30. Baltimore Ravens (12-4): Vontaze Burfict, ILB, Arizona State
Kudos to Ray Lewis for continuing to play like an All-Pro despite being well on his way to his 37th birthday.
Of course, at his age, Lewis won't be able to keep this up for too much longer, or at least would be hard-pressed to do so.
And wouldn't you know it? Lewis happens to have a 21-year-old doppelganger floating around in this year's draft class and he just so happens to be on the board late in the first round.
His name? Vontaze Burfict. His height? 6'3". His weight? 250 pounds.
But aside from being big and having a unique name that's bound to twist Phil Simms' tongue once or twice, Burfict is, indeed, the perfect fit for the Ravens' defense. Aside from being an absolute physical specimen, Burfict sports the nasty, take-no-prisoners attitude at inside linebacker that's made Ray Ray a surefire Hall of Famer.
If the Ravens can rein Burfict in and get him to harness his destructive energy in a productive manner, he'll be a more-than-worthy successor to Lewis' throne in Baltimore.
31. San Francisco 49ers (13-3): Mohamed Sanu, WR, Rutgers
Sooo, Braylon Edwards happened. Think Alex Smith would look better with a guy like Mohamed Sanu to throw to, alongside the likes of Michael Crabtree and Vernon Davis?
32. New England Patriots (13-3): Mark Barron, SS, Alabama
Quick—name New England's starting secondary. I'll give you a hint: Troy Brown and Rodney Harrison don't play football anymore.
I'm not sure The Hoodie could pick out James Ihedigbo and Patrick Chung from a crowd, either.
Nor would he want to, not with those two comprising the safety tandem amidst the NFL's 31st-ranked pass defense.
Mark Barron is easily the best safety in this draft class and would be an absolute steal this late in the first round. The 6'1", 218-pounder from Alabama can make plays all over the field and relishes the opportunity to lay the wood on his opponents like few others in college football.
My Spidey Sense tells me Belichick is going to like lining him up on Sundays.