If you had asked me on Christmas day which teams would be on top of the West three weeks into the season, I would have said Oklahoma, Dallas, Portland and Lob City. In the East I would have said Chicago, Miami, New York and Orlando. Maybe Boston a close fifth .
And actually, I did say all of that. I had a comprehensive list of early-season predictions and even a few playoff guesses. But what could have been a long and detailed article forecasting how this season might play out has now become a sad crumpled piece of paper in my desk drawer.
Three weeks into the NBA regular season and things have gotten…weird. Each team still has at least 50 games to get it right, but stuff happens and predictions are easily ruined. I mean, so far the Championship team has had a deadly hangover, trade(s) were vetoed (what?!) and Snoop Dogg called Pau Gasol a "punk b*tch." Ce la vie.
In grappling with the reality that I cannot, in fact, predict the future, I felt it necessary to re-hash my shortcomings. I needed to figure out where I went wrong—where things changed.
In doing so, I tried to come up with a list of "game changers", if you will, and as it turned out, most those "changers" happened to be injuries—freak injuries to star players.
Injuries are a part of the game, but in a shortened season, even five games without a player can have a major impact on a team's record…and on my previously-genius predictions.
So in no particular order: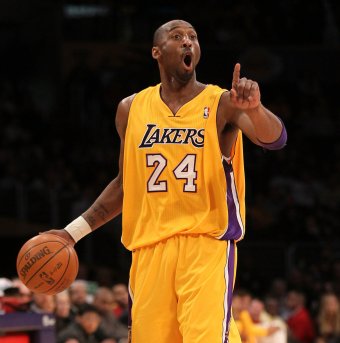 Stephen Dunn/Getty Images
Whoaaaaa! Kobe's going for another 40 point game!!!! WHHAAAT?! This sh*t cray!! I can't believe it!! I can't…believe….that anyone thinks this kind of production will last the whole season.
If Kobe's wrist is, in fact, broken, has torn ligaments or is actually Wilt Chamberlain's right arm surgically attached during those doctor appointments in Germany, it's going to fail at some point.
The man is a beast, or at least a leopard/mamba/shark hybrid, I'll give you that. But even hybrid man-beasts age and break down. If the Lakers are going to stay in the top five in the West, Kobe is going to have to score 40 a night for the rest of the season. *Spoiler Alert* not happening.
The reason I bring this up is because I had them at number seven or eight in the West, not closing in on the top half. My reason being that Kobe would struggle this season with some rusty joints—most notably his, back which will be sore and decrepit from carrying his entire team for five months.
Now this scoring streak is souring my predictions. Did it ever occur to me that Kobe had this left in him…at least for now?
No dude, that had not occurred to me.
Manu Ginobili is out for six to eight weeks after surgery on a broken bone in his left hand. While this injury isn't a death knell to the team, broken bones are never good, broken bones in a basketball players hand is never ever good and broken bones in the hand of a basketball team's leader is...well, you get the point.
The Spurs are currently third in the West at 9-4. Their record since Ginobili's injury is actually an impressive 6-3, but it's not hard to imagine that with the star point guard, the Spurs could have trumped a few of those close loses to Minnesota, Oklahoma City and Milwaukee.
Three L's is no reason to jump ship, but close games at the expense of an inured starting player are tough. Again, this shortened season has the potential to wreak havoc on any team that isn't playing at their peak potential and even with a talented team. Without Ginobili my predictions have failed again. What I thought could be a second- seed team will definitely still make the playoffs, but possibly without that coveted home court advantage.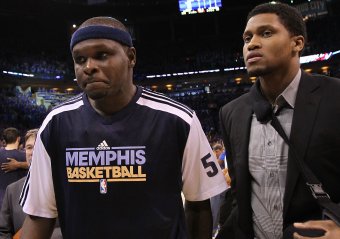 Ronald Martinez/Getty Images
Remember Memphis? That team that beat the aforementioned Spurs in the first round of the playoffs last year? Sure you do. They had that explosive combination of Zach Randolph, Marc Gasol, O.J. Mayo and Shane Battier, and they were missing their "star"—an injured Rudy Gay. They wear blue and yellow. They don't have a Big 3 and they still managed to defeat a first-seeded team. They're sneaky.
Well, this year they got Rudy Gay back and in my mind, we were looking at a fifth or sixth seed playoff team. No longer, folks. Zach Randolph, aka Z-Bo, aka the former leader of the Portland JailBlazers, is out for anywhere from four to eight weeks with an MCL tear.
A tear caused by an in-game collision with teammate O.J. Mayo. Now, I don't know Z-Bo personally and maybe he's changed since his Portland days, but Mayo might just want check out a witness protection program—especially if the team stays at their current ninth spot in the West. He's going to have me and Z-Bo's minions to deal with.
Although, they did just crush this next team…
Turf toe: medically referred to as a "metatarsophalangeal joint sprain." Oh, now I get it. Science.
But yes, Derrick Rose, our reigning MVP, is suffering from a metatarsophalangeal joint sprain. The word is awesome. The injury, not so much. It basically means that his big toe has either been repeatedly hyper-extended or that it's been repeatedly jammed against the front of his shoe.
Anyone who skis or has played football or basketball probably knows the feeling—uber not-awesome.
Rose sat out of today's game and the Bulls felt it in their 102-86 loss to the Grizzlies. He should be back soon and at 12-3, Chicago has little to worry about. But at the expense of sounding like a broken record: shortened season, games count, blah blah blah…
No joke, as I was writing this just now, instead of titling this section "Miami Heat", I just wrote "Dwyane Wade" in bold. Then I remembered he played for a team, with other players. The Miami Dwyane Wades. I mean, the Miami Heat. Dangit.
Anyway, Dwyane Wade, one half of the "Big 3" (do the math), is out with a sprained ankle and possibly another big science word: plantar fasciitis.
Streeter Lecka/Getty Images
This one means that he might have inflammation of the connective tissue in the sole of his foot. Oh, and maybe a strained calf…and a bruised foot. A lot of maybe's from Wade and in turn, a lot of maybes for his team. He played injured the last three games and his team lost all three.
How does the other half of the "Big 3" feel about this? Chris Bosh is borderline giddy about his teammate's injury, saying that the injury may be a "blessing in disguise" and that maybe the guard needs to "sit down and rest in the first place." Uhh...
And Lebron was quoted saying that he may have to "revert back to some of the ways I was back in Cleveland…put a little more pressure on myself."
Oh, the HUMANITY.
And last but not least (okay, maybe least):
I didn't mean the "least" comment in a bad way. I like the Hawks and they're actually exceeding my expectations so a small drop in W's might just make me look pretty smart.
I just wish it didn't have to come at the expense of the Hawks' star Al Horford. During a fall sustained while battling for a rebound, Horford tore his pectoral muscle and will most likely require surgery, taking him out for three to four months.
Bad news for Horford, as shoulder injuries are mega-painful and could haunt him for seasons to come. Extra bad news for the Hawks, after a strong start to the season with big wins over both Miami and Chicago.
With Horford out and injuries to both Tracy McGrady and Kirk Hinrich, I almost don't want to add insult to injury with my last point. Hawks fans, avert your eyes.
The team has been talking about trading star forward and shot-blocker Josh Smith. Alright, I'll stop. This might lead to more L's than I bargained for.
That's all, folks. Maybe next time I'll take a look at the teams how don't have injuries to blame their epic-fails on. (I'm looking at you, Knicks).