25 Amazing Goals from the First Half of the NHL Season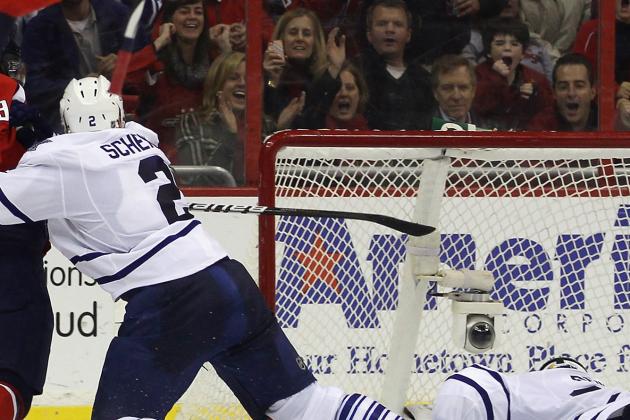 Bruce Bennett/Getty Images

With the first half of the NHL season in the books, there have been some remarkable performances from both the usual suspects and some relative unknowns.
Every team has had a few great moments to put on a highlight reel. What follows is a look at 25 of the great scoring plays of the early 2011-12 season.
Enjoy!
Begin Slideshow

»
This was not only a gorgeous spin-o-rama, but it was Eller's fourth of the game.
Patrick Marleau may have scored the goal, but this play is a gold star for Logan Couture.
"Absolutely sick" is right! Matt Duchene has a little showtime in him as he puts one in the net.
What unbelievable body control by Eric Nystrom to handle the puck, avoid a hit and shoot while in the air.
Jamie Benn is one of the rising young stars in the NHL, and Nikolai Khabibulin was looking for his jock strap after this move.
Scotty Hartnell could probably give infield to the Phillies after a swing like this.
This is a pretty good effort from three or four different Bruins to make a play, and a nice finish by Brad Marchand.
Bobby Ryan has had some of the most ridiculous scoring plays of the last few years. Now if only he could avoid trade rumors as easily as defensemen.
This is an absolute missile from Evander Kane, who is emerging as one of the really exciting young players in the game with the Jets.
Brandon Dubinsky showed some great hands putting this goal home, but the drag move by Ryan Callahan was more impressive.
The attention might be on Stamkos and St. Louis more often now, but Vinny Lecavalier can still bring it. This is a pretty move in traffic.
This comes off a terrible turnover, but Marian Gaborik puts a great move on the netminder and then stays with the play after a good save to finish the score.
This is pretty filthy. Jordan Eberle undresses a defenseman and the goalie before putting the puck home.
This play is worthy of the Magic Johnson-led LA Lakers. Stephen Weiss with a takeaway and great job of drawing the attention away from Versteeg, who opts to make the shot from between his legs.
One of the early leaders for the Hart Trophy this year, Jonathan Toews does it all on this play. He picks Jurcina's pocket, make a quick handle and puts it into the net. Pretty play.
This is a fantastic individual effort, as TJ Galiardi makes a play against the unsuspecting (and apparently half-asleep) Devils. A nice takeaway, followed by a smooth backhand release.
This is an impressive display of athleticism from Lee Stempniak, who settles a rolling puck and shoots while completing a spin-o-rama in traffic.
Geno has been a regular contributor to highlight reels this year, but this might be his best work of the year. The backhand out of a spin from behind the goal line is impressive.
When you get the bird's eye view of a play like this, you can see how Ryan Miller gets frustrated. The passing from Washington on this play isn't fair.
What an explosion from Ryder, who moves the puck to his backhand to avoid contact and then slaps it home.
Poor Ryan Miller! This is the second time he's victimized on the list, this time by another Hart candidate, Claude Giroux. There aren't many players that can keep up with Giroux when he hits top speed.
This is another play where the pass is prettier than the goal. Patrick Kane leads a three-on-two and drops a spin-o-rama on a poor defenseman who doesn't realize a perfect pass is going to hit Marian Hossa's stick right in front of the net.
Against the same Panthers team that benefited from Kris Versteeg's between-the-legs magic earlier in the list are here the victims of Benoit Pouliot raising the stakes.
Stick...skate...it doesn't matter. Pavel Datsyuk is probably the most under-appreciated player of his generation, and there might only be three or four players in the league who are in his class when handling the puck. He's a magician, and this is gorgeous.
I think I pulled a few muscles just watching this shootout goal from Patrick Kane. We're waiting for confirmation if this video helped Peggy.