Portland Trailblazers: Don't Worry Blazermaniacs, Your Team Will Be Ok
January 19, 2012

Ronald Martinez/Getty Images
The recent numbers are glaring for the Portland Trailblazers. They have had four losses in the last five games.
The same team that averaged just under 100 points per game in its first nine games has averaged only 93 in its last five, and has seen its record drop from a blistering 7-2 to a pedestrian 8-6.
Poor shooting has been a rusty staple of the team during the slide. Portland has shot 38 percent from the field against Atlanta, 40 percent against San Antonio and 41 percent against the Houston Rockets.
The team who was heralded as the potentially second-best team in the West after the first two weeks of the season is now seemingly forgotten amongst NBA writers and insiders.
Things don't look great for the Blazers right now, but before the city of Portland begins to enter panic mode—take a look at the schedule. The next nine games for the Blazers look like this:
Toronto Raptors (4-10):Away
Detroit Pistons (3-12):Away
Sacramento (4-10):Home
Memphis (7-6):Home
Golden State (5-9):Away
Phoenix (5-9):Home
Utah (9-4):Away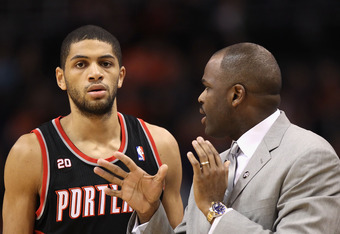 Christian Petersen/Getty Images
Charlotte (3-12):Home
Sacramento (4-10):Away
That's a combined record of 44-82 folks—a 35 percent winning percentage. With only one truly good team on this list (Utah), it's not unfathomable to think that Portland can come out of this portion of the schedule with just one loss.
Of course, anything can happen in these games. But this looks like a great place for the Blazers to distance themselves from the other teams in the middle of the conference, and jump back up into the upper echelon of elite Western Conference teams.
The Blazers are a special team. They have an unselfishness about them that is so rare to find in today's NBA. By season's end, the chemistry they have should vault them towards the top of the Western Conference for the first time in years.