NBA Trade Talk: Dwight Howard to the Toronto Raptors?
Use your ← → (arrow) keys to browse more stories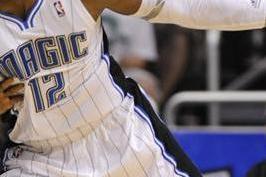 The chances of Dwight Howard landing with the Toronto Raptors are next to impossible.
That being said, it's interesting to speculate about a trade to the Raptors and how it would affect the team's competitiveness.
Howard would add a dimension to the Raptors' offense and defense that the franchise has only dreamed of having. He's the elite defender and shot-blocking presence that the Raptors have sorely lacked throughout their history, as well as an excellent player on offense anywhere in the paint.
A possible trade for Howard would be Andrea Bargnani, Ed Davis, and a couple of first-round picks.
Bargnani is one of the best offensive big men in the league and averages a career high 22.9 points per game this season. He's been more aggressive on the rebounding end and has shown improvement in both his rebounding and defense.
Davis is a promising young power forward who has demonstrated that, with regular playing time, he is a consistent double-double player. While he's raw on the offensive end and lacks experience due to his injury last season, he has the potential to turn into a solid big man.
The Raptors already have a rising star in guard DeMar DeRozan, and they're a surprisingly deep team with Jerryd Bayless, Leandro Barbosa, James Johnson, Gary Forbes, Linas Kleiza, and Jamaal Magloire coming off the bench.
Starting point guard Jose Calderon is one of the best pure point guards in the league. He is an excellent passer and can shoot the three as well as attack the basket.
He's great at creating for others, rarely turns the ball over, and is a knock-down free throw shooter. His one major weakness is his defense, where good point guards can score on him almost at will.
Would acquiring Dwight Howard make the Raptors a championship contender?
The rest of the starting five would include sharpshooting forward Rasual Butler, DeRozan, and Amir Johnson.
DeRozan is one of the better shooting guards in the NBA, and with his dramatically improved three-point shot, he could become a dangerous scorer very soon.
Johnson is an athletic power forward who can play and defend multiple positions. He can knock down the mid-range jumper fairly consistently, and he's a solid rebounder and shot-blocker.
Throw Dwight Howard, arguably the league's best center, into the mix, and you have a team that can consistently compete for a higher playoff seed and, with the addition of more talent, could possibly compete for a championship.
They would likely rank in the top half of the league defensively while still being a dangerous offensive team. They would have one of the most athletic rosters in the NBA, capable of running with just about any team in the league.
While it's an intriguing idea, the likelihood of him landing with the Raptors is practically zero, and Raptors fans can only dream of the day when someone like Howard will land on their team.