2012 NFL Mock Draft: The Best Running Back Prospects and Their Pro Counterparts
January 17, 2012

Kevin C. Cox/Getty Images
Many times, drawing comparison to current NFL stars is the best way to describe the top collegiate prospects. 
These are the top three runners in the 2012 draft class and the players they remind me of at the pro ranks. 
Trent Richardson—Marshawn Lynch 
Alabama's star runner brings everything any head coach would ever want to the running back position.
Although he's 5'11'' and weighs 215 pounds, Richardson is more than a straight-forward, between-the-tackles runner.
He definitely runs with a punishing style that can lead to big chunks of yardage on inside dive plays, but he has deceptive acceleration around the outside and agility in the open field. He loves making defenders miss but worked tirelessly to build a ridiculous amount of muscle to his frame that has made him welcome contact.
Seattle Seahawks running back Marshawn Lynch is the closest comparison in the NFL. The similarities are striking.
Lynch is also listed at 5'11'' and 215 and the way he and Richardson run the football is nearly identical.
Richardson is probably a better overall athlete and possesses more open-field speed, but other than that, they're extremely alike. 
Lamar Miller—Ryan Mathews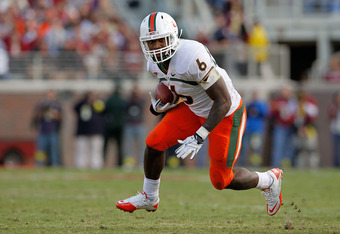 Mike Ehrmann/Getty Images
Miller runs similarly to Mathews—their patience and fluidity are great for young tailbacks. 
The Chargers' runner is about 6'0'' and 220 pounds, while the Miami Hurricanes star is 5'11'' and a shade above 210. 
Miller is no novelty, situational runner—he certainly demonstrated the capability of being a three-down back during his collegiate career. 
Although he's most effective on pitches outside the tackle, he can pick up valuable yardage up the middle. When he reaches the second level, he calmly shifts directions and accelerates past linebackers.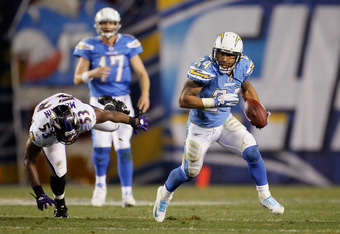 Jeff Gross/Getty Images
A lot of the same can be said for the multidimensional Mathews, who increased his total yards and yards per carry in 2011. 
The redshirt sophomore hasn't proved to be a great out-of-the-backfield receiver, but with his great athleticism and speed his NFL coach will do whatever he can to get Miller the ball in space. 
Chris Polk—DeAngelo Williams 
Polk is a few inches taller than the 5'9'' Williams, but they both float between 215 and 220 pounds and have the same style of running the football. 
Their athletic ability and nasty jump cuts sneak up on you while they display no fear when facing bigger defenders. And while neither guy is labeled a "home-run hitter," if they build up speed around the edge, they can break a long run.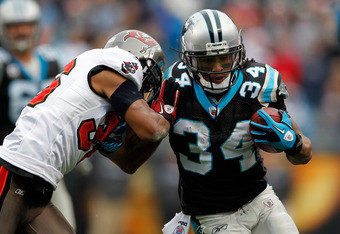 Streeter Lecka/Getty Images
Polk caught 31 passes in 2011 and certainly knows how to set up blockers on the screen play, which is a huge plus as he enters the draft. 
Williams runs a little lower, mainly because he's shorter, and they both are equally as effective on inside and outside plays.
I love Polk's potential as an every-down back at the next level, although, like Williams he could flourish with a complementary tailback.
2012 NFL Mock Draft (Jan. 17th Update)
1. Indianapolis Colts: Andrew Luck, QB, Stanford
2. St. Louis Rams: Justin Blackmon, WR, Oklahoma State
3.  Minnesota Vikings: Matt Kalil, OT, USC
4.  Cleveland Browns: Trent Richardson, RB, Alabama
5.  Tampa Bay Buccaneers: Morris Claiborne, CB, LSU
6.  Washington Redskins: Robert Griffin III, QB, Baylor
7.  Jacksonville Jaguars: Alshon Jeffery, WR, South Carolina
8.  Carolina Panthers: Dre Kirkpatrick, CB, Alabama
9.  Miami Dolphins: Courtney Upshaw, DE/OLB, Alabama
10.  Buffalo Bills: Nick Perry, OLB, USC
11.  Seattle Seahawks: Whitney Mercilus, DE/OLB, Illinois
12.  Kansas City Chiefs: Michael Brockers, DE/DT, LSU
13.  Arizona Cardinals: Jonathan Martin, OT, Stanford
14.  Dallas Cowboys: David DeCastro, OG, Stanford
15.  Philadelphia Eagles: Vontaze Burfict, LB, Arizona State
16.  New York Jets: Melvin Ingram, DE/OLB, South Carolina
17.  Cincinnati Bengals (from Oakland Raiders): Lamar Miller, RB, Miami  
18.  San Diego Chargers: Riley Reiff, OT, Iowa 
19.  Chicago Bears: Michael Floyd, WR, Notre Dame
20.  Tennessee Titans: Zach Brown, LB, North Carolina
21.  Cincinnati Bengals: Kendall Wright, WR, Baylor
22.  Cleveland Browns (from Atlanta Falcons): Dont'a Hightower, LB, Alabama 
23.  Detroit Lions: Stephon Gilmore, CB, South Carolina
24.  Pittsburgh Steelers: Cordy Glenn, OL, Georgia
25.  Denver Broncos: Chris Polk, RB, Washington
26.  Houston Texans: Devon Still, DT, Penn State 
27.  New York Giants: Mike Adams, OT, Ohio State
28.  Baltimore Ravens: Luke Kuechly, LB, Boston College
29.  New England Patriots (from New Orleans Saints): Brandon Thompson, DT, Clemson
30.  San Francisco 49ers: Peter Konz, C, Wisconsin
31.  New England Patriots: Mark Barron, S, Alabama
32.  Green Bay Packers: Chase Minnifield, CB, Virginia