Undertaker's WWE WrestleMania Return: Why Vince McMahon's Opinion Doesn't Matter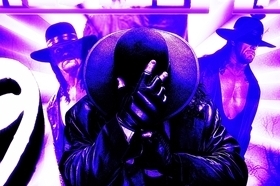 He may not be a household name like Hulk Hogan. He may not be a movie star like The Rock. He may not be as big as Andre the Giant. Of all the things he isn't, there is one thing he is: Legendary.
The Undertaker has a career spanning over two decades. He has faced and defeated every great in professional wrestling including Jake Roberts, "Stone Cold" Steve Austin, Ric Flair and Bret Hart. He has solidified himself as a locker room leader. He is a multi-time heavyweight and tag team champion. He is, without question, a future WWE Hall of Famer. However, his greatest accomplishment is his undefeated streak at WrestleMania.
The Deadman has compiled an incredibly impressive 19-0 record at the Super Bowl of professional wrestling. Defeating great wrestlers such as Jimmy Snuka, Randy Orton, Kane and Triple H twice at WrestleMania has made the Phenom's resume one that will surely never be matched.
It's been since 'Taker's show stealing match at WrestleMania 27 against The Game that we've seen the Deadman. However, the entire wrestling world is anticipating his return to the ring at WrestleMania 28, which also happens to be looking like the Undertaker's last match. Much like years past, wrestling fans have been speculating two things:
Who will Undertaker's opponent be and will he break the streak?
The second part of that question is a lot easier to answer than the first. The Undertaker's streak will certainly not be broken. There is no superstar on the roster that is big enough to end this WrestleMania tradition.
On the other hand, anyone that may possibly be big enough would have nothing to gain nor would their career be furthered any from this victory. Most importantly, the Deadman will no doubt want to end his career with a victory at "the grandest stage of them all," especially a victory that will bring him to an outstanding 20-0 WrestleMania record. This brings us to the first part of the question.
Who do you want to see face the Undertaker at WrestleMania 28?
The so-called "Internet wrestling community" doesn't really have a voice in the WWE, but their opinions are being acknowledged. Vince McMahon has the bottom line say in every single decision within the WWE. When it comes to who the WrestleMania 28 opponent for The Undertaker will be, only the Phenom's voice matters.
McMahon is one of the smartest businessmen in the world. He's also been known to be a ruthless boss who has possibly made more enemies than friends over the years. He does, however, value men such as The Undertaker who have given their lives to the WWE.
Theories as to who will face the Deadman this year have ranged from Triple H to Kane to the former WWE and UFC champion Brock Lesnar. What I think most people aren't realizing is that 'Taker's opponent is already decided and he hand picked that superstar. Look at the freedoms that CM Punk has been granted since last summer. That is only a small fraction of the type of power The Undertaker has within the WWE.
With this most likely being the final time we see The Undertaker, he is going to retire on his own terms and the WWE has absolutely no choice but to allow it. He is a legend in and out of the ring and his career is second to none and highly regarded as the best in professional wrestling history. He came in on a bang and will leave the same way.
Be sure to follow me on Twitter: @DollaBilMF
This article is
What is the duplicate article?
Why is this article offensive?
Where is this article plagiarized from?
Why is this article poorly edited?