Australian Open 2012: Ranking Top Men's Contenders' Odds to Win It All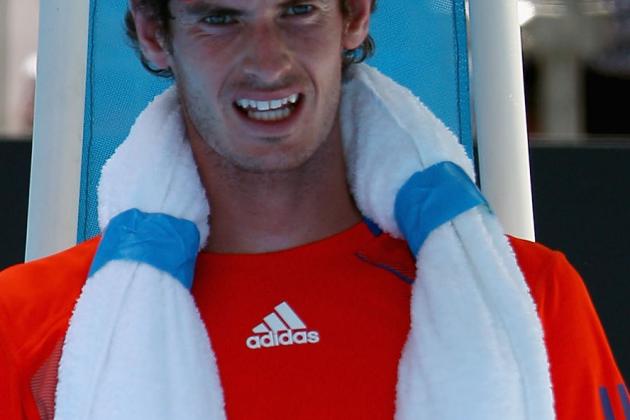 Mark Kolbe/Getty Images

With day one in the book and most of the big names - and local teen hero Bernard Tomic - through to the next round, the Australian Open is shaping up to be a fantastic two weeks of tennis.
Who should be the favorites and what are their odds? Here are Djokovic and the other top nine guys with the best shot to dethrone the Djoker and take his title.
Begin Slideshow

»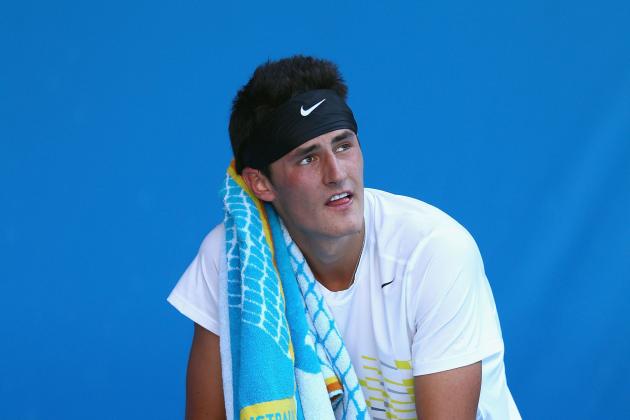 Ryan Pierse/Getty Images

Tomic makes the list more as a sentimental crowd favorite than as perhaps the player with the 10th-best odds of winning the Australian Open.
That being said, opponents shouldn't underestimate the Australian teenage sensation who has experienced a meteoric rise in the rankings, rocketing from 286 to 42 in less than a year's time. After reaching the semifinals in Brisbane earlier this month, Tomic reached a career-high 37th, one spot higher than his current ranking of 38.
The top-ranked Australian player, Tomic has an explosive all-court game that will continue to propel him into the upper-echelon of the men's game. At only 19, he will be a force to be reckoned with for years to come.
Can he contend this year? A thrilling come-from-behind against No. 22 seed Fernando Verdasco would indicate yes, but with perhaps the toughest draw in the tournament, it's doubtful that he will be around to see the second week.
Wildcard Sam Querrey is a tough enough match as is. Should he advance, No. 13 seed Alexandr Dolgopolov and then the great Roger Federer await.
Odds of winning the Australian Open: six percent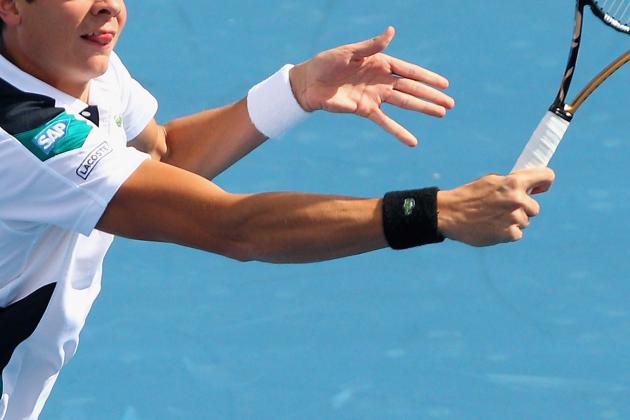 Lucas Dawson/Getty Images

Another young gun, Raonic enters the Australian Open more accomplished than the Australian teen sensation.
Coming off victories over No. 10 seed Nicolas Almagro and No. 9 seed Janko Tipsarevic on his way to a title in Chennai, India last week, Raonic enters the Australian Open brimming with confidence, which spells serious trouble for his opponents.
Having reached the round of 16 here in Melbourne last season, Milos must be considered a serious candidate.
If he can get by Andy Roddick in the third round, Novak Djokovic awaits in the fourth, meaning Raonic isn't likely to improve on last year's run. However, as good as Djokovic is, he shouldn't sleep on the young Canadian.
Odds of winning the Australian Open: eight percent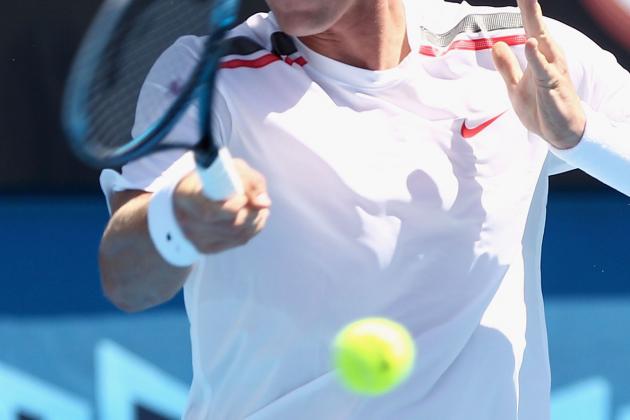 Quinn Rooney/Getty Images

Last year, Berdych's quarterfinals appearance in Melbourne was his best result at a Grand Slam in what was an overall disappointing Slam season.
He reached the finals at Wimbledon in 2010, but he's also flamed out of Grand Slams in the first round on several occasions as well.
One of the most steady players on tour over the course of a full season, Berdych has failed to demonstrate that same consistency on the game's biggest stages. Until he does, it's tough to predict whether he will make the finals or be out by the second round.
Expect a good result, but it will take a lot more than that to win the Down Under.
Odds of winning the Australian Open: 14 percent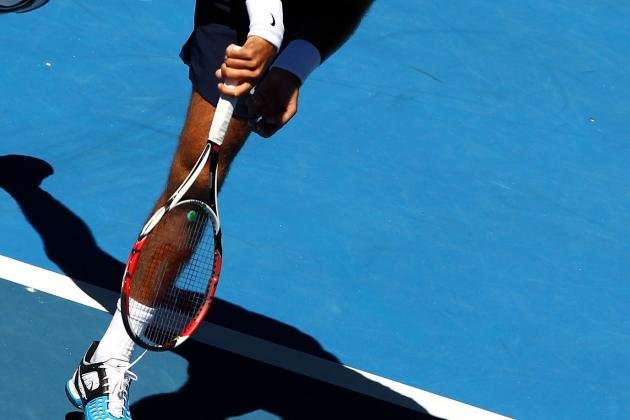 Clive Brunskill/Getty Images

One of the most talented players on tour, Juan Martin Del Potro's best showing at the Australian Open was a quarterfinals appearance in 2009.
With the strongest and most consistent top four players the game has ever seen, it's unlikely that any lower seeds will reach the semifinals. Del Potro, however, is among a handful of players that is capable of doing just that.
With No. 25 seed Juan Monaco already out, Del Potro has the easiest road to the quarterfinals of anyone in the tournament as his toughest opponent, No. 8 seed Mardy Fish, is the weakest seed in the top 10.
In the quarterfinals, a date with Federer would await, and while Del Potro certainly has the talent and a big enough game to take down the 16-time Grand Slam champion, his recent results in Australia, including a second round exit last season and a quarterfinal drubbing at the hands of Federer in 2009, would suggest Del Potro will have to really raise his game.
Odds of winning the Australian Open: 18 percent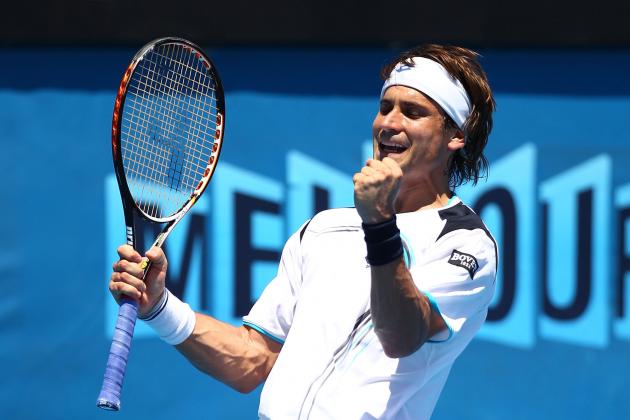 Ryan Pierse/Getty Images

David Ferrer is the best player on the tour to never win a major outside of Andy Murray and he's had a lot more opportunities to have won one. Given how well the world's top four are playing, he might finish his career that way.
A classic counterpuncher, Ferrer relies on a similar style that propelled Lleyton Hewitt to No. 1. Unfortunately for Ferrer, Hewitt didn't have to go up against the likes of Federer, Nadal and Djokovic during his short stay at the game's top spot.
Nevertheless, should Ferrer get on a hot streak, he is as tough an out as anybody on tour and certainly has enough tenacity, guile and consistency that should he catch fire, he can beat anyone.
After beating Rafael Nadal here in the quarterfinals last year, the Spaniard former No. 1 can certainly attest to that.
Odds of winning the Australian Open: 23 percent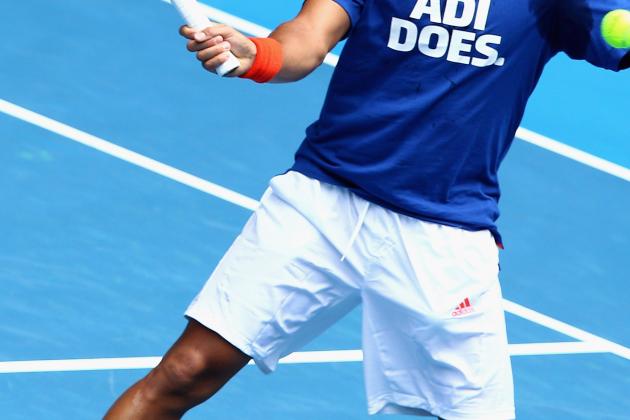 Mark Dadswell/Getty Images

If anyone should emerge from outside of the top four, Tsonga is my pick.
Supremely talented, Tsonga has the firepower and mental fortitude to outlast or overpower pretty much everyone on tour.
A finalist in 2008 and semifinalist in 2010, Tsonga loves the Australian Open and always starts the season ready to play. This year should be no different.
That being said, a potential four match gauntlet of fellow Frenchman Gael Monfils followed by Andy Murray, Novak Djokovic and likely either Nadal or Federer seems too tall an order even for Tsonga.
Odds of winning the Australian Open: 27 percent
Clive Brunskill/Getty Images

The biggest question for Rafa in this tournament will probably be how well his knee holds up. If his arthritis is causing him pain and limits his mobility, he could be in trouble.
Having only won once in Melbourne, it's clear that the pounding of the hard courts is difficult for Nadal, and with his knees already given him problems, Nadal could be the first of the top four seeds to exit.
A relatively easy draw for Nadal should be some welcomed relief for the Spainard's camp.
Odds of winning the Australian Open: 48 percent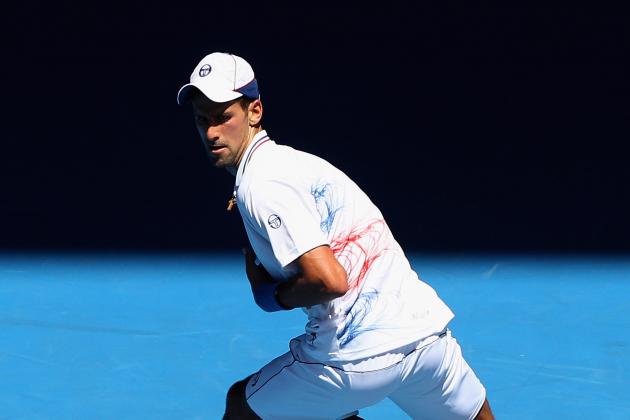 Quinn Rooney/Getty Images

Novak Djokovic's No. 3 ranking on this list has more to do with the current streak Federer is on and my belief that after two consecutive finals appearances that Andy Murray will finally break through.
The way that Djokovic, Nadal, Federer and Murray are all playing, and given how close they are all talent wise, the Australian Open is really anyone's tournament.
Novak raced through the field last year on his way to one of the best starts in tennis history. While he may be the best player on tour at the moment, this year the No. 1 player in the world one won't get off to as hot a start as he did last season.
It's Andy Murray's chance to finally shine.
Odds of winning the Australian Open: 49 percent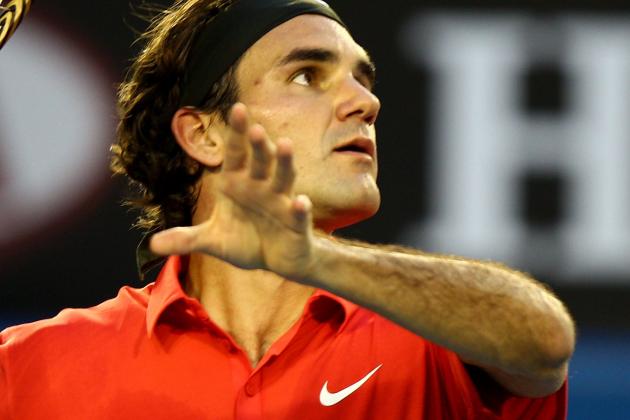 Mark Dadswell/Getty Images

Until Roger Federer withdrew from his semifinal match in Doha, he was on a 20-match winning streak.
After struggling early last season, the 30-year-old Swiss star has turned it on and has been rolling of late.
He has a tricky draw with the likes of Tomic, Del Potro and Dolgopolov lurking, but anything less than a semifinals appearance would be rather surprising.
Given his historic struggles with Nadal, Federer's semifinal opponent may provide his toughest match.
If Federer gets to the finals anything can happen. This year, though, is finally Murray's time to raise the trophy. Still, given all the talk of Federer fading into oblivion, another Grand Slam finals appearance should go along way in shutting up his critics.
Odds of winning the Australian Open: 50 percent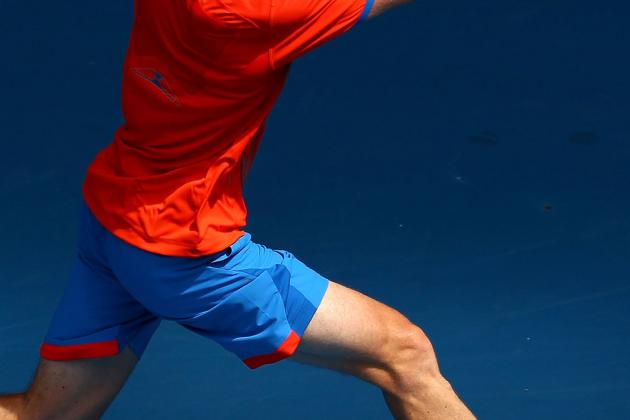 Clive Brunskill/Getty Images

Finally. Finally Murray gets the monkey off his back and can pass "the best player never to win a major" mantle to Ferrer.
After reaching two consecutive Australian Open finals, Murray finally breaks through in dramatic fashion. It won't be easy with Tsonga in his quarterfinals draw, but Murray proves he is a worthy champion and up to the challenge.
Odds of winning the Australian Open: 51 percent