OKC Thunder vs. Boston Celtics: Live Scores, Highlights and Analysis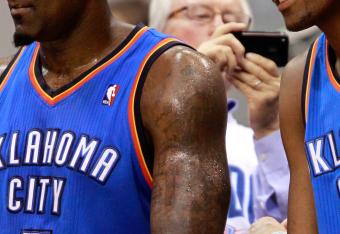 Former Celtic Kendrick Perkins and NBA Star Kevin Durant will face off against the Celtics in Boston tonight.
Tom Pennington/Getty Images
The Boston Celtics need a win and Kendrick Perkins is going to do his best to prevent that from happening.
Mired in a four-game losing streak over which they've averaged just 80.25 points per game, the Celtics find themselves matched up against an Oklahoma City team this is one of just five NBA teams that averages more than 100 points per game—100.3 to be exact.
Add in that the Celtics will have to deal with an emotionally charged-up Perkins and this could be a rough night for the Celtics.
The Celtics might need a win, but the Thunder have been a tough team to beat this season.
They're 11-2 which makes them one of the league's best teams so far in this lockout-shortened season.
Boston will lean heavily on veterans Kevin Garnett, Paul Pierce and Ray Allen along with point guard Rajon Rondo.
Oklahoma City relies on two of the NBA's brightest young stars in Russell Westbrook and Kevin Durant. The Thunder also get key bench contributions from James Harden and Nick Collison.
The game tips off at 8 p.m. ET. Stay here for starting lineups and updates leading up to the game.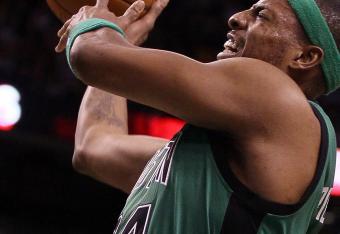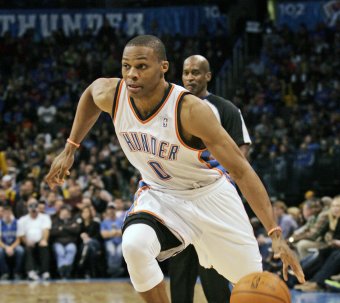 Brett Deering/Getty Images
Final Score Thunder 97 Celtics 88
Good teams can win ugly, great teams can win ugly on the road. Tonight the Thunder made a nice statement by facing off against a Boston team that really needed a win and being forced to play for the most part on the Celtics terms for much of the game.
That didn't matter though. The Celtics couldn't hit shots and the Thunder could and that was the real difference in the game. There weren't too many fast breaks of chances for the Thunder to showcase their superior athleticism and young legs but they played tough defense and kept and kept Boston off balance for most of the game.
The Celtics received very little of the production they needed from the veterans on their roster. Kevin Garnett rebounded the ball well but shot the ball very poorly. He was 5 of 19 from the field. His 12 rebounds were nice but he also had five turnovers.
Ray Allen was barely visible tonight. He played almost 39 minutes but took only seven shots and made only two of those. He finished with six points and added in only two assists and two rebounds in what can only be called a fairly poor performance.
If there was a bright spot for the Celtics tonight it was found in the play of Paul Pierce as well as Michael Pietrus.
Pierce looked better than he has since returning from injury. He led the Celtics with 24 points, he was 8 of 15 from the field and added in five rebounds.
Pietrus played 21 minutes off the bench and scored 14 points.
For Oklahoma City it was a familiar story. Durant and Westbrook.
There's nothing wrong with that though. Durant led all scorers with 28 points and was 9 of 20 from the field. He added in seven boards and four assists too.
Westbrook scored 26 points on 9 of 18 shooting and contributed seven rebounds and four assists.
Final Score Thunder 97 Celtics 88
An offensive foul against Garnett followed by another open three by Sefolosha has put the game out of reach.
The Thunder will extend their winning streak to seven games while the Celtics have now dropped five in a row including four in a row at home.
Is it time to panic in Boston?
Not yet but it's clear that the schedule and the age of the team is presenting a set of challenges that the team has yet to adjust to.
51.1 Seconds left in 4th Quarter Thunder 92 Celtics 85
Instead of Allen it's Pietrus nailing a three pointer.
The Thunder come down the court and answer with a high arching three pointer by Russell Westbrook. The rainbow three just might be the dagger that Boston can't recover from. It pushes the lead back to seven points with under one minute left.
1:22 left in 4th Quarter Thunder 89 Celtics 82
As the clock ticks under two minutes the Celtics continue to hang close but they haven't been able to break through and back-to-back three pointers by Sefolosha and Westbrook have pushed the lead back to seven points.
It's about time that Ray Allen take and make some shots. Allen only has six points and he's 2 of 7 from the field. He's played over 37 minutes but only attempted 7 shots. That's a big part of the reason why the Celtics only have 82 points as the game nears it's conclusion.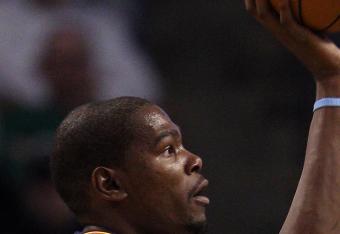 3:06 left in 4th Quarter Thunder 83 Celtics 78
The Thunder can't shake the Celtics.
Pierce nails a three point shot off another offensive rebound by Garnett.
Garnett has had an abysmal night from the field at 4 of 13 but he's got 9 rebounds to offset that futility.
If the Thunder do pull this out then it will be largely because of Kevin Durant. After nailing a three barreled down the lane for an impressive dunk.
Those points stemmed a mini-run by Boston who had cut the lead to two points again. It's back to five now.
6:46 left in 4th Quarter Thunder 76 Celtics 71
The Celtics continue to hang in there.
The Thunder had the lead at 10 points but the Celtics mounted a 5-0 run that was punctuated by an open three from Michael Pietrus.
Neither team is playing pretty basketball but that was the game plan for the Celtics from the outset.
The Thunder have a grand total of 9 assists,that's the type of stat that one would think would signal a sure win for Boston but the Celtics have only 13 assists themselves and only 10 trips to the line.
8:26 left in 4th Quarter Thunder 74 Celtics 64
Boston is going to hold Oklahoma City below their 100 point per game average but the Celtics are shooting the ball so poorly that it may be all for naught.
The Celtics are hitting only 37.7 percent from the field and have scored only 64 points nearly midway through the fourth quarter. Pierce has 19, O'Neal has 12 and Rondo has 10. No one else has cracked double figures.
Oklahoma City hasn't looked great but they've been able to answer every run that Boston has been able to muster.
End of the 3rd Quarter Thunder 72 Celtics 62
This game is looking like it's going to be tight.
Rondo makes a great pass to Jermaine O'Neal to tie the game at 57 but Oklahoma City answers immediately with a three point play by Perkins
The Thunder respond with a 6-0 run to push the lead back to 63-57.
Rondo finally gets to the basket and finishes to cut the lead to 63-59.
The Celtics answer with an open three by Michael Pietrus.
Oklahoma City is really making an effort to push the tempo. They take quick shots even out of the half court set.
The Celtics have been able to hit a few shots or force a turnover to slow things down.
The Celtics tied it at 57 but since then it's a 15-5 run for the Thunder to finish out the quarter.
Is this just a run for the Thunder or are the Celtics wilting under the constant pressure that Oklahoma's young team places on them?
Boston needs to come out for the fourth quarter and cut into this lead which is now 10 points.
6:08 left in 3rd Quarter Thunder 57 Celtics 53
Oklahoma City did something that good teams often do, they came out of a timeout with a set play, ran it and executed it. The result was an easy basket for Perkins off a nice look from Durant out of a high-low post pass.
Kevin Garnett is having an awful night from the floor. He's 3 of 11 from the field and has missed open jumpers all night. Oklahoma City is going to give him that shot so if he can start to get it do drop he'll get some points.
Doc Rivers calls a timeout as Oklahoma City was beginning to push the tempo to a pace that would eventually hurt the Celtics.
8:49 left in 3rd Quarter Thunder 50 Celtics 49
Celtics make a quick 4-0 run to open the half but Durant answers with a open jumper. Hitting shots continues to be a struggle for Boston but they've been pounding the offensive boards to stay in the game.
The quick 10-4 run to open the half has prompted Thunder Coach Scottie Brooks to call a time out. Boston has cut the lead to one point.
Halftime Thunder 46 Celtics 39
Considering that the Celtics are playing the team with the best record in the league on a six game winning streak and shooting only 34.1 percent the score isn't all that bad.
The Celtics are experiencing what a lot of NBA teams have this season. Kevin Durant and Russell Westbrook are really good players who are nearly impossible to shutdown.
Combined they have 32 points and are 11 of 21 from the field. One of them seems to play a role on every single OKC possession.
Boston is led by Paul Pierce who has 11 points on 3 of 6 shooting. He's also 4 of 4 from the free throw line.
Kendrick Perkins hasn't had a memorable return to Boston. He has zero points, four rebounds, three fouls and one turnover.
Rajon Rondo has been outplayed by Russell Westbrook. Rondo has 8 points on 3 of 8 shooting compared to Westbrook who has 16 on 6 of 10 shooting. Westbrook is also 4 of 4 from the free throw line while Rondo has yet to make a trip to the charity stripe.
Look for Oklahoma City to try and push the tempo in the second half. They're well aware of Boston's age and knows if they can make the game resemble a track meet then they'll cruise to victory.
The Celtics would gladly take a replay of the first half tempo. They just need to make more shots along the way. That's really why this game has the score that it does. The Celtics haven't been able to make shots nor have they been able to take advantage of the 9 Oklahoma City turnovers.
Boston seems fairly content to challenge Durant and Westbrook to beat them. That's not a terrible strategy until one considers that those two players always lead the Thunder in scoring and the team is 11-2.
40.3 seconds left in first half Thunder 44 Celtics 39
Rondo can get by anyone on the court but if he can't finish then it's a waste of effort. That's what just happened with Rondo getting all the way to the rim but lacking the touch to finish.
The Celtics are only shooting 31 percent from the field but it' a close game.
The game has been played at a pace that favors Boston but instead of being able to take advantage of that and build a lead it's merely allowed Boston to stay with in distance of coming back from the current deficit.
Westbrook has been able to have his way with Rondo. He leads all scorers with 16 points.
3:56 left in 2nd Quarter Thunder 38 Celtics 31
The Thunder have 24 points combined from Durant and Westbrook but that's how they play the game. It's not unusual and the Thunder are 11-2 with that formula.
The Celtics woeful shooting has subsided a bit and it's a much closer game than it should be. The Celtics look out of sync on offense though and there's sense that unless Oklahoma City makes a mistake defensively the Celtics will have a tough time generating a quality shot attempt.
On defense the Celtics have been solid. Oklahoma City has missed some easy shots but they've also had to make some tough ones.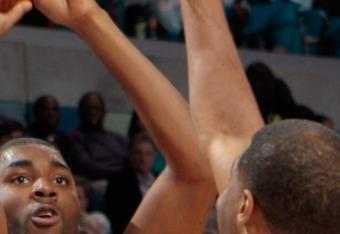 6:21 left in 2nd Quarter Thunder 32 Celtics 25
E'Twaun Moore has entered to game to give Rondo a rest. The Celtics have a younger team on the floor with only Allen and O'Neal among the starters right now.
Westbrook got into the paint and made a beautiful dish to Nick Collison.
Rajon Rondo came back into the game and paid immediate dividends.
Ray Allen corals a loose ball and Oklahoma City inexplicably allows him to go coast-to-coast without ever stopping the ball. Allen converts the easy layup and just like that it's a close game.
The Celtics have withstood an awful run of cold shooting.
8:46 left in 2nd Quarter Thunder 27 Celtics 19
The Celtics are 7 of 24 from the field and in spite of that terrible number they're hanging in the game.
This type of shooting would bury a younger less defensively minded team.
It can't last though. The Celtics have to find a way to generate points sooner than later. The same age and experience that can keep them in this game for a period of time will also make a comeback from a big deficit that much less likely.
The Celtics have gone to the bench with Bass, Pietrus, and Daniels all in the game.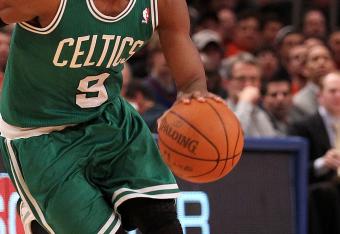 End of 1st Quarter Thunder 25 Celtics 17
It's important to remember that even with the shortened season it is still early.
Far too much scrutiny is given to NBA teams in the regular season. Last year neither number one seed made it to the NBA Finals.
This season with the lockout impacting the schedule some teams really will take more time to click on the court together.
Oklahoma City with young players and the core of their team intact from last season was a natural team to storm out of the gate.
The Celtics are consistently working the shot clock down to single digits. That's fine if it's intentional but at times it just seems to happen because they're out of sync.
The Celtics may have four starters in double figures but Pierce is only averaging 14.7 points per game this season and that's not enough from him.
Rajon Rondo had a frustrating first quarter missing two layups early on and then bricking a 15 foot jumper late with only 15 seconds left in the quarter. He compounded that by fouling Westbrook with less than 2 seconds left.
The Thunder closed the opening quarter on a 15-6 run.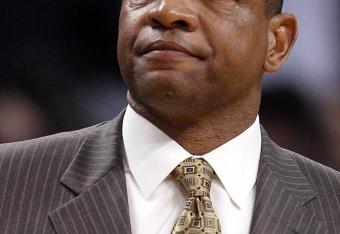 2:43 left in 1st Quarter Thunder 17 Celtics 13
The Celtics age is clearly a major storyline.
Charles Barkley alluded to it repeatedly in the pre game show and the TNT announcers have discussed it as well.
For Boston to try and rid itself of the "old" label they're going to have to win some games.
Ray Allen has already been able to get free on the baseline for open three point shots twice. He's hit one.
The Thunder get into the open court and the Celtics just look outmatched.
Garnett went to the bench and the Thunder immediately forced two turnovers and rolled off four straight points.
Jermaine O'Neal got shutdown by Perkins in the paint.
6:14 left in 1st Quarter: Thunder 9 Celtics 8
OKC won the opening tip and went right to Perkins who missed a little running hook shot. The Celtics came down the floor and milked the shot clock until Garnett nailed a jumper as the shot clock expired.
The Paul Pierce on Kevin Durant matchup is going to be extremely tough on Pierce who will be at a disadvantage in both height and quickness.
Durant is already two for two from the floor.
Rondo seems off as he's already missed two layups in spite of being able to get to the basket with a variety of nice moves.
The refs are letting both teams play as there haven't been too many fouls called in spite of physical play on both ends of the court.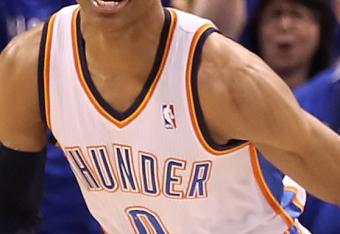 One matchup to watch tonight is at the point guard position.
Rajon Rondo of the Celtics and Russell Westbrook of the Thunder just might be the two quickest and most athletic point guards the NBA. Impressive considering that the league is probably deeper at that position than at any other time in the league's history.
Westbrook is a more consistent scorer who averages 18.9 points per game as compared to Rondo's less impressive 14.7 points per game.
Westbrook plays on a team where he is one of only two players along with Kevin Durant to average more than 10 points per game. Rondo meanwhile is one of four Celtic starters to average over 10 points per game.
Both are lighting fast, both have great hands. The matchup will offer each player a rare opportunity to encounter someone who has a similar skill set.
For Rondo the job is to stop Westbrook from scoring. Durant can't do it all alone and Westbrook is an explosive scorer. For Westbrook his job will be to insure that Rondo stays out of rhythm which will conversely keep the other scorers out of rhythm as well.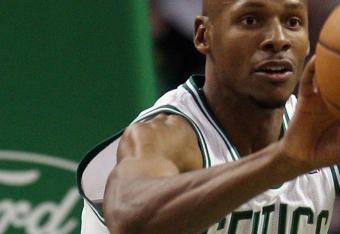 Starting Lineups for Tonight's Game.
Boston Celtics
PG: Rajon Rondo
SG: Ray Allen
SF: Paul Pierce
PF: Kevin Garnett
C: Jermaine O'Neal
Oklahoma City Thunder
PG: Russell Westbrook
SG: Thabo Sefolosha
SF: Kevin Durant
PF: Serge Ibaka
C: Kendrick Perkins
This article is
What is the duplicate article?
Why is this article offensive?
Where is this article plagiarized from?
Why is this article poorly edited?