2011 NFL Draft
2012 NFL Draft Order: What's New After Divisional Round of Playoffs?

Jonathan Daniel/Getty Images
January 16, 2012
With four more teams falling in the divisional round of the NFL playoffs, the order of this year's draft has become that much more clear.
Though the top 24 spots were finalized after the end of Week 17, the playoff teams had the possibility of finding themselves in more or less advantageous draft positioning based on how their postseason played out.
While any team would relish the opportunity to have the final pick in the first round—that means they are Super Bowl champions, after all—it also comes with it a particular pitfall. If they have specific players already in their sights, their chances of landing them gets slimmer with every playoff win.
A benefit for these teams, however, is that they are already quite complete as it is. They are playoff teams, meaning the players currently on their respective rosters have performed at a high level in 2011. Though there are areas in which every team could use improvements, their needs are clearly not as pressing than those of the Indianapolis Colts or St. Louis Rams, who both went 2-14 this season.
With a loss to the New England Patriots, the Denver Broncos have earned themselves the 25th pick in the 2012 draft. At No. 26 are the Houston Texans, who fell to the Baltimore Ravens in their divisional playoff matchup.
The Texans are a great example of a well-balanced team that isn't hurt by having a later-round draft position. With the success they've had in 2011, any additions they make in the 2012 draft should only make the team that much more dangerous next season.
The New England Patriots have the 27th pick in the draft, having received the pick in trade from the New Orleans Saints, who lost to the San Francisco 49ers this past Saturday.
With two first-round picks, the Patriots should be able to find some talented defensive players to help improve their glaring deficiencies on that side of the ball.
At No. 28 is last year's Super Bowl champions, the Green Bay Packers. Like the Patriots, the Packers have serious issues on defense, especially in their secondary. Look for them to target a defensive back with this pick.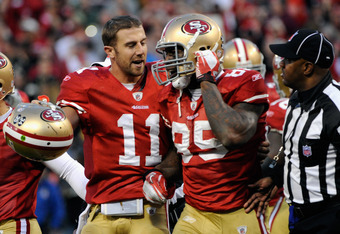 I project the San Francisco 49ers to win the Super Bowl, land No. 32 draft pick
Thearon W. Henderson/Getty Images
Spots 29-32 are still up for grabs. Here is the current draft order, which projects the draft positioning of the final four teams in the playoffs based on how I believe the postseason will play out:
1. Indianapolis Colts (2-14)
2. St. Louis Rams (2-14)
3. Minnesota Vikings (3-13)
4. Cleveland Browns (4-12)
5. Tampa Bay Buccaneers (4-12)
6. Washington Redskins (5-11)
7. Jacksonville Jaguars (5-11)
8. Carolina Panthers (6-10, coin flip)
8. Miami Dolphins (6-10, coin flip)
10. Buffalo Bills (6-10)
11. Kansas City Chiefs (7-9, coin flip)
11. Seattle Seahawks (7-9, coin flip)
13. Arizona Cardinals (8-8)
14. Dallas Cowboys (8-8)
15. Philadelphia Eagles (8-8)
16. New York Jets (8-8)
17. Cincinnati Bengals (9-7, from Oakland Raiders)
18. San Diego Chargers (8-8)
19. Chicago Bears (8-8)
20. Tennessee Titans (9-7)
21. Cincinnati Bengals (9-7)
22. Cleveland Browns (4-12, from Atlanta Falcons)
23. Detroit Lions (10-6)
24. Pittsburgh Steelers (12-4)
25. Denver Broncos (8-8)
26. Houston Texans (10-6)
27. New England Patriots (13-3, from New Orleans Saints)
28. Green Bay Packers (15-1)
29. Baltimore Ravens (12-4)
30. New York Giants (9-7)
31. New England Patriots (13-3)
32. San Francisco 49ers (13-3)
Like the new article format? Send us feedback!