10 NFL Players Whose Careers Will Be Derailed by Injuries Sustained in 2011
Patrick Smith/Getty Images
The injury bug spared no one in the 2011-12 NFL season. Former Pro Bowlers, MVPs and Defensive Players of the Year could not escape the injured reserve.
Between significant ligament tears and dreaded concussion issues, some of these injuries will extend beyond this year.
Here are 10 impact players whose careers could be altered forever from the injuries sustained in the past season.
Jahvid Best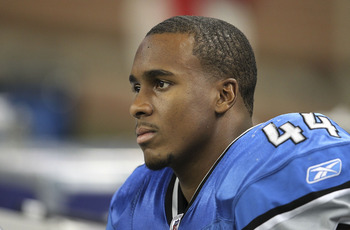 Leon Halip/Getty Images
Jahvid Best's history of concussions hurt his stock entering the 2010 NFL draft.
When healthy, it looked as though the Detroit Lions got a steal by selecting the explosive Best with the 30th pick in the first round.
Unfortunately, Best has been anything but healthy.
After an impressive start to his rookie season, a nagging turf toe injury resulted in a mediocre finish.
This year, he again started out great, but in Week 5 sustained a concussion. Best did not play again and was eventually placed on injured reserve.
Now the Lions are in a difficult situation. They need more balance on offense, and if someone like Miami's LaMar Miller (and his 4.4 40) is available, they would be hard-pressed not to take him.
It sounds harsh, but it may be time to look in a new direction for running back in Detroit.
Bob Sanders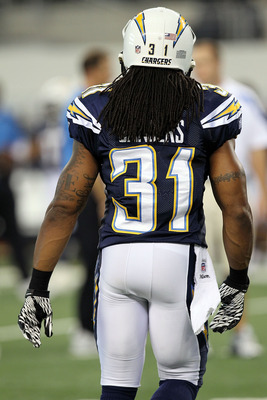 Ronald Martinez/Getty Images
Bob Sanders has not played more than six games in a season since 2007.
The San Diego Chargers took a flyer on the former NFL Defensive Player of the Year, but they only got two games out of him before placing him on the injured reserve.
It seems unlikely another team will take a chance on Sanders, even given his ability as a playmaker and heart-and-soul guy.
Even if someone does, it is likely only a matter of time before they place him on the IR.
Benjamin Watson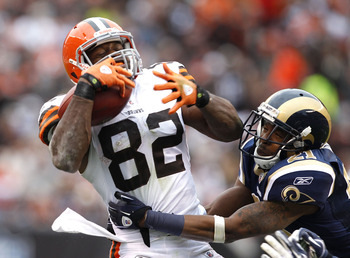 Matt Sullivan/Getty Images
Benjamin Watson had all the ability and ridiculous speed for a tight end, but he was never able to put it all together and take the next step to an elite level.
He had the best season of his career as a member of the Cleveland Browns last year, and was on his way to another productive season before concussions took their toll.
Watson was placed on injured reserve in Week 13.
With Watson's history of concussions, the next one could be his last as an NFL player.
Jason Campbell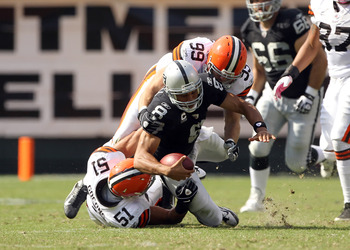 Ezra Shaw/Getty Images
When Jason Campbell broke his collarbone on this scramble for a first down, it ended his season and, essentially, the Oakland Raiders' chances at winning the AFC West.
Unfortunately, it also ended his career with the Raiders.
Campbell is a free agent and, of course, the Raiders traded for Carson Palmer in a failed attempt to win the division.
I do not doubt that Campbell can make a full recovery physically. The question is, where will he end up?
I have liked Campbell since his days at Auburn. Sadly, he was drafted into a terrible situation with the Washington Redskins.
Once he came into his own in Oakland, he suffered the broken collarbone. Campbell will need to find a team with a solid roster outside of quarterback.
If the team is terrible, Campbell is not the guy that will lift them to the playoffs, and he will likely be seen as the scapegoat he was in Washington.
One situation that will give Campbell a chance is with the Seattle Seahawks. Otherwise, the former first-round pick will land in scapegoat or backup status.
Adrian Peterson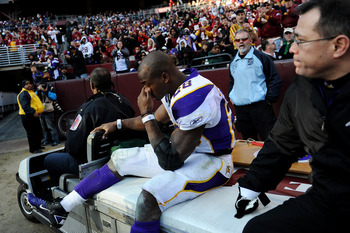 Patrick Smith/Getty Images
Adrian Peterson sustained the type of injury you hate to see as a sports fan—an elite player, finishing the season hard for a terrible team, trying in vain to establish a winning attitude going forward to next season.
Many players in his situation would have mailed in the last few games, but Peterson refused (even coming back from a previous late-season injury), and it caught up to him.
Peterson has been one of the most explosive athletes in the NFL since the day he was drafted.
Will he be the latest All-Pro back to succumb to a devastating knee injury? In a past generation of great backs, it happened to both Terrell Davis and Jamal Anderson.
If Peterson is to continue at an elite level, it will likely be as a different type of back.
Fortunately, he has the strength and tenacity to make the transition as a sheer power back. However, the torn ACL and MCL could put an end to the jump-cuts against the grain that made Peterson a threat to score every time he touched the ball.
Rashard Mendenhall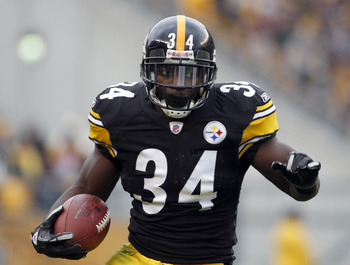 Justin K. Aller/Getty Images
Rashard Mendenhall is kind of a poor man's Adrian Peterson.
He has the moves to make you look foolish and the strength to drag tacklers for extra yardage.
Unfortunately for the Pittsburgh Steelers, he never really found a way to turn all that ability into elite production.
Now, he is coming off a torn ACL that will likely rob him of some of that athleticism.
Mendenhall has been a controversial character since being drafted by the club in 2008. That, plus some inconsistencies and now the injury put his job status up in the air as the Steelers' starting running back in 2012.
Like Peterson, Mendenhall has the strength to make the transition as a power back, but that will take as much of a mental adjustment as a physical one.
Backup Isaac Redman rushed for more than 90 yards in both the the games that he received the bulk of the carries after Mendenhall's injury, and he has more of the ground-and-pound style that was once synonymous with Steelers football.
Kris Dielman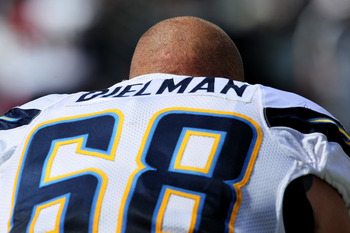 Stephen Dunn/Getty Images
If the NFL is serious about protecting its players, then Kris Dielman is the exact type of guy that should not be allowed to play another down in the NFL.
Dielman suffered a clear concussion in a game earlier this season, but he kept playing.
He suffered a seizure on the team plane and had an ambulance meet him on the ground, where he was then rushed to the hospital.
When asked if Dielman would risk his health (aka his life, in this situation) to come back with the San Diego Chargers and win a title, he said, "Yeah, I think so. If I didn't have a wife and kids, it would probably be an easier decision."
Later in the interview, Dielman was asked if he would take himself out of a game if he felt concussed again.
He responded, "Apparently, I won't do that. I'll play through just about anything, and I played through this one and it got me."
This is the point of view the NFL needs to take a stance against to protect its players from themselves.
Dielman has enjoyed a nine-year career, is a former Pro Bowler and has his millions. It is time to hang it up.
Aaron Smith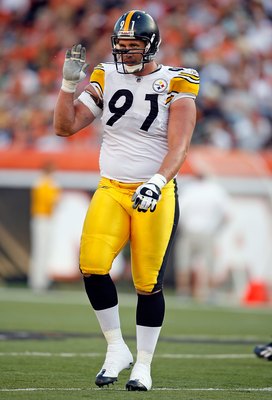 Andy Lyons/Getty Images
Aaron Smith was once considered the prototypical 3-4 defensive end.
Big, strong and with a high motor, the longtime Pittsburgh Steeler was a dominant run-stuffer with the ability to get to the quarterback.
Unfortunately, as soon as he started receiving Pro Bowl recognition for his blue-collar play, injuries took their toll.
Smith ended each of the last three seasons on the injured reserve, culminating in spinal fusion surgery this past November.
Smith will be 36 years old next season, and it is unlikely he will play another game in the NFL.
He has stated publicly that if he does come back, it will be with the Steelers. However, Pittsburgh has two first-round picks in Cam Heyward and Ziggy Hood ready to step in and take his place.
Smith enjoyed a great decade-plus in Pittsburgh. Now it is time for him to listen to his body and enjoy his retirement.
Jamaal Charles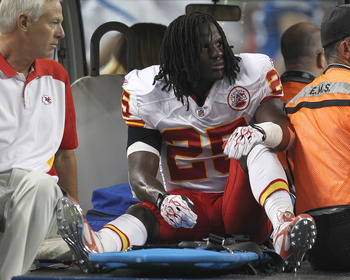 Dave Reginek/Getty Images
Jamaal Charles got all of 12 carries before the Kansas City Chiefs had to place their star running back on the injured reserve.
The good news is that the extended layoff will give Charles all the time he needs to recover.
The bad news is that unlike Adrian Peterson and Rashard Mendenhall, Charles' game is based exclusively on speed and quickness. At just under 200 pounds, he doesn't have any other choice.
I am pulling for him, but we could look back at this injury as a career-ender.
Peyton Manning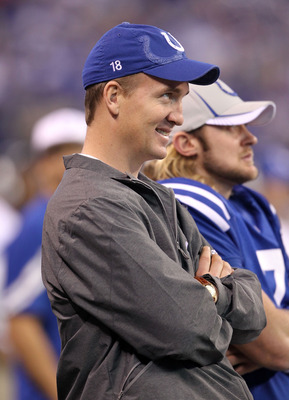 Andy Lyons/Getty Images
Whether or not Peyton Manning makes a full recovery from his neck injury, his career has changed forever.
His days as a member of the Indianapolis Colts are numbered.
The Colts have already announced they will make Andrew Luck the first pick in the NFL draft.
Manning will almost certainly be dealt or released this offseason. Even if the Colts keep Manning to mentor Luck (highly unlikely), it will only be a one-year experiment.
The question is not if, but when and where Manning will go next.
Alexander is a featured columnist for bleacherreport.com You can follow Alexander on Twitter @thesportsdude7 or become a fan on his Bleacher Report profile.
Keep Reading