2012 NFL Mock Draft: New York Giants Full 7-Round Predictions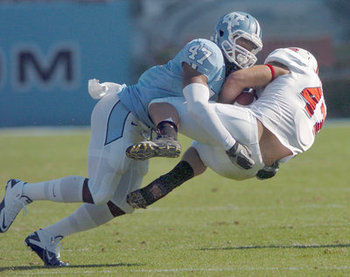 The Giants' stunning victory over the 15-1 Green Bay Packers illustrated a few key aspects of professional football: first, the unbridled unpredictability that electrifies fans week in and week out; and second, the importance of building a team through the NFL Draft.
Former first-round selections Hakeem Nicks and Eli Manning torched the Green Bay secondary, second-round pick Osi Umenyiora tallied two sacks, and even seventh-round draftee Ahmad Bradshaw averaged 5.3 yards per carry.
Following Sunday's definitive win at Lambeau Field, Big Blue has asserted its status as a member of the NFL's elite. However, every team in the league has undeniable weaknesses, and the Giants are no exception.
While their position in the draft continues to plummet with each playoff upset, the G-Men can still capitalize on a promising 2012 rookie class and add a few players who can exert an immediate impact on the field. It's still early, but here's a look at what the Giants can do through the draft to improve their team even further.
Round #1: Zach Brown, OLB, University of North Carolina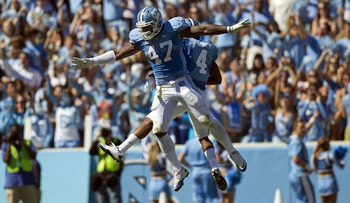 The Giants experienced a drastic change in culture defensively this season.
In years past, the G-Men found success in stopping the ground game and shutting down opposing running backs. That wasn't the case in the 2011-12 campaign, as New York ranked in the bottom-half of the league in total rushing yards allowed and opposing yards per carry.
Much of the blame can fall on the Giants' inconsistent linebacking core. OLB Michael Boley has been a bona-fide star in the playoffs thus far, but he'll need help on the other end of the field to duplicate this success next year.
Enter Zach Brown.
Brown has been nothing short of spectacular at UNC, racking in 105 tackles (13.5 for losses), three forced fumbles and three interceptions in his senior season. A member of the 2011 All-ACC First Team, Brown is a ferocious defender who can step in and ameliorate New York's woes against the rush.
The stand-out Tar Heel is currently the third ranked OLB in the 2012 draft class, according to NFLDraftScouts.com. The 6'2" Brown has been successful playing on passing downs too, a perfect fit for the blitz-happy Giants.
If the picking order remains the way it is, and New York does decide to call Brown's number come draft day, Brown will be the 29th overall selection, eerily reminiscent of former Tar Heel and 29th overall selection Hakeem Nicks in 2009.
If Brown is able to mirror Nicks' transition at the professional level, the Big Apple faithful will sing the praises of GM Jerry Reese once again.
Round #2: Coby Fleener, TE, Stanford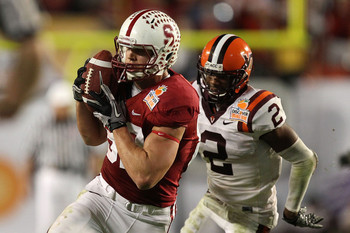 True, TE Jake Ballard has exceeded expectations in 2011-12, but he also becomes a free agent at the end of the year. To make matters worse, back-up Bear Pascoe's contract will expire at the same time.
The Giants need to find consistency at the tight end position, and Stanford's Coby Fleener would be a sensible pick.
Fleener was a favorite target of star signal-caller Andrew Luck and played a pivotal role in the Cardinal's dynamic offense. With ten touchdowns in 2011 and an average of over 20 yards per catch, Fleener's presence as a vertical threat will give the Giants' dangerous passing attack an added dimension.
The Stanford senior and first-team All-PAC-12 player has the skill set to be a first-round pick. However, with 2011 deemed as the "year of the tight end" in the NFL, many teams are already secure at the position. Furthermore, the presence of Clemson TE Dwayne Allen will lower Fleener's draft stock.
Expect him to compete for a spot in New York's starting line-up this summer.
Round #3: Audie Cole, MLB, North Carolina State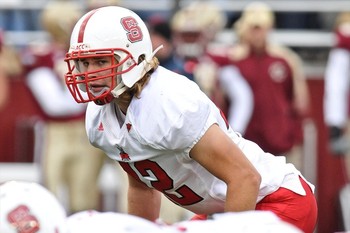 Middle linebacker has been a serious defensive liability for the G-Men this year. Looking to establish a balance on both sides of the ball, expect the Giants to select middle linebacker Audie Cole from North Carolina State.
At 6'4", Cole is a physical athlete who recorded 98 tackles in 2011. The Wolfpack 'backer has been described as a great pass defender, perfect for a New York team that has struggled immensely to cover tight ends and running backs on short passes.
Cole was 92nd on NFLDraftScout.com's ranking of the 2012 draft class. With mid-seaon signing Chase Blackburn currently occupying the starting position, look for Cole to get significant playing time next year in an effort to rejuvenate New York's once-feared defensive unit.
Round #4: Don Barclay, OT, West Virginia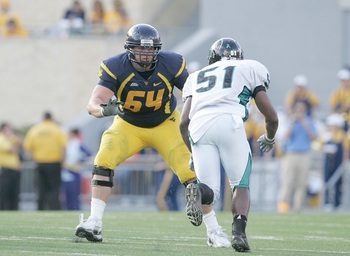 Much of QB Eli Manning's Pro Bowl season can be attributed to the play of his offensive line. Still, a myriad of injuries and the aging of tackles Kareem McKenzie and David Diehl will force Jerry Reese and the Giants to address the position of OT through the draft.
Don Barclay is on the cusp of being an early-round talent, but the depth at the tackle position in 2012 will marginally drop his stock. Agile rushers have been his Achilles' heel, but with a relatively consistent Giants o-line, Barclay should have time to develop into a dependable starter.
With a resume that includes starting all 13 games and 45 knockdowns for the Mountaineers, Barclay may emerge as one of the biggest sleepers of this year's draft class.
Round #5: Quentin Saulsberry, C, Mississippi State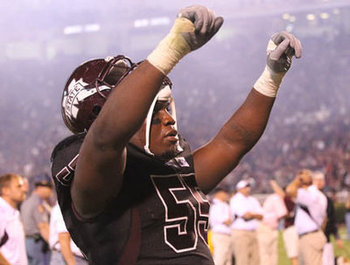 David Baas was a relatively high-profile signing for the Giants in the 2011 offseason, but to this point, his career with Big Blue has been consumed by injuries and sub-par performances.
Mississippi State's Quentin Saulsberry would be a great fit for New York's ever-rotating protection unit. Saulsberry was an honorable All-SEC mention, and has received praise for his versatility; in his college career, he's played every position on the offensive line with the exception of left tackle.
Like OT, the center position is a deep one in this year's draft class. While Baas will remain the starter for at least 2012, Saulsberry's athleticism and experience along the line may earn him some playing time in New York next season.
Round #6: Tydreke Powell, DT, North Carolina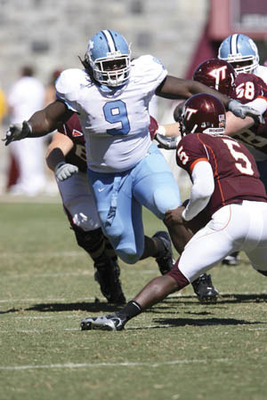 Both Chris Canty and Linval Joseph are serviceable DTs, but as the G-Men look to their youthful, lethal pass rush to anchor their defense, they'll need to find a tackle with more upside.
Look no further than Tydreke Powell, another stand-out from UNC's defense in 2011.
Weighing in at 310 pounds, Powell is an interior force who could be a solid starter in the near future. With all the depth defensive coordinator Perry Fewell will have next season, expect Powell to see the field on a few line rotations.
The Tar Heel notched two fewer tackles this year than in his junior campaign, while his sack totals dropped from 2.5 in 2010 to just one in 2011. Still, he possesses raw talent and the Giants can afford to take a late-round risk on Powell's undeniable physical strength.
Round #7: Pick Traded to Minnesota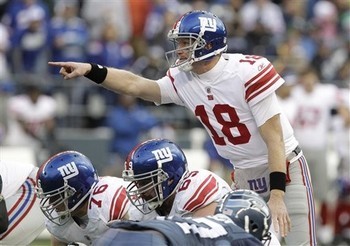 The New York Giants traded a conditional 2012 draft pick, as well as a fifth-round selection in last year's draft, to the Vikings for QB Sage Rosenfels and RB Darius Reynaud. For purposes of this mock draft, this was the pick given to Minnesota. The pick's conditions are likely based on Rosenfels' playing time and performance in New York.
Keep Reading

New York Giants: Like this team?