UFC 142 Results: Has Jose Aldo Done Enough to Earn a Place as an All-Time Great?
January 16, 2012

Jose Aldo bust onto the scene in mid-2009 with his impressive, quick KO over Cub Swanson. In a little over two years, he went from breakout star to being a champion.
He shouldn't have done enough in that time to be considered one of the best of all time, but he already has. Aldo is one of the most impressive small men to step in the cage. Some of this opinion is due to the fact that he is the first UFC featherweight champion.
With time, there will be others, and after a few more men claim the belt as their own, fans will get to see how Aldo stacks up. For now, it appears that he is going to have a lengthy run with the belt, as none of the best at 145 pounds has been able to stop him.
In fact, none of the best at the featherweight limit have been able to challenge him. He is so impressive that Dana White, head of the UFC, has admitted in an article on MMAJunkie that he is open to Aldo facing lightweight champion Frankie Edgar.
Aldo is so dominant that he was even able to take out Kenny Florian, who moved down in weight to fight for the title. Florian is no joke, and the UFC's best perennial contender was beaten handedly for five rounds by the champ.
Aldo could stick around at featherweight, but his options are starting to get limited. He already beat Urijah Faber easily in the WEC, which is the biggest opponent he could get and the biggest money fight he could have at that weight.
Pat Curran and Joe Warren are with Bellator and couldn't fight Aldo if they tried.
Dustin Poirier is on a win streak, but hasn't stepped up against top competition.
Hatsu Hioki might have a few victories in a row, but he struggled against George Roop in his UFC debut.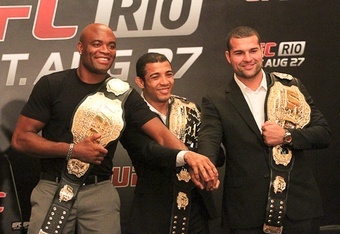 Yuri Alcantara is off to a good start, but still needs some top fights much like Poirier.
And so Aldo is stuck in no man's land. He has a case for being considered an all-time great at featherweight.  
He hasn't quite made it to being a pound-for-pound all time great.
He can do it one of two ways, though.
He can move up in weight and destroy a few top lightweights.
Or he can go the path of Anderson Silva and reign supreme at featherweight for years to come.
What he does and how history unfolds will be dictate what happens.
Until then, we'll be here watching it happen.