WWE: Brodus Clay is a Lousy Throwaway Gimmick
January 16, 2012

Last week, the wrestling world was finally going to be exposed to a returning Brodus Clay. A door to his locker room with a disco ball logo was the only clue to what we would expect, which took the majority of fans by surprise.
This wasn't the destructive "Mastodon of Mayhem" that should have won his season of NXT and showed promise in Alberto Del Rio's feud with Edge almost a year earlier. This was "Funkasaurus."
Residing in Planet Funk, Brodus Clay had two backup dancers and dressed in a tracksuit that even Heavy D would be confused about. He danced to music that suggested that somebody call his momma and had pyro come from the ring posts. After some antics and a few damaging moves, it was over for Curt Hawkins.
A few days later on SmackDown, the same thing took place for Tyson Kidd.
We now are in week two of the "Funkasaurus Era" in WWE, so what can we honestly take away from the gimmick so far?
Well, needless to say, people were angry at first. I could mention about a dozen tweets from some of my Twitter followers, but none of them have any language appropriate for this article.
I was obviously angered by it at first. The weeks of delaying the inevitable surely seemed to change some things. In my wildest dreams, I could not have possibly predicted this from happening.
In looking into the chain of events, one could imagine that Clay would have returned in the same way that he was in NXT, but that was quickly changed. Clay was poised to return and be the final opponent for John Morrison, but Clay leaked the storyline via Twitter, which was later removed.
Needless to say, plans were changed and Clay was likely given a stern talking to. That's probably where the talk of a new gimmick was put together.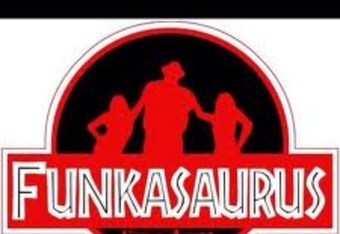 Clay's new gimmick has been compared to many that have come before it. Fans have combined multiple gimmicks, such as The Godfather, Disco Inferno, Too Cool and so many others. Even Clay's theme is recycled, as seen by the seldom remembered superstar Ernest "The Cat" Miller.
So why take a recycled idea, make it into a gimmick and give him a recycled theme for this big return? Well, a lot of that is because of Clay's social media screw-up. More importantly, though, this is the rite of passage that every big man in wrestling needs to go through sooner or later.
Clay is believed to be the next great big man when the older big guys, like Mark Henry, Kane and Big Show, all retire in the coming years. Clay is going to have a lot of responsibility as the years go along, so Clay needs to have his humility be taken care of earlier in his career.
Mark Henry is a damaging force in WWE now, but there was a time where he was just Sexual Chocolate and having "babies" with Mae Young. Kane has made a fantastic career for himself, but had to deal with the awful gimmick of Isaac Yankem, the personal dentist of Jerry "The King" Lawler, as well as a stint as a fake Diesel.
It's almost a rite of passage for a big guy to get cut down to size. Just look at what happens when it doesn't happen early on in their careers. There are two big examples for WWE.
Brock Lesnar never got the bad gimmick that a guy like Matt Morgan got. "The Next Big Thing" was a dominant force in WWE until he wanted to expand his aspiration. Without the bad gimmick, Lesnar became cocky and branched off to the NFL and, eventually, into MMA.
Big Show also did not get a poor gimmick when coming out of WCW's Power Plant. WWE tried to make him goofy with his stint as an imitator trying to show his charisma.
It failed badly and Big Show actually was sent to development at Ohio Valley Wrestling before leaving the company. Big Show has since returned, but that low point in his career is still something that sits in his mind.
So whether you love it or hate it, this Brodus Clay gimmick is lousy, but it is lousy on purpose. You mat enjoy it more and more as it goes on, but the point is that Clay will become humble from this.
This may also be a punishment of sorts for Clay, but he is also someone that the company is investing time and money into. Clay's hiatus had a movie role built into it, so the funk will eventually run out for the big guy.
Besides, as a lovable face like the Funkasaurus, his pending heel turn, whenever that comes, will be all that more impactful when it comes. As it stands now, keep being funky, Brodus. Eventually, somebody will call your momma.