Matt Barkley: 5 Reasons USC Quarterback Will Be Heisman Favorite in 2012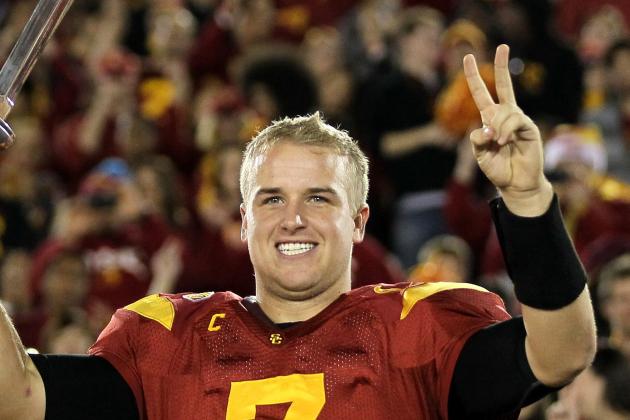 Stephen Dunn/Getty Images

Heading into the 2012 college football season, the USC Trojans are once again contenders for the BCS national championship, and their quarterback, Matt Barkley, is the front-runner for the Heisman Trophy.
With USC's NCAA-imposed bowl ban lifted, Barkley is poised to follow in the footsteps of former USC quarterbacks Carson Palmer and Matt Leinart and win his program's seventh (or eighth, depending on your opinion of Reggie Bush) Heisman.
Begin Slideshow

»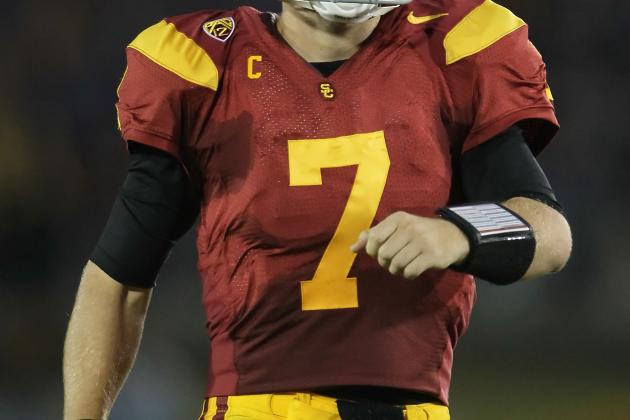 Jeff Gross/Getty Images

Barkley very well could have figured in the Heisman race this season. But with his USC Trojans banned from postseason play, he was out of sight, out of mind for most of the Heisman voters.
The Stanford Cardinal and Oregon Ducks were both in the national title picture, eating up the majority of the Pac-12's national coverage.
This season, with the departure of USC's bowl ban as well as key players from both Stanford and Oregon moving on, the Trojans enter the year as favorites to take the Pac-12 title.
Lack of exposure won't be a problem for Matt Barkley this season, as all eyes will be on Los Angeles.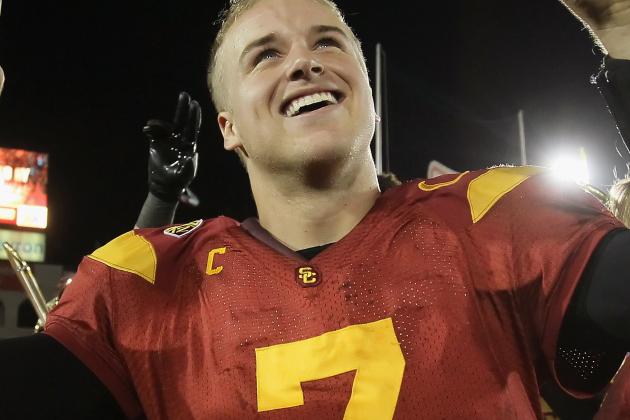 Jeff Gross/Getty Images

Though Robert Griffin III's transcendent season bucked the trend this year, playing for a Top Five team is typically a Heisman prerequisite. Griffin played on by far the worst team of any Heisman winner in recent memory.
Prior to his win, the last 11 Heisman winners had all come from teams that finished fifth or better in the final AP poll. The last winner to come from a team outside the Top Five was Ron Dayne when his Wisconsin Badgers finished seventh.
While the Heisman is an individual award, team success will certainly play a role in determining Barkley's chances.
Though preseason polls certainly can't be taken as gospel at this point, most predictions have USC as one of the top contenders for the 2012 BCS title. The Trojans are a virtual lock to begin the season in the Top Five, and with a schedule that sets up well for success, they have an excellent chance to stay there.
Both Notre Dame and Oregon will have to travel to L.A., leaving an Andrew Luck-less Stanford team as the toughest road test for the Trojans.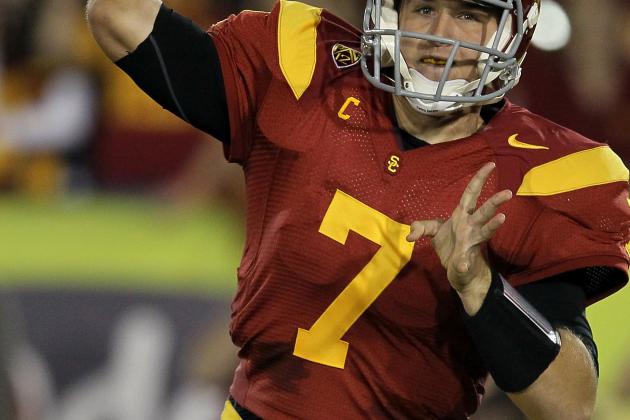 Stephen Dunn/Getty Images

The three top finishers in this season's Heisman voting have all gone on to the NFL. Only Montee Ball and Tyrann Mathieu remain, but both face major challenges heading into 2012.
With quarterback Russell Wilson gone, it's unlikely that the Wisconsin Badgers will be able to maintain the team success that gave Ball's season such a high profile last year.
Mathieu will be just as outstanding as ever, but he faces the toughest challenge of all—trying to win the Heisman from the defensive side of the ball.
Even at the glamour position of quarterback, Barkley is already at the head of the class. Six BCS conference quarterbacks had a higher passer rating than Matt Barkley in 2011. Only one of them is returning to school this season: Washington's Keith Price.
Price will be great for the Huskies in 2012, but his team has no chance of winning the Pac-12. Unless Price can somehow replicate Griffin's numbers from this season, he won't be a factor in the Heisman race.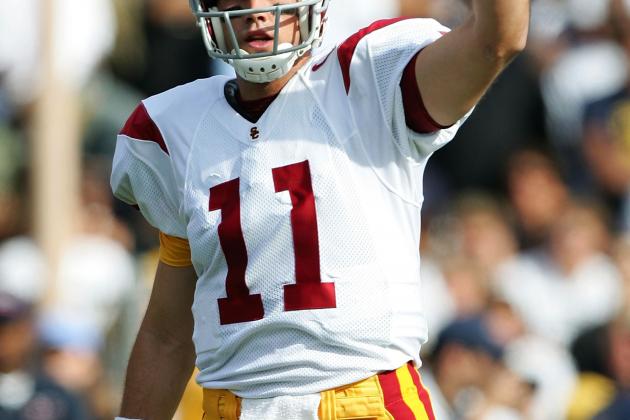 Jed Jacobsohn/Getty Images

USC's recent success in Heisman balloting is without precedent in recent history.
Over the last 10 seasons, three USC Trojans have accepted the Heisman Trophy. One had to give it back, but that doesn't change the incredible success that USC has had with this award. Two of the award winners were quarterbacks, Carson Palmer and Matt Leinart.
During that time period, only one other program (Oklahoma) had even two winners.
You'd have to go all the way back to 1956 to find the only program that has ever won more Heismans in such a short span of time. Back then, the Notre Dame Fighting Irish took home four trophies in 10 years.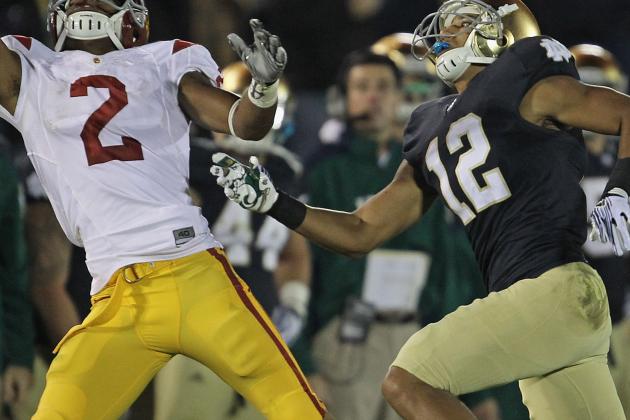 Jonathan Daniel/Getty Images

Barkley is a great player by himself, but with the nation's best tandem of wide receivers at his side, he will put up video-game numbers in 2012.
In their first and second years in the program, respectively, Marqise Lee and Robert Woods both finished in the top 15 in the country in receiving yards per game. Both topped 1,000 receiving yards, and the pair combined to reel in 26 touchdowns.
They'll make Matt Barkley's job much easier in 2012.