UFC 142 Results: Where Does Vitor Belfort Rank Among the All-Time Greats
January 16, 2012

At one point in time, Belfort was considered a fast rising star in MMA and the UFC. At only 19, Belfort had already won a fight in the UFC.  He seemed like was on the fast track for a successful career.
Even with two losses in his first few fights, both in the UFC and PRIDE, he was doing well. The defeats came by the hands of Randy Couture and a prime Kazushi Sakuraba.  
In between those losses, he had wins over Wanderlei Silva, Gilbert Yvel and Heath Herring.
The problem was that Belfort kept having that big win elude him. After stringing together a few good victories together, he lost to Chuck Liddell. Then, he finally beat Randy Couture in their second match because of a cut that Couture suffered during the fight.  
It was a little over a month after his sister had been abducted and later killed.
The fact that he was able to continue training for the fight and then win shows what a professional Belfort is. That same professionalism is what helped him beat Anthony Johnson when Johnson came in overweight for their fight.
Still, it affected him in a way that losing a loved one always does. He lost a rematch with Couture and then lost his next two matches after that. It can't be proven that the loss of his sibling affected him, but it would explain his failures in the cage.
In 2007, Belfort finally got his career back on track and was able to string a couple wins together again, though the competition was middle- and second-tier.  
When rival MMA company Affliction was bought out, he got a second chance in the UFC.
Belfort took the chance to knock out former middleweight champion and Octagon veteran Rich Franklin in spectacular fashion. And then he proceeded to get knocked out in the same way against middleweight champion Anderson Silva.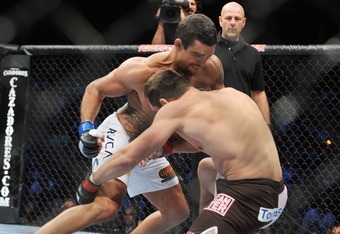 Jon Kopaloff/Getty Images
Those two fights, along with the Johnson victory at UFC 142, sum up Belfort's career in a nutshell. He is a professional who will overcome most odds and face down giants, but he lacks the power and ability to make it to the very top. He is someone who, while great, will never be the greatest no matter how fans try to view it.
It's a shame that someone who is so talented and who started so young will always be a shade less then the best. But that is the very essence of combat and martial arts—someone will always be better and there always has to be a loser.
Belfort has always shown class inside and outside the cage, and in MMA, that is always something to be applauded. So, even though Vitor Belfort might not get a Hall of Fame career, Vitor will always be a Victor.