2012 NFL Mock Draft: How Many Running Backs Go in the First Round?
January 19, 2012

Ronald Martinez/Getty Images
While the running back position has slowly been devalued in the NFL, the 2012 draft class has at least two running backs—Trent Richardson and Lamar Miller—that are first-round worthy and another (Chris Polk) that could sneak in with good pre-draft numbers.
In our 2012 NFL Mock Draft, we take a highlighted look at where those running backs may get picked come April: 
1.  Indianapolis Colts—Andrew Luck, QB, Stanford 
2.  St. Louis Rams—Justin Blackmon, WR, Oklahoma State
3.  Minnesota Vikings—Matt Kalil, OT, USC
4.  Cleveland Browns—Robert Griffin III, QB, Baylor
5.  Tampa Bay Buccaneers—Morris Claiborne, CB, LSU
6.  Washington Redskins—Alshon Jeffery, WR, South Carolina
7.  Jacksonville Jaguars—Riley Reiff, OT, Iowa  
8.  Carolina Panthers—Michael Floyd, WR, Notre Dame
9.  Miami Dolphins—Quinton Coples, DE, North Carolina
10.  Buffalo Bills—Courtney Upshaw, OLB, Alabama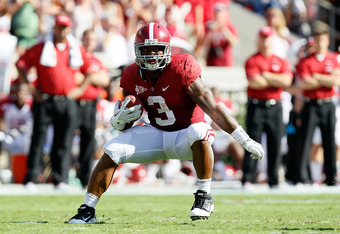 Kevin C. Cox/Getty Images
11.  Kansas City Chiefs—Trent Richardson, RB, Alabama
If you look at a bunch of mock drafts, Richardson has been one of the toughest guys to project early on. He has the talent of a top-five player, but running backs have taken such a hit value-wise that it's hard to see a team taking him that soon. Nonetheless, mocks have had the Alabama running back going to Cleveland, Tampa Bay, Miami and Cincinnati.
We like him in Kansas City, where Richardson can team with Jamaal Charles to form another top one-two punch that can jolt the Chiefs back to the top of the rushing rankings. Back in 2010, when Kansas City won 10 games and the AFC West, the Chiefs were the No. 1-ranked rushing offense. 
12.  Seattle Seahawks—Michael Brockers, DT, LSU
13.  Arizona Cardinals—Jonathan Martin, OT, Stanford 
14.  Dallas Cowboys—Dre Kirkpatrick, CB, Alabama
15.  Philadelphia Eagles—Luke Kuechly, LB, Boston College 
16.  New York Jets—Ronnell Lewis, LB, Oklahoma
17.  Cincinnati Bengals—Whitney Mercilus, DE, Illinois
18.  San Diego Chargers—David DeCastro, OG, Stanford
19.  Chicago Bears—Janoris Jenkins, CB, North Alabama
20.  Tennessee Titans—Melvin Ingram, DE, South Carolina
21.  Cincinnati Bengals—Kendall Wright, WR, Baylor
22.  Cleveland Browns—Mike Adams, OT, Ohio State  
23.  Detroit Lions—Alfonzo Dennard, CB, Nebraska
24.  Pittsburgh Steelers—Cordy Glenn, OL, Georgia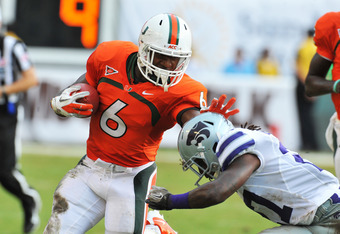 Al Messerschmidt/Getty Images
25.  Denver Broncos—Lamar Miller, RB, Miami
Miller could have a chance to land in either Cincinnati or Cleveland before the Broncos pick at No. 25. And in all reality, the Broncos have more pressing needs than adding another running back to the mix.
But if Denver is truly building around Tim Tebow, he has to have more punch in his backfield. Miller and his game-breaking skills could provide just that. 
26.  Houston Texans—Dontari Poe, NT, Memphis
27.  New England Patriots—Peter Konz, C, Wisconsin
28.  Green Bay Packers—Nick Perry, OLB USC
29.  New York Giants—Dont'a Hightower, LB Alabama    
30.  Baltimore Ravens—Vontaze Burfict, LB Arizona State
31.  San Francisco 49ers—Mohamed Sanu, WR Rutgers  
32.  New England Patriots—Mark Barron, S, Alabama