2012 NFL Draft Order: Teams with Reasons to Trade Their First-Round Picks
January 16, 2012

Christian Petersen/Getty Images
Here's a quick look at teams that have good incentive to trade their first-round pick during April's 2012 NFL draft.
Indianapolis Colts (First Pick)
It's highly unlikely that the Colts are going to pass up on an all-world talent like quarterback Andrew Luck, but oh what a haul they could get for him.
Remember earlier this year when the Cincinnati Bengals traded Carson Palmer to the Oakland Raiders for two first-round picks?
You think Luck, who is 10 years younger and is the best prospect in, well, forever, has a little more value than Palmer?
Yeah, I'd say so.
If the Colts decided to trade their pick, they could conceivably get a team's whole 2012 draft and probably another couple future picks.
Since they still have Peyton Manning to hold down the quarterback position, the trade route would go much further in improving this team as a whole.
Cincinnati Bengals (17th Pick)
The Bengals got this pick from the Raiders in the aforementioned Carson Palmer trade, but I wouldn't be surprised at all to see them move it depending on how the first 15 picks go.
Cincinnati is one of the youngest, most talented teams in the NFL at almost every position. It has no need for a quarterback (Andy Dalton), a first-round receiver (A.J. Green), a linebacker (Rey Maualuga) or a corner (Leon Hall, Nate Clements).
The Bengals could potentially go for someone on either of the lines. However, many teams above Cincy will be going for O-linemen, and the value just might not be there at the 17th pick. Also, there are no real sure-thing D-lineman at this spot, so they might be reaching.
When you can't get good value at your pick, you either trade up or trade down.
What's more, Cincy has another first-round pick four picks later, so it has the flexibility to be creative.
New England Patriots (29th+ Pick)
Bill Belichick has proven that when he has two first-round picks, he's not afraid to trade the second one.
It is now set in stone that the Pats' first pick will be No. 27 via the Saints, but their second pick could be anywhere from 29 to 32 depending on how the rest of the playoffs play out.
The Patriots are going to need a lot of help for their defense, and two first-round picks is a good way to chip away at that problem. Still, I wouldn't at all be surprised to see the mastermind Belichick trade his first-rounder for a more proven talent in the secondary.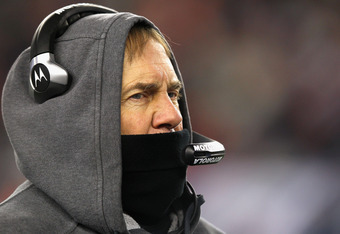 Al Bello/Getty Images
2012 NFL Draft Order 
*Coin flip needed to break tie 
Picks 29-32 to be determined by playoffs 
1. Indianapolis Colts (2-14)
2. St. Louis Rams (2-14)
3. Minnesota Vikings (3-13)
4. Cleveland Browns (4-12)
5. Tampa Bay Buccaneers (4-12)
6. Washington Redskins (5-11)
7. Jacksonville Jaguars (5-11)
8.* Carolina Panthers (6-10)
8.* Miami Dolphins (6-10)
10. Buffalo Bills (6-10)
11.* Kansas City Chiefs (7-9)
11.* Seattle Seahawks (7-9)
13. Arizona Cardinals (8-8)
14. Dallas Cowboys (8-8)
15. Philadelphia Eagles (8-8)
16. New York Jets (8-8)
17. Cincinnati Bengals from OAK (8-8)
18. San Diego Chargers (8-8)
19. Chicago Bears (8-8)
20. Tennessee Titans (9-7)
21. Cincinnati Bengals (9-7)
22. Cleveland Browns from ATL (10-6)
23. Detroit Lions (10-6)
24. Pittsburgh Steelers (12-4)
25. Denver Broncos (8-8)
26. Houston Texans (10-6)
27. New England Patriots from NOLA (13-3) 
28. Green Bay Packers (15-1)