Can Jake Peavy Shake His Past Injuries to Help the Chicago White Sox?
January 16, 2012

Jonathan Daniel/Getty Images
This offseason has been one of rebuilding and change for the Chicago White Sox. 
Gone are Mark Buehrle, Carlos Quentin, Sergio Santos and Jason Frasor. Rumored to be on the trading block is pitcher Gavin Floyd, and Ozzie Guillen took his managerial talents to South Beach.
The latter was good news to the embattled right-hander Jake Peavy who during an interview and on several occasions has clashed heads with the former Sox skipper.
With new manager Robin Ventura at the helm, the expectations for Peavy have been lowered drastically. But the truth is that when pitchers and catchers report on February 20, this will be the most important season of Peavy's life.
The former Cy Young winner (2007 with San Diego) is one year away from free agency and he must prove to be healthy, or face the same distinction as the Barry Zito's and A.J. Burnett's of the world. (Former pitching stars who have been injured or just flamed out once they changed uniforms.)
Peavy must put the last two seasons to rest and come out to perform.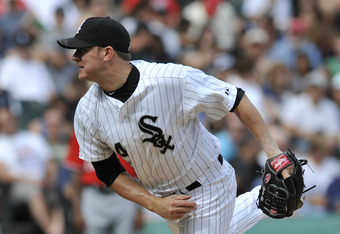 David Banks/Getty Images
Is he the same pitcher he was when he took the mound for the Padres? One would be naive to believe so. 
In fact, Peavy is a shell of his former self. What works in his favor is that the shoulder surgery during the 2010 season allows him to reinvent himself in the same way the Cubs' Ryan Dempster has. 
Not to defend Peavy, but he wasn't healthy last season. His velocity was significantly down and Ozzie Guillen's decision to pitch him in relief versus Washington on June 25 may have thrown Peavy's mechanics in the trash. 
Most starting pitchers are able to recover from a long relief outing, but that came after a game three days prior versus the Cubs where he threw 104 pitches. A total of 159 pitches thrown by a player who was still building strength in his pitching arm is too many. He was less than a year removed from surgery.
For a pitcher who relies heavily on his fastball and slider (83 percent) that outing may have worn his arm out, thus causing the rift between Guillen and Peavy with (among others) pitching coach Don Cooper in the middle of it.
This coming season eases a burden for Peavy who, at the very least, will have a new voice in the dugout every five days or so. Ventura will defer to Cooper when it comes to pitching matters.
I also believe that the relationship of the two will be a plus in terms of decision making. Finger pointing will become less of a story. Production, or lack there of, will become the highlight.
An injury-free Peavy can make or break the White Sox season. With any success, the once-promising pitcher might become a major rebuilding block, as teams pay a premium for arms during the playoff chase.
Peavy's free-agent status at the end of the season may prove to be attractive. It is his job to prove that he is healthy and ready to contribute.