2012 NFL Draft: Picks That Green Bay Packers and Other Playoff Losers Must Make
January 16, 2012

Jonathan Daniel/Getty Images
The Green Bay Packers are getting prepared to start a long offseason, considering the fact that they went 15-1 this year but fell to the New York Giants, a team that made it into the NFL playoffs in their last game.
Green Bay had an easy road to the Super Bowl destroyed by its inability to make plays when it counted and could not stop anyone with its defense.
The Pack must address this in the draft, and fortunately there are a number of impact players who should be available by the time their pick comes around.
Let's take a look at a game-changer that Green Bay could get, as well as some that would make a difference on teams that have been eliminated from the postseason.
No. 28: Green Bay Packers—Janoris Jenkins
After watching Eli Manning look exceptional last night, the Packers know they must add an elite cornerback.
This pick, which would net a top-10 talent, is perfect for the team to start developing youth and athleticism at the CB position.
Jenkins has had some off-field problems, but he'll fit in fine in the Green Bay locker room full of veterans.
No. 24: Pittsburgh Steelers—Cordy Glenn
Glenn is a monster offensive guard prospect, and the Steelers need exactly that to keep Ben Roethlisberger safe and healthy.
He was getting popped nearly every drop back in the last few weeks of the season and by the Broncos in the playoffs. Glenn will help put a stop to that.
No. 25: Denver Broncos—Jerel Worthy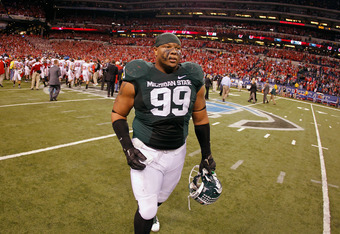 Gregory Shamus/Getty Images
If Worthy can play consistently at the level he was at during the last few weeks of the season, he will be an NFL stud with a revitalized Denver defense.
No. 26: Houston Texans—Mark Barron
Houston had a terrible offensive outing against the Ravens but was still in the game because of its great defense. It can get even better on that end by adding a game-changing safety like Barron.
No. 21: Cincinnati Bengals—Lamar Miller
If Cedric Benson walks, they will need a replacement. Miller has great value at this spot and will help the Bengals immediately.
No 23: Detroit Lions - Mike Adams
Detroit gives up too many sacks and need to protect Matthew Stafford, as he has yet to prove he is not still injury-prone despite playing a full season.
Adams is a big tackle that will immediately make their offensive line better.