WWE: Have They Learned from Edge's Retirement and Other Major Injuries?
January 16, 2012
At the age of just 38, Edge is going into the Hall of Fame—and rightly so. He's a great wrestler who rose to the top of the pro wrestling industry through opportunity and tenacity, but at a cost.
From humble beginnings in Orangeville, Ontario, Canada, he attended WrestleMania VI to see the Ultimate Warrior cleanly pin Hulk Hogan to lift the WWF Championship belt, and himself won a writing competition to receive the chance to attend a wrestling school, and would go on to attend the infamous Hart Dungeon over in Calgary, Alberta.
Edge's career was always interesting, as he evolved both as a performer and as a character, adjusting his persona from Crow-like loner haunting the subway, to a vampiric Lost Boys type with his on-screen brother Christian in The Brood, and then with Christian in an excellent tag team reminiscent of Bill & Ted.
It was at that point in his career that the in-ring risks became greater.
Edge and Christian participated in an infamous series of stunt matches with the Dudleys and Hardys that included breathtaking bumps involving tables, ladders and chairs.
The bouts were some of the most spectacular in WWE history, but bore a heavy price to pay for many of the participants.
Some have suggested Matt and Jeff Hardy both went on to abuse drugs as a result of this high-risk style that they sustained. 
Edge also successfully teamed with Chris Benoit who, of course, made mainstream media headlines after killing his wife, his child and himself one summer weekend in 2007.
While the media frenzy focused on Benoit's steroid abuse, few asked questions of the vicious unprotected chair-shots Benoit had been taking to the back of his skull, causing numerous concussions and leaving his brain resembling that of "an 85 year-old Alzheimer's patient."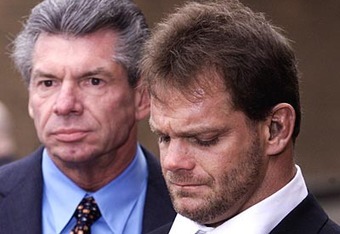 With such stunt matches and a finishing move, the Spear, that involved body-tackling an opponent head-first, it's no surprise that Edge's injuries were predominantly to his neck, leading to major surgery and, eventually, cervical spinal stenosis that—had he continued to wrestle—could have caused paralysis or perhaps even death.
Thus, Adam Copeland, the man known as Edge, announced his retirement on April 11th, 2011, just over a week after successfully defending the World Championship against Alberto Del Rio at WrestleMania XXVII.
What have WWE learned from this?
Despite an exception at WrestleMania XXVII where Triple H and the Undertaker exchanged chair shots to the head—and were supposedly fined for it while still earning six-figure sums for the match—WWE have prohibited such chair shots.
Aside from going old school and banning most piledriver-based moves, WWE have also cut down on the amount of stunt matches and big bumps.
Ten years ago, the only dialogue around death-defying dives was based around who out of the likes of Jeff Hardy, Mick Foley or Shane McMahon were going to go farther, higher or harder-hitting.
This was also detrimental to the product and the audience's emotional investment.
In 1986, Jake "The Snake" Roberts executing a DDT on Ricky "The Dragon" Steamboat right on the concrete arena floor was considered shocking, brutal and career-threatening.
While these days John Cena barely selling such a devastating move harms suspension of disbelief, overall WWE have improved the product by minimising general high spots. This makes them more special and impactful when they do happen, while also adding years to the careers of those on the roster.
But WWE can do more.
They can learn from independent companies just as they learn from WWE. Smashing Pumpkins front-man Billy Corgan's Resistance Pro, for example, have utilized a concussion-awareness program to complement the screenings they carry out.
Ultimately, though, wrestlers like Edge may have been performing much longer had they been afforded more time away from the ring. The WWE product can do without an "offseason" on the whole, providing it gives its talent time to heal their bodies and shake off nagging aches and pains, and generally recharge their batteries.
WWE taking care of their performers beyond just their Wellness Policy makes sense for them overall because it increases the longevity of their talent, and their profits as a result.
Thirty-eight-year-old Edge's retirement is a sad reflection of the mistakes WWE made in the past. Providing they learn from them, it will not be in vain.