The 25 Best Fighter Staredowns of 2011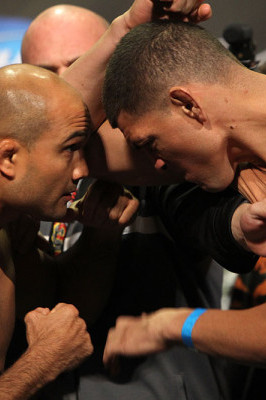 2011 has been a banner year for mixed martial arts.
We have seen the dissolution of the Japanese circuit, where many of its prominent fighters have come stateside, some faring better than others.
Strikeforce was purchased by Zuffa, the subsidiary of the UFC, and the stars of the WEC's past are now garnering some real recognition after becoming equally successful on the big stage.
However, in the midst of all these happenings, a commodity that fans always look forward to has been overlooked: the staredowns.
Whether it be during those tedious pre-fight press conferences, in the cage action or during the weigh-in ceremonies, several prominent fighters have turned in some aesthetically pleasing staredowns thanks to either their intense or otherwise hilarious demeanors.
Begin Slideshow

»
mmajunkie.com
These two veterans of The Ultimate Fighter may be intense fighters in the cage, but come weigh-ins, it's all no-business and giggles, trying to play to the crowd with two vague power stances.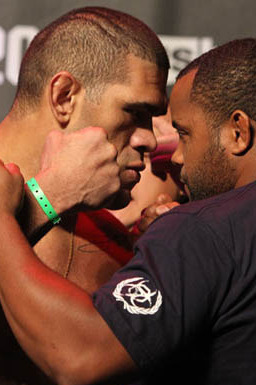 The size disparity between Daniel Cormier and Antonio Silva never became more apparent than when these two men squared off at the weigh-ins, where the Brazilian just made the 265-pound limit, while Cormier had some pounds to spare.
It was a pivotal moment for both men, as the winner would move on to the finals of the prestigious Strikeforce Heavyweight Grand Prix.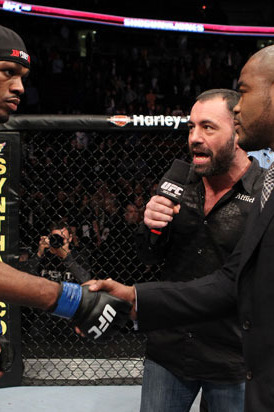 Originally, Rashad Evans was to vie for the UFC light heavyweight title last March against then champion Mauricio "Shogun" Rua, though the season two winner of TUF bowed out due to injury.
In his place, teammate and friend Jon Jones stepped up to the plate and dominated Rua from start to finish, cinching the third-round TKO victory. After winning the belt, Evans entered the cage to formally challenge Jones.
Soon after, tension built as Evans exited the Greg Jackson camp, and since then, the two light heavyweight standouts have become bitter rivals.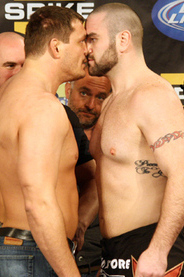 mmajunkie.com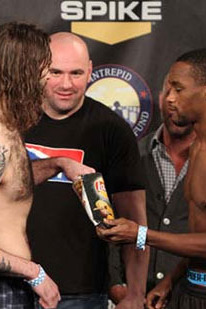 combatlifestyles.com
Only Yves Edwards would be nice enough to offer up some of his delicious bag of Lays chips to his opponent Cody McKenzie.
Maybe it was a bit of foresight on Edwards' part, as the "Thugjitsu Master" would subsequently submit McKenzie in their lightweight tilt.
Can you tell which fighter was subsequently disqualified?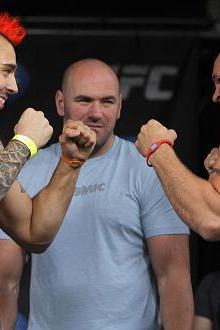 Perhaps it wasn't the most outrageous of staredowns, but it was pivotal nonetheless, as former contender and TUF finalist Chris Lytle decided to announce to opponent Dan Hardy during the weigh-in ceremonies that he will be retiring.
The following day, after a rollicking back-and-forth two rounds, Lytle submitted Hardy with a third-round guillotine choke, cinching both the "Fight of the Night" and "Submission of the Night" for his performance.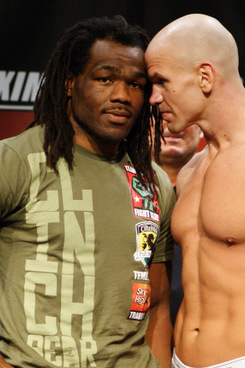 fcfighter.com
If these two could talk, I'd imagine this conversation going a little something like this:
Ryan Jimmo: You smell good.
Sokoudjou: Why are you smelling me, bro?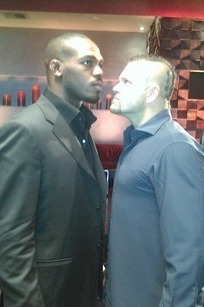 If only the UFC Hall of Famer was the same fighter he was five years ago, this would be a fight of epic proportions.
But unfortunately, we don't live in the world of make believe.
Well, not unless you're 39 years old, are an avid fan of the movie Willow and play lots of Dungeons and Dragons.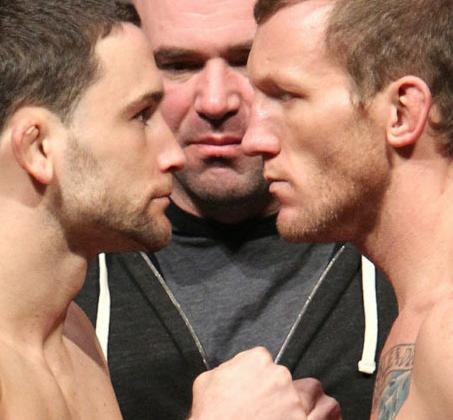 It must be hard fighting a guy for a third time, especially after their second tilt, which saw both men expunge everything they had into a five-round war last January.
Both Gray Maynard and Frankie Edgar were sick of each other, and it became no more apparent than during the weigh-in ceremonies.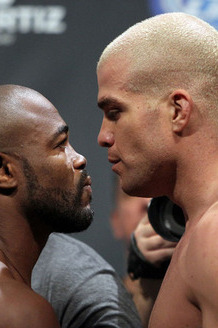 After a resurgent victory over Ryan Bader the month before, Tito Ortiz stepped back up to the plate on short notice in order to take on rival Rashad Evans in a light heavyweight tilt.
Evans may have been a bit overwhelmed by the powerful and strong Ortiz in their original outing, he wanted to make it clear that he would not back down from "The Huntington Beach Bad Boy" during their initial staredown last August after both men had weighed in.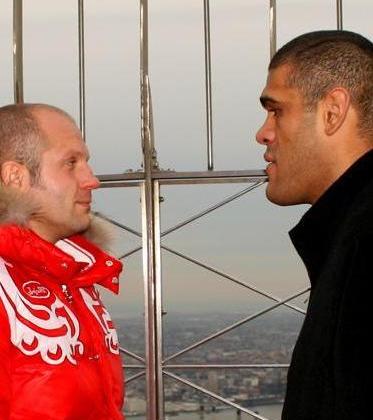 Anil Melwani, MMA.us
Only Fedor Emelianenko could make that kind of jacket work and command the attention of the press during freezing conditions, when he squared off against the towering Antonio Silva last February.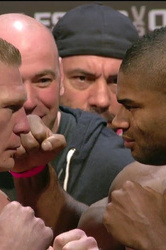 In this heavyweight affair, Strikeforce transplant Alistair Overeem had finally arrived in the UFC, where he would be taking on former champion Brock Lesnar in a pivotal affair.
It was a true blockbuster fight that was before believed could only take place in the world of pretend, though it soon became a reality.
There is nobody more interested in this staredown than color commentator Joe Rogan.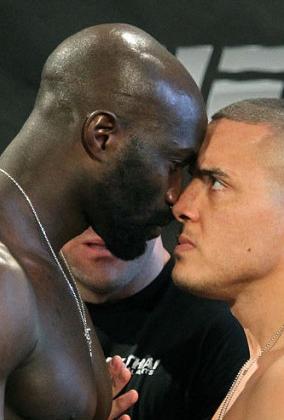 If there was ever a staredown that indicated that a fight would be good, it would be this one, as heavy-hitters Cheick Kongo and Pat Barry intensely go nose-to-nose, with their gaze unwavering.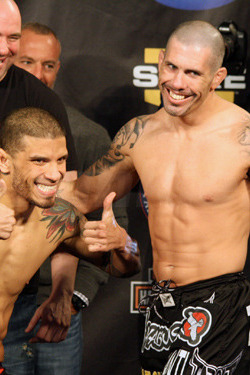 mmajunkie.com
What else do you expect when you pit two jokers opposite one another?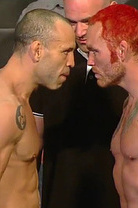 In this fan-friendly battle, the legendary Wanderlei Silva was taking on the hard-hitting Chris Leben.
This was a fight that both men wanted, and when it finally came to fruition, the fans got a taste of what the culmination of their middleweight affair would be like when the duo tipped the scales last July.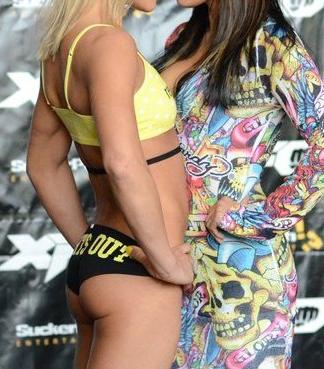 For all the pundits that think women don't belong in a cage, I'm sure both Felice Herrig and Nicdali Rivera-Calanoc would soon change the minds of those detractors.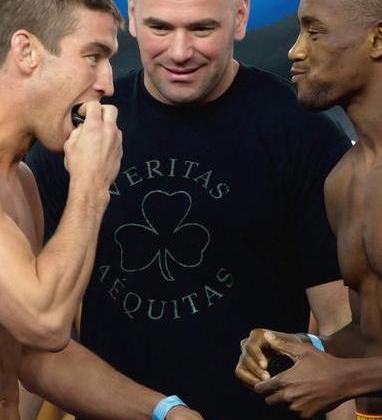 I don't think it's hard to believe that Yves Edwards used to be a chubby kid in his younger years.
Leading into this welterweight bout, the story centered around the respect and admiration that both Nick Diaz and BJ Penn had for one another.
But all that went out the window when these two went head-to-head during the weigh-in ceremonies last October.
Things were relatively kosher between Nick Diaz and Paul Daley in the lead-up to their welterweight collision last April.
That is, until the Brit caught the attention of the Stockton fighter at the weigh-ins by bumping his gums, to which Diaz answered in kind.
Clearly, it's a Diaz thing, as the season five winner of The Ultimate Fighter squared off against Donald Cerrone in the pre-fight press conference for UFC 141.
Nate was clearly irritated by Cerrone's prestigious hat, to which he responded by slapping it to the wayside.
Jon Jones has a habit of never looking at his opponents eye-to-eye.
Quinton Jackson became aware of this, and the funnyman responded with an equally awkward pose of his own during their initial staredown.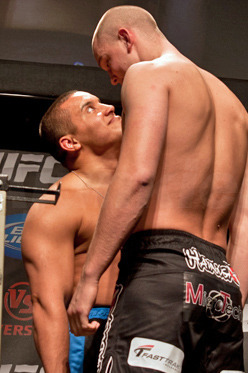 mmajunkie.com
It's times like these when I wonder why Pat Barry continues to plug away in the heavyweight division.
At 5'11", he is bound to come into more and more disproportional tilts, kind of like this one-foot disparity with the towering Stefan Struve.
A lot of bad feelings were harbored before these two middleweights entered the cage last February.
All the back-and-forth jabber finally came to a head when Michael Bisping and Jorge Rivera squared off at the weigh-ins for UFC 127, where the two were held back by tending officials.
It's hard to believe that these two were at one point friends and teammates. That all went out the window when Vitor Belfort challenged Anderson Silva for his middleweight title.
The fans and media alike first got a taste of the bad blood during the pre-fight press conference, though everything finally culminated during the weigh-in ceremonies, where Silva punked "The Phenom" by donning a mask, a jab at the figurative mask that Belfort suggested Silva wears to intimidate his opponents.