Denver Broncos: A Look at Each Position Before Draft and Free Agency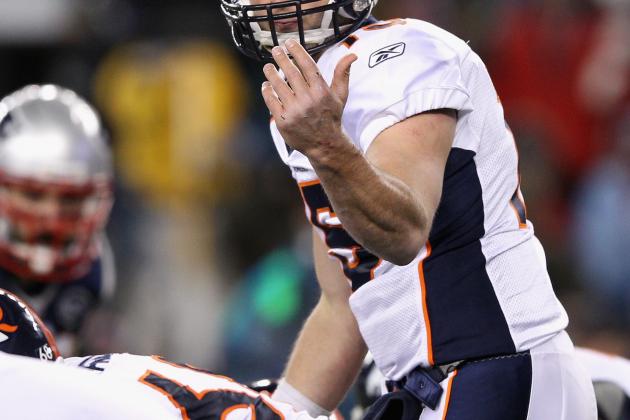 Elsa/Getty Images

­
Although many people are disappointed by the loss to the New England Patriots, I believe that fans will soon realize what a great season the 2011 season has been for the Denver Broncos. It is incredible what coach John Fox has been able to accomplish in just one season as head coach for the Broncos.
With that being said, this is not the time to rest on the laurels. The game against New England also exposed the inevitable fact: The Denver Broncos are not quite ready to compete for the Super Bowl ­title.
Let's have a look at each position to have a look at what the Broncos can build on for next season and to find out which positions that need an upgrade in the 2012 NFL draft or free agency.
Begin Slideshow

»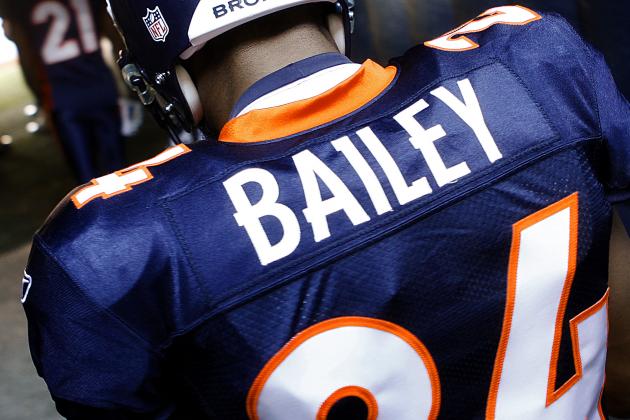 Marc Piscotty/Getty Images

One person that really impressed me this season was undrafted rookie cornerback Chris Harris. Although the New England tight ends were obviously a bit too much too handle, the young defensive back has filled in as the third cornerback in a highly competent manner.
Young players typically improve the most between their first and second year in the league, so I fully expect Harris to do an even better job next season. It certainly helps his case that he has future Hall of Famer Champ Bailey to learn from.
Speaking of Bailey, the veteran cornerback is currently 33 years old, and although his contract doesn't run out until 2015, there are natural reasons to believe that he will soon lose a step.
I believe he'll be as good as ever this upcoming season­­­, but the Broncos will still need to have a look at his future replacement.
Alfonozo Dennard seems to a safe pick at cornerback. The 5'10", 205 lbs. cornerback coming out of Nebraska is a very solid prospect that is expected to be taken off draft boards around the time when the Broncos have their first round pick.
Dennard is a complete cornerback. He is very good a jamming receivers at the line of scrimmage and playing press man, but he also does a good job in zone coverage. Additionally, he plays the run well and is a solid tackler.
He is, in my opinion, the third-best cornerback coming out of college this year behind Morris Claiborne and Dre Kirkpatrick, who will be gone by the time the Broncos have its first pick.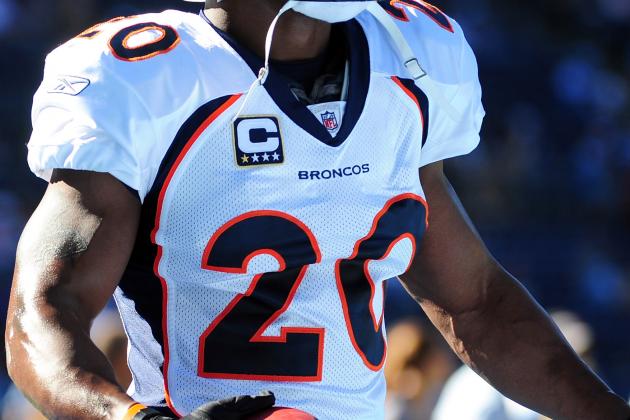 Harry How/Getty Images

Brian Dawkins is the obvious concern at the safety position. Jeff Darlington reported on NFL Network's Around the League earlier this month that according to his sources, Dawkins' injury is career threatening.
The Wolverine is 38 years old, and there was uncertainty last summer as to whether Dawkins would return to the Broncos or retire. Those speculations will certainly not cool off any time soon considering the neck injury and his current age.
David Bruton did an admirable job stepping up when Dawkins went down with the injury, but it was evident that the Dawkins' intangibles were deeply missed, perhaps especially against New England.
Personally, I do not expect Brian Dawkins to return to the NFL for another year in the NFL. That leaves the Broncos with David Bruton and Quinton Carter at the safety positions.
Quinton Carter looked very impressive, especially late in the season, and the Denver Broncos will look to build on his performance going into next year.
The Broncos should have a look at Markelle Martin. He is a natural free safety coming out of Oklahoma State. His stats may not be overwhelming, but his presence was certainly big in college. Martin doesn't make many interceptions, but he does a good job at breaking up passes.
He is very physical when needed and has good speed, which allows him to cover a lot of ground. I expect Martin to be taken off draft boards at some point during the third round.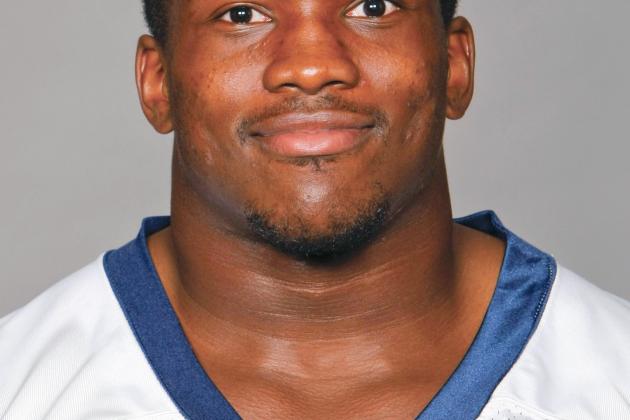 Handout/Getty Images

The Broncos are set at out outside linebacker with veteran D.J. Williams being as reliable as ever at weak-side linebacker, while rookie sensation Von Miller has played as if his life depended on it at strong-side linebacker.
Middle linebacker, on the other hand, is a reason for concern. Last year's mid-round draft pick, Nate Irving, didn't do too well last year and found himself as No. 3 on the depth chart behind Joe Mays and Mario Haggan, who also backed up Von Miller at strong-side linebacker.
Both Mays and Haggan are currently free agents, but I fully expect the Broncos to try to re-sign at least one of them, and I believe the one to be Joe Mays.
Mays, who started at middle linebacker last season, did a fairly good job. When he joined the Broncos, it was believed that he was going to be a two-down linebacker only, but he played fairly well against the pass this year and should be considered an every-down linebacker.
Unfortunately, while in the nickel package, Joe Mays did not look good against the run. The secret has been out for weeks now; the Denver Broncos are incapable of defending against the run while in the nickel package.
When the Detroit Lions signed Stephen Tulloch last year as a free agent, the middle linebacker signed a one year-contract only, which means he'll be a free agent also this year. He is without a doubt one of the very best linebackers in the league, and the Broncos ought to consider going for him.
Doug Pensinger/Getty Images

The decision to move Robert Ayers from outside linebacker in the 3-4-scheme back to his natural position at defensive end in the 4-3-scheme made him look like a new man.
On the other side of the line, Elvis Dumervil is finally back from the injury that kept him sidelined during the 2010-season. He struggled early in the season, but from midway through, there was never any doubt that he was once again playing at a very high level.
The consensus is that the Denver Broncos should either draft a defensive tackle or a cornerback with its first round draft pick this year. However, I do not believe that the defensive line is in such a bad shape after all.
Ty Warren is alive and well. He had surgery on his triceps just before the season started, but he was only supposed to be out for four-to-six weeks. When the Broncos struggled the most with injuries, the team was forced to put Warren on the IR list to make room for other players.
Warren looked very good in training camp before his injury, and I expect him to return as the starter at defensive tackle this upcoming season, which will automatically cure the trouble of the defensive line.
With that being said, the Broncos do not have a lot of depth at the position. Additionally, the team could use an upgrade at the other starting position at defensive tackle, since neither Ryan McBean nor Kevin Vickerson played spectacularly well this year.
Therefore, it would be a sound decision to pick up Brandon Thompson with the second round pick of the 2012 NFL Draft. Thompson has a good bull rush move that can cause some problems for the opposing quarterbacks, but he is not known as a pass rusher.
However, Clemson's defensive tackle is dominant when it being a run stuffer. He eats up double teams and has a knack for knocking offensive linemen into the backfield.
Personally, I think Denver's nickel package, which was awful against the run this year, would vastly improve with a run stuffer of his caliber lined up at defensive tackle.
Justin Edmonds/Getty Images

I don't think anybody can complain about how Britton Colquitt and Matt Prater played in 2011.
Colquitt had a 47.4 yard average punting this year, and should, in my opinion, have made it to the Pro Bowl. He is under contract for next year, and there is really no need to look for another option. It must give Coach Fox a good feeling to know that he has such a reliable punter.
The issue with Matt Prater is that he is currently a free agent. However, I fully expect him to re-sign with the Broncos. The placekicker was going through a slump at one point during the 2011 season, but he also definitely showed the organization how clutch he can be throughout the year.
Any kicker would love to play at Mile High, so I do not think there is much reason to be concerned about his contract situation.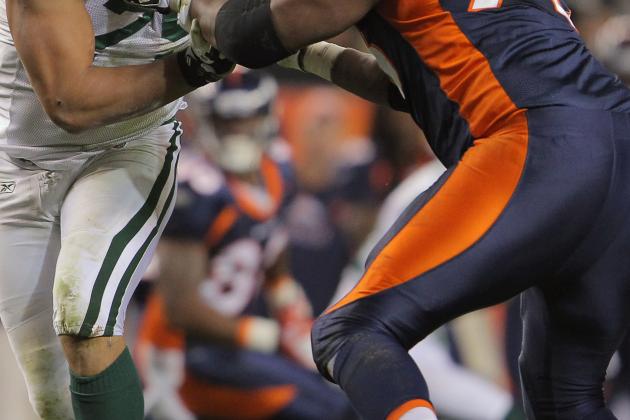 Doug Pensinger/Getty Images

The Denver Broncos have the second youngest offensive line in the NFL. Before the 2011 season started, there was speculation to whether the inexperienced offensive line would be up to the task or not.
The offensive line ended up playing tremendously well in 2011. Not only were the linemen physical enough to make holes for the No. 1 rushing offense in the country, but they were also clever enough to create huge throwing lanes for quarterback Tim Tebow when needed to.
During the game against the Pittsburgh Steelers, left tackle Ryan Clady looked like the dominant tackle he was before his injury, which certainly is good news for the Broncos.
One question mark surrounding the offensive line is the seriousness of Chris Kuper's injury. The right guard and captain went down with a gruesome dislocated ankle injury during the last regular season game against the Kansas City Chiefs.
There is no doubt that the injury will keep Kuper unable to practice for quite a while, but it is too early to tell if he will miss time in 2012 because of the injury.
Julius Thomas was a disappointment this year. During training camp, everybody was praising Thomas' performance. However, he ended the season with only one catch for five yards. The Broncos will need to look into his development process when training camp starts.
Since the offensive line is still very young, the unit will continue to improve, and I do not think there is any need for upgrades. However, it could be useful to add depth before the start of the 2012 season.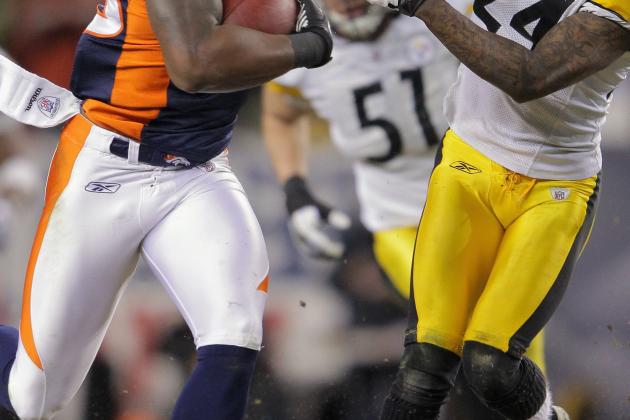 Doug Pensinger/Getty Images

Where do I begin? The Denver Broncos lack talent and depth at the position. Eric Decker and Demaryius Thomas are adequate receivers in the NFL. However, none of them are worthy of being a No. 1 receiver in this league.
I can Thomas as a future No. 1 wide receiver, but I do not think he has developed enough to be that guy at this point in time. Thomas has been injured a lot of the time while in the NFL, but he has now played close to a full year.
Since players typically improve the most during their first and second year in the league, it is not unlikely that he will turn into a quality No. 1 receiver sooner rather than later.
Eric Decker is a fantastic receiver as the No. 3 receiver in the slot. Both Decker and Thomas will need to improve their ability to catch the football. Although quarterback Tim Tebow does not throw the prettiest ball in the world, there were far too many drops by the wide receivers this year.
Eddie Royal is currently a wide receiver, and I expect the Broncos to try to bring him back. This is because of his experience with the option offense from Virginia Tech and the fact that Denver is extremely thin at wide receiver.
In the offense, he is best suited as a No. 3 or 4 wide receiver, but he is most valuable as a kick and punt returner. Royal desperately needs to work on catching the ball; when was the last time you saw him catch any ball that didn't hit him squarely in the chest?
When it comes to the draft, the top targets will be long gone by the time it will be sound for the Broncos to prioritize wide receivers, so it seems clear to me that the team will need to have a look at wide receivers in free agency.
Fortunately, the free agent wide receiver class of 2012 is very talented. Imagine if the Denver Broncos could steal Dwayne Bowe away from the team's rival in Kansas City? Buffalo's Steve Johnson and Philadelphia's DeSean Jackson are also players that the Broncos should have a good look at.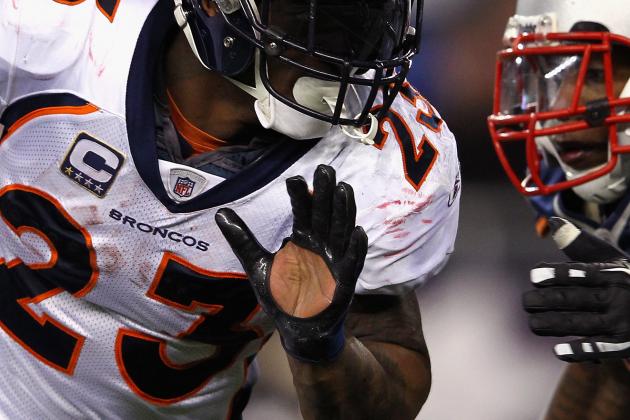 Al Bello/Getty Images

There is really just one way to describe Willis McGahee's 2011 season: awesome—just awesome. The 30-year-old tailback was the main running back in a rushing attack that was the No. 1 rushing attack in the NFL.
During the regular season, he ran for 1,999 yards and four touchdowns. He probably would have had significantly more touchdowns if he didn't share goal line carries with Tim Tebow, whose draw play turned out to be more or less impossible to stop in goal line situations.
Unfortunately, McGahee is not 26 years old anymore, and it was easy to tell toward the end of the season that his body was hurting from all the carries he had this season, which resulted in more fumbles the older the season grew.
There is a need to complement Willis McGahee. Knowshon Moreno is not a bad running back, but he is simply incapable of staying healthy. I do not believe in Lance Ball, but I believe the Broncos will keep Jeremiah Johnson because of his experience with the option offense.
Either way, the Broncos need another running back, and I believe the draft is the way to go. Recent history tells us that you do not have to be an early-round draft pick to be a good running back in the NFL. Arian Foster is probably the best example to support that argument.
Isaiah Pead is well worth a fourth-round draft pick. He is a downhill runner who excels in third down situations, since he is both a good blocker and pass catcher. What impresses scouts the most about the Cincinnati senior is his ability to pick up the blitz.
Pead attacks holes with great quickness. However, he lacks elite speed, so he typically does not break away for big runs. With that being said, the 5'10", 200 lbs. running back is one to count on the get the yards necessary.
In 2011, Pead averaged 5.3 yards per carry for 1,259 yards along with 12 touchdowns. He also caught 39 passes for 319 yards and three scores.
He would allow Willis McGahee to stay fresh, and keeping running backs fresh is what John Fox is all about.
Spencer Larsen is currently a free agent, but I expect the Broncos to bring the fullback back to Denver. He vastly improved this year under John Fox and will be a good option at fullback once he has fully recovered from the sprained MCL-injury.

Tight end, Virgil Green, did a decent job at filling in for Larsen while he was injured, so I do not believe there is any crisis with regards to the fullback position.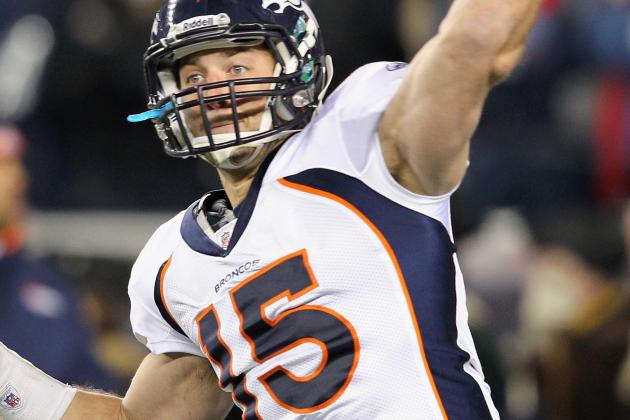 Jim Rogash/Getty Images

To Tebow or not Tebow, that's the question. In all honesty, I do not think there is much of a question. Tim Tebow will be the starting quarterback of the Denver Broncos in 2012.
This is because the team won too many games under his guidance, so the front office would greatly jeopardize its support from the fanbase and team if it decided to go in a different direction.
Also, because the team did so well this year, all quarterbacks that look like they might be the real deal will be long gone by the time the Denver Broncos have their first pick in the 2012 NFL Draft.
One thing is certain, though: The Denver Broncos will need to add a couple of quarterbacks to its roster either way. This is because Tim Tebow is currently the only quarterback on the current roster.
I think it is likely that the Denver Broncos will promote Adam Weber from the practice squad to the first team roster, but the Broncos will still need another running back, and that quarterback will need to be someone somewhat capable of running the same option that Tebow runs.
The Broncos will have to look to the draft to add that quarterback. Veteran quarterbacks simply do not know how to play in this type of offense. However, there are players coming out of college that might be able to.
Russell Wilson may be the man for the job. He was the quarterback of the Wisconsin Badgers, who feature a heavy run-offense. He was still able to impress scouts with his ability to come up big in clutch situations and making plays with both his arm and feet.
Russell's downside is that he is listed at 5'11", but can easily be even shorter. He has very impressive tools, but his height will keep him from being an early-round draft pick. However, if he is still available in the fifth roundm they need to, like John Elway says, pull the trigger.
Comments are always appreciated.