2012 NFL Draft Order: Playoff Losers That Will Fill Big Needs in First Round
January 16, 2012

Thomas B. Shea/Getty Images
Teams picking in the mid-to-late first round can still find top talent, which is important for those teams that suffered devastating postseason losses. 
They were so close to a Super Bowl run but fell short. Now, their focus will be on improving their roster and the best way to do that is through the draft. 
The 2012 NFL draft is loaded with talent, so landing skilled players won't be difficult. Teams often need a little luck to go their way, but a few teams will still be in good position to get who they want. 
With that said, here are a few teams that failed in the playoffs but will still fill some of their biggest needs. 
Cincinnati Bengals 
The Bengals were one of the major surprises of this season, going 9-7 and squeezing into the postseason. Not many expected much from them because they were so young at such important positions. 
Since they have two first-round picks, the Bengals are in great shape for the 2012 NFL draft. Finding an eventual replacement for Cedric Benson is a must this April. 
Cincinnati has the option of moving up in the draft should Trent Richardson fall out of the Top 10. It's unlikely, but still very possible. Should the Bengals stay put, Lamar Miller is their best bet. 
In addition to a running back, the Bengals will think about getting a skilled corner or perhaps a defensive lineman to help stop the run and get after the QB. 
Detroit Lions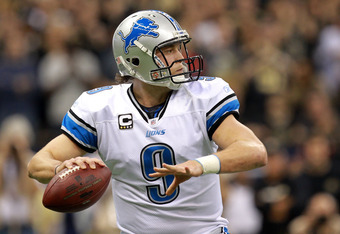 Ronald Martinez/Getty Images
The Lions have plenty of options with the No. 23 pick, even though it is later in the draft. 
Their main focus needs to be on upgrading the protection for Matthew Stafford, so guys like Cordy Glenn or Mike Adams will be who they look at. 
Detroit also needs help on defense, especially in the secondary. A linebacker is a possibility as well, but the Lions would be better off selecting a cornerback. 
Despite picking later in the first round, the Lions will still fill their big needs in hopes of making the playoffs in back-to-back seasons. 
Pittsburgh Steelers
With the No. 24 pick, the Steelers' main priority should be adding youth to their offensive line. Again, guys like Cordy Glenn or Mike Adams would be great fits in Pittsburgh. 
If neither ends up being available, the Steelers also need a boost on defense. Everybody knows they're very strong in that area, but adding depth is key. 
Pittsburgh suffered a lot of injuries this season. In the long run, it really hurt them. Drafting another linebacker, defensive lineman or cornerback would be a great move. 
Of course, it all depends on who they end up with, but the defenders available in the later part of the first round still have what it takes to be superb players in the NFL. The Steelers will be just fine in the 2012 NFL draft. 
2012 NFL Draft Order 
*Coin flip needed to break tie 
Picks 29-32 to be determined by playoffs 
1. Indianapolis Colts (2-14)
2. St. Louis Rams (2-14)
3. Minnesota Vikings (3-13)
4. Cleveland Browns (4-12)
5. Tampa Bay Buccaneers (4-12)
6. Washington Redskins (5-11)
7. Jacksonville Jaguars (5-11)
8.* Carolina Panthers (6-10)
8.* Miami Dolphins (6-10)
10. Buffalo Bills (6-10)
11.* Kansas City Chiefs (7-9)
11.* Seattle Seahawks (7-9)
13. Arizona Cardinals (8-8)
14. Dallas Cowboys (8-8)
15. Philadelphia Eagles (8-8)
16. New York Jets (8-8)
17. Cincinnati Bengals from OAK (8-8)
18. San Diego Chargers (8-8)
19. Chicago Bears (8-8)
20. Tennessee Titans (9-7)
21. Cincinnati Bengals (9-7)
22. Cleveland Browns from ATL (10-6)
23. Detroit Lions (10-6)
24. Pittsburgh Steelers (12-4)
25. Denver Broncos (8-8)
26. Houston Texans (10-6)
27. New England Patriots from NOLA (13-3) 
28. Green Bay Packers (15-1)