UFC on FX: Who Is Fighting for His Job?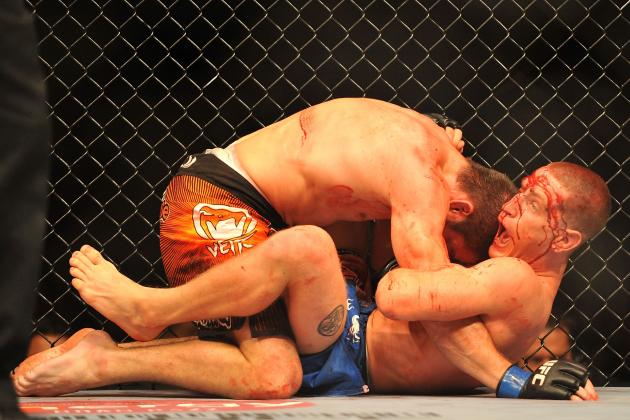 Jon Kopaloff/Getty Images

UFC on FX 1 will usher in the first official card to air on the FX channel as per the deal with Fox, and is headlined by a lightweight showdown between "The Young Assassin" Melvin Guillard and Jim Miller (pictured, top, orange trunks).
While the card looks like a fantastic display of free fights and a brilliant choice for all fight fans and observers to enjoy, the inner MMA nerd and would-be pundit in most of us is still forced to live with one crushing detail: Some of these guys are in danger of being served their walking papers with a loss this Friday night in Tennessee.
Luckily, the list is not a very long one (actually, there are only three surefire ones, with two that might or might not get the boot with a loss).
For your viewing pleasure and heart-ripping entertainment, here are five of the men fighting for their jobs at UFC on FX: Guillard vs. Miller this Friday night!
(Don't get your hopes up; Guillard is not on the list.)
Begin Slideshow

»
Daniel Roberts is two fights deep in defeat right now, with unanimous decision losses to Rich Attonito and Claude Patrick.
Unanimous decisions, when completely one-sided, usually result in career termination.
Yet, Roberts has one more shot against Charlie Brenneman, who is on a downslide after a knockout loss to Anthony Johnson, so he's clearly doing something right.
Should success elude Roberts again this Friday, it'll take a really bogus decision or a poorly called finish for Roberts to get another bout inside the Octagon.
Those of you that viewed this piece earlier may have noticed that, to quote the common MMA injury story, it's "Charlie Brenneman out, Eric Schafer in", and the reason for that is because the general consensus seems to be that Brennemen should be safe against Roberts.
Well, at least for one fight, Brenneman should be safe since he did step up to face Rick Story.
Actually, asking around, it seems Schafer's bout with "El Conquistador" Jorge Rivera is a bit more of Schafer's to lose than Rivera's, even though Rivera's on the hot seat also.
Schafer has a good BJJ game from the bottom, but his wrestling has been a question mark throughout his UFC run, and the wide belief is that Rivera will keep it standing as that is and has historically been where he wants and has wanted many a fight to go, regardless of who he's up against.
If that should be true for Friday night, Schafer better come correct in all areas, because if not, his second run in the UFC might run shorter than did his first run in the UFC.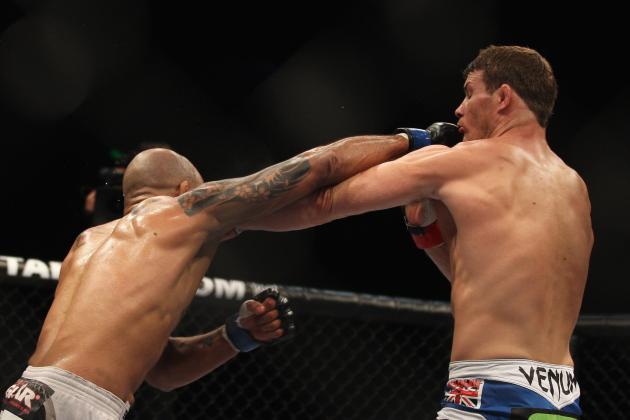 Mark Kolbe/Getty Images

Jorge Rivera has been on the rougher end of two fights with losses to Costa Philippou and Michael Bisping.
At UFC 127, Bisping landed a knee that even Dana White thought was intentional before finishing Rivera off in the second round. Then Rivera found himself on the wrong end of a split decision (that really did look unanimous, and not in Rivera's favor at all) against Philippou.
Eric Schafer, who lost to Aaron Simpson in his return to the Octagon at UFC 136, awaits Rivera, and a pink slip awaits Rivera should he fall to Schafer on Friday night.
Christian Morecraft, on the hot seat?
Yep, he sure is, or at least that's where he will be if Pat Barry beats him.
A loss to Matt Mitrione will do that to some people, even with a win over Sean McCorkle under their belt...but then again, Sean McCorkle's biggest win was against Mark Hunt.
Morecraft almost had a big win over Stefan Struve, but Struve came back to defeat Morecraft in one of 2010's most entertaining heavyweight bouts.
But Friday is not about if Morecraft can come close to a win.
Friday is about Morecraft finding a way to put it all together and win this fight, lest he stare down a pink slip.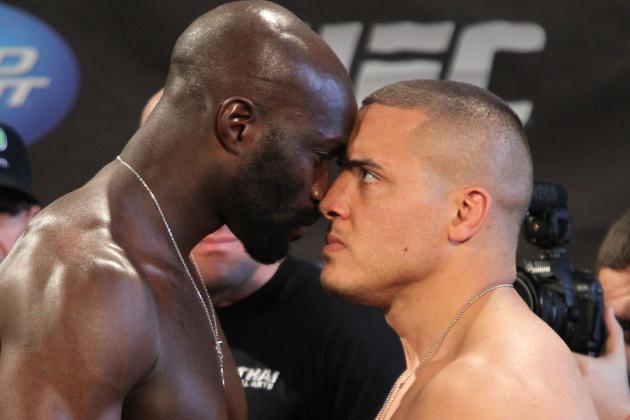 What's a picture of Cheick Kongo staring down Pat Barry doing on a slide about Pat Barry?
Well, it's a reminder of why Barry needs a win against Christian Morecraft at UFC on FX.
See, after this staredown, the two met up in the cage, where Barry nearly finished Kongo. Kongo survived the onslaught only to come back and knock Barry out.
Barry came back to face Stefan Struve in a battle of the UFC's tallest heavyweight and the UFC's shortest heavyweight, only to tap out to a Triangle Choke after some unsuccessful slams in the second round.
What does Barry have to do to shut Morecraft down?
Who knows, but if he can't, Barry might need his next Octagon bout just to stay in the UFC...if a loss to Morecraft doesn't boot him from the UFC after Friday night.
There's also a move to 205, where many believe Barry can excel skill-wise and achieve success, but again, it may all depend on a win over Morecraft.