2012 NFL Mock Draft: Updated 1st-Round Mock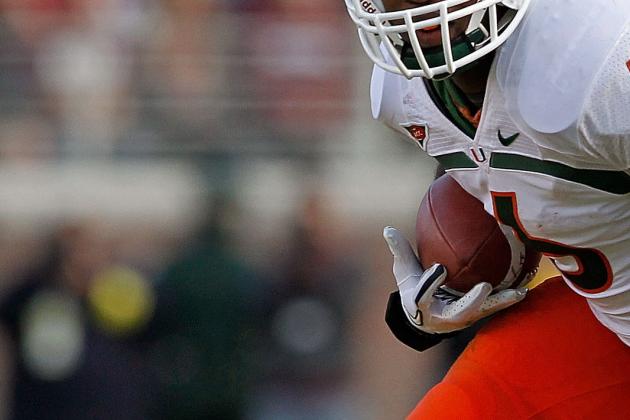 Mike Ehrmann/Getty Images

Just four teams remain alive in the NFL playoffs. What will it take for the other 28 teams to see themselves playing next year at this time?
The Green Bay Packers won 15 games this season, but couldn't win one playoff game. While Aaron Rodgers is no Tom Brady, what will it take for the Packers to complete the cycle in 2012 and make a Super Bowl run?
How can the strong teams get stronger and how can the weak teams get to the top? It all starts with the NFL draft.
Begin Slideshow

»
Christian Petersen/Getty Images

Andrew Luck, Quarterback, Stanford
It's all but certain that Andrew Luck will be the choice of the Indianapolis Colts when they are officially placed on the clock. Ignore those who are clamoring for a trade, or saying the team won't put Luck and Peyton Manning on the same team. Those people are wrong.
Luck is hands-down the best prospect I've ever scouted, and that's a sentiment shared around the NFL. He's a slam-dunk selection for Indianapolis.
The new regime in Indianapolis will kick off their first offseason by welcoming Luck to town.
Doug Pensinger/Getty Images

Justin Blackmon, Wide Receiver, Oklahoma State
It's worth noting that I fully expect this pick to be traded when the actual NFL draft rolls around in April. It's too early to predict a trading partner or compensation though, so for now the pick stays in St. Louis and the Rams draft the wide receiver Sam Bradford so badly needs.
A healthy St. Louis in 2012 would be greatly enhanced by a threat at receiver like Justin Blackmon. Look at the impact A.J. Green has had on the Cincinnati Bengals as a model for what Blackmon could do to help Bradford and the Rams.
Blackmon went off in Oklahoma State's bowl game, showing the hands and separation to make an impact early in the NFL. He's the total package for an offense that needs a dependable threat to attack the secondary with.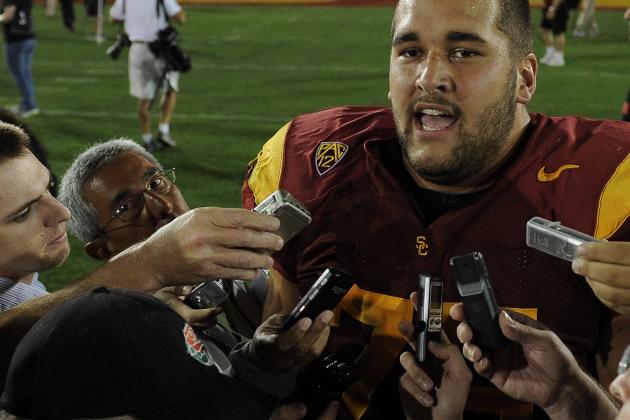 Harry How/Getty Images

Matt Kalil, Offensive Tackle, USC
The Minnesota Vikings have the young quarterback to lead this team (Christian Ponder), and the workhorse running back (Adrian Peterson) to carry the load. What they don't have is a franchise left tackle.
Yes, it's shocking, but Charlie Johnson isn't getting it done on the left side.
Matt Kalil is not on the same level as Jake Long or Joe Thomas as far as prospects go, but he's a massive upgrade over Charlie Johnson. Kalil would be an opening-day starter on Ponder's left side and allows Minnesota to focus its later picks on improving the talent in the secondary and at wide receiver.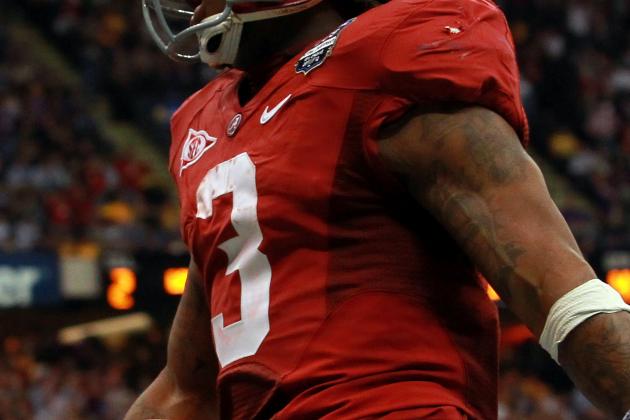 Ronald Martinez/Getty Images

Trent Richardson, Running Back, Alabama
No, the Browns won't select a quarterback in the first round. At least not this year. Team president Mike Holmgren has said the Browns will go after a quarterback to compete with Colt McCoy, so expect them to look to free agency.
At running back, Peyton Hillis was average in his contract year, Montario Hardesty can't stay off the trainer's table and Chris Ogbonnaya is a good backup but nothing more than a spot starter.
Running back is a need in Cleveland, and an early one.
With two first-round picks (thanks, Atlanta), the Browns can select the best back in the class (and in many classes prior)—Trent Richardson of Alabama. The Heisman-caliber back has torn through SEC defenses for two seasons and is ready to assault the NFL.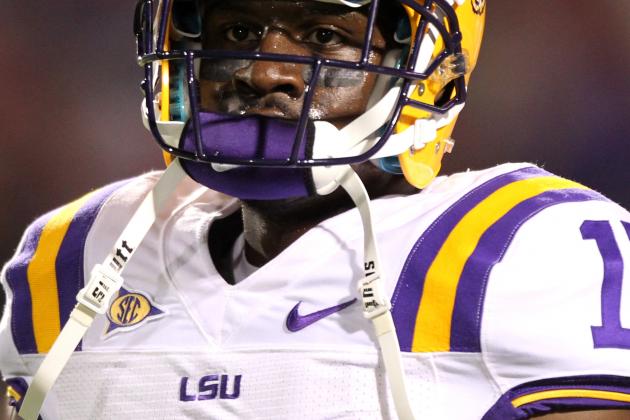 Joe Murphy/Getty Images

Morris Claiborne, Cornerback, LSU
Veteran cornerback Ronde Barber is nearing the end of a great career and may not return. Losing Barber will hurt a defense that's very young and looking for leadership. Even with Barber back for 2012, the team needs to draft a cornerback.
Starting opposite Barber is Aqib Talib, who is one more off-field issue away from being shipped out of town.
Claiborne has quietly emerged as the country's best cover man. He has elite coverage ability and will be an instant star in Tampa Bay on an improving defense.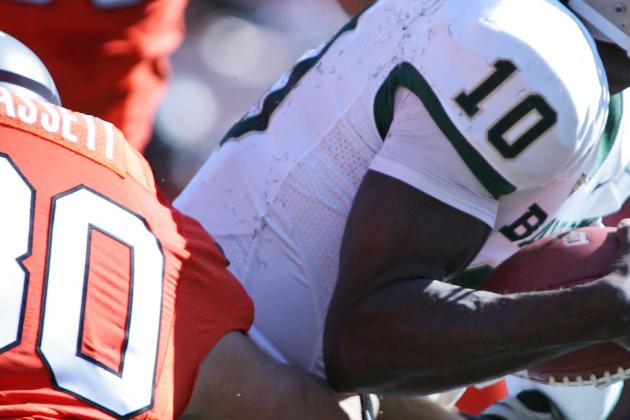 Brett Deering/Getty Images

Robert Griffin III, Quarterback, Baylor
The Washington Redskins have proven over the past few weeks just how badly they need a new quarterback. Rex Grossman and John Beck just can't get it done.
Mike Shanahan has built a good offensive line and defense in Washington—now he needs his quarterback.
In the past, Shanahan has targeted athletic quarterbacks who can get outside the pocket and make plays. He likes players who aren't afraid to take chances but have the accuracy to pick apart a defense underneath. John Elway and Jay Cutler are his type of players.
Griffin may not be an Elway-level quarterback, but he's as good a prospect as Cutler was when Shanahan nabbed him to be his starter in Denver.
Full disclosure: Washington will most likely have to move up to get Griffin. It's highly unlikely he's still on the board at No. 6 overall. I do expect Washington to lead the trade talks to move up and get RG3.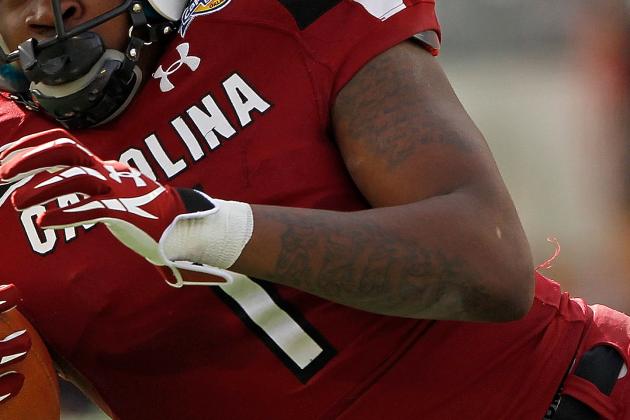 Mike Ehrmann/Getty Images

Alshon Jeffery, Wide Receiver, South Carolina
Not every fan will like this pick, but they will once Alshon Jeffery helps save Blaine Gabbert and it's what Mike Mularkey should be expected to do at head coach.
Young quarterbacks need a good wide receiver they can depend on. Cam Newton has Steve Smith. Andy Dalton has A.J. Green. Gabbert needs Jeffery.
Alshon had a very good showing this season even if his production was down thanks to very bad quarterback play. Not everyone is sold on Jeffery, but count me in the camp who see Alshon as a future All-Pro wide receiver.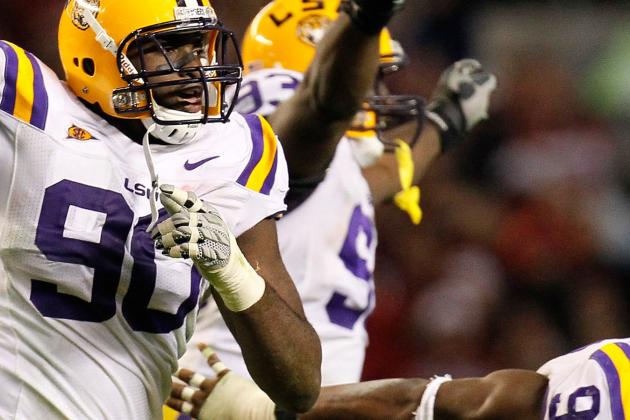 Kevin C. Cox/Getty Images

Michael Brockers, Defensive Tackle, LSU
The first big change in this week's edition of the 2012 NFL mock draft comes thanks to the declaration by LSU redshirt sophomore Michael Brockers. This is a man-child ready for the NFL in a big way.
Brockers would fill an immediate need as a penetrator on the Carolina Panther defensive line. He has the size, strength and speed to be a difference maker at the three-technique position, an area where the Panthers have a huge need.
Brockers' stock will do nothing but rise between now and the draft. Expect to see him as a top-10 pick.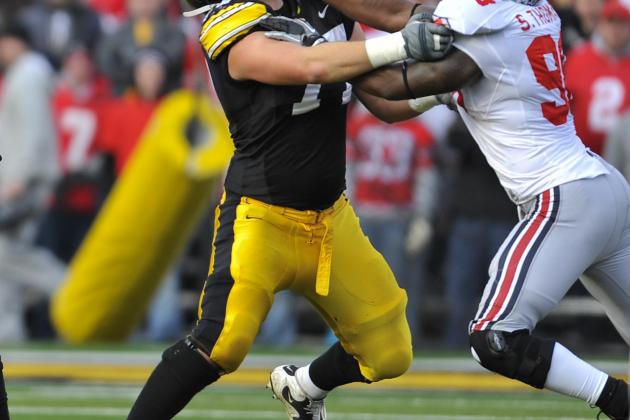 David Purdy/Getty Images

Riley Reiff, Offensive Tackle, Iowa
No team is hurt more by the decision of Matt Barkley to return to USC than the Miami Dolphins. With Barkley out of the draft, the Dolphins will sit at No. 9 and find no quarterback of value on the board. Without Barkley in the draft, Miami may go the route of a free-agent quarterback.
Assuming the Dolphins go after a Matt Flynn-like starter in free agency, they can use this selection to fix the offensive line.
Riley Reiff would be a great addition if they can't draft a quarterback here. He would step in at right tackle, where Vernon Carey leaves via free agency, and become an instant starter and an upgrade.
Reiff compares very well to Nate Solder from the 2011 draft class.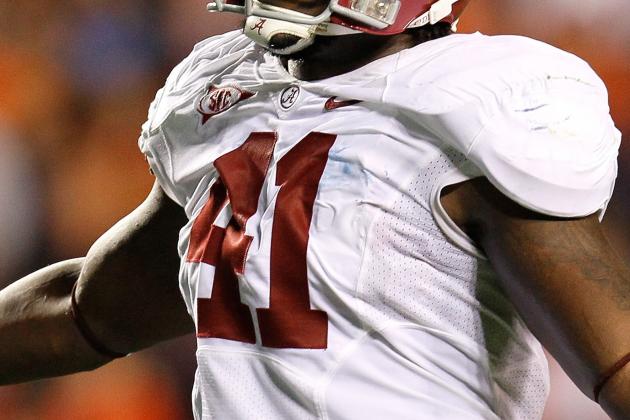 Kevin C. Cox/Getty Images

Courtney Upshaw, Outside Linebacker, Alabama
I know many of you will want a left tackle here and Jonathan Martin is on the board, but Demetrius Bell can be very good if healthy.
Getting a pass-rusher is something Buffalo has struggled to do for years. Shawne Merriman was a bust at outside linebacker and now the team is playing with out-of-position inside 'backers on the edge. The 2012 draft is weak on pass-rushers, but Courtney Upshaw has the exciting blend of athleticism and playmaking skill to warrant a top-10 pick.
Upshaw will step in and be an immediate starter, with the task of attacking Tom Brady twice each season. He has Terrell Suggs-like talent and athleticism. Bills fans should love this selection.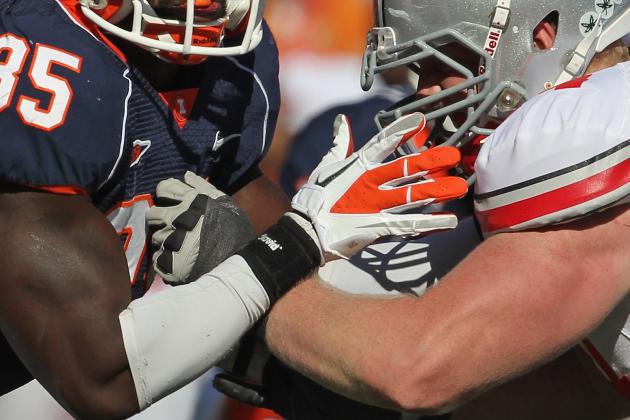 Jonathan Daniel/Getty Images

Whitney Mercilus, Defensive End, Illinois
The Seattle Seahawks played themselves out of a chance to draft a quarterback in the first round and were hurt by decisions from Matt Barkley and Landry Jones to return to college.
Instead Seattle will look to improve their defensive line and the pass rush by adding the NCAA's sack leader, Whitney Mercilus. The addition of Mercilus will immediately add speed and athleticism to an exciting young defense.
Mercilus gives Pete Carroll some flexibility. Red Bryant could be moved to defensive tackle. Chris Clemons and Mercilus could split time. No matter how you work it, this adds a new wrinkle to the Seattle defense.
Seattle has few needs—this is a playoff roster if the Seahawks can get healthy and find consistency at quarterback.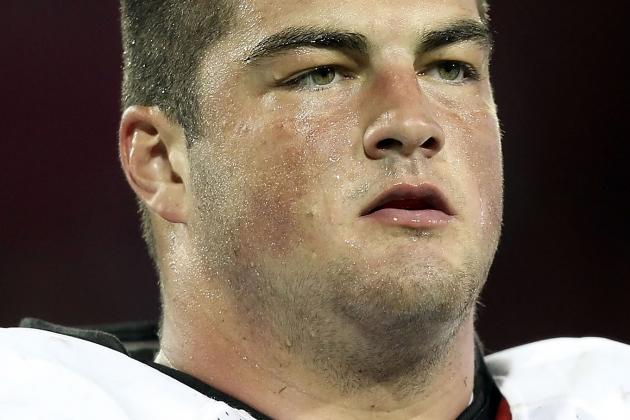 Christian Petersen/Getty Images

David DeCastro, Offensive Guard, Stanford
I really liked the pick of Vontaze Burfict at inside linebacker here last week, but with Michael Brockers entering the draft it pushes down a player who ranks highest at his position in my 10 years of scouting.
The Kansas City Chiefs will be delighted to land David DeCastro to anchor their offensive line. This allows the team to move Rodney Hudson to center full-time and place DeCastro opposite Jon Asamoah.The Chiefs are now a right tackle and Dwayne Bowe re-signing away from a very complete offense.
Getting a healthy Matt Cassel, Jamaal Charles and Tony Moeaki on offense will put Kansas City back in control of the AFC West in 2012.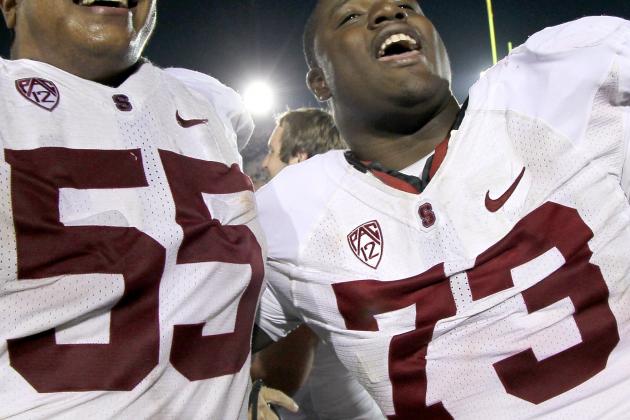 Stephen Dunn/Getty Images

Jonathan Martin, Offensive Tackle, Stanford
The Arizona Cardinals have been down this road before. With the No. 5 overall pick in the 2007 draft, the Cardinals were hoping to draft a tackle to protect then-franchise quarterback Matt Leinart. They used the selection on Levi Brown.
Brown, like Leinart, has been a bust. Even though he's still starting at left tackle, Brown is the worst left tackle in the league this season. And that's not just conjecture. Pro Football Focus ranks Brown as currently one of the worst tackles in the NFL.
The Cardinals will hope things are better this time around by selecting a player our own Jon Dove thinks is the best left tackle prospect in the class.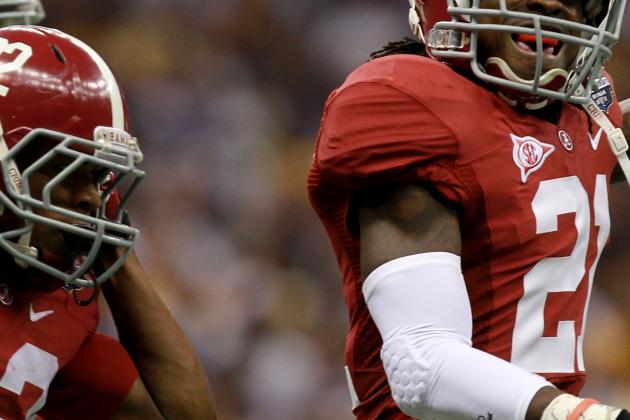 Ronald Martinez/Getty Images

Dre Kirkpatrick, Cornerback, Alabama
The Dallas Cowboys toyed with the idea of drafting a cornerback last year, but instead struck gold with right tackle Tyron Smith and running back DeMarco Murray. This time around, they'll look to the defensive side of the ball.
Dallas seems unhappy with Mike Jenkins and Terence Newman, opening up at least one spot in the secondary at cornerback. It's not out of the question to think Dre Kirkpatrick could also be an elite prospect at free safety.
Kirkpatrick has had a great season for one of the best defenses in college football. He'll make an easy transition to the NFL, especially in a scheme that lets him play off the ball in a zone scheme.
Dallas is historically a predictable draft team. Once Jerry Jones keys in on a player, that's his pick.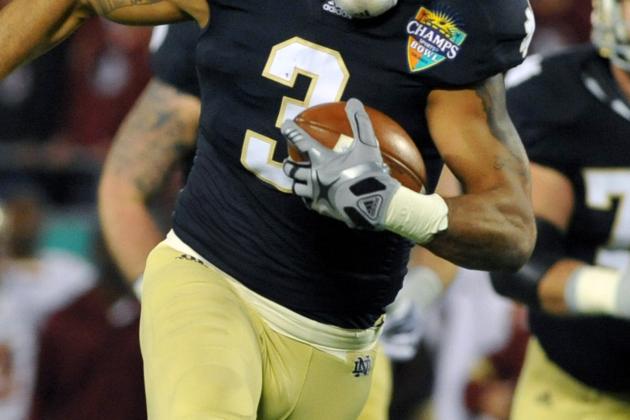 Al Messerschmidt/Getty Images

Michael Floyd, Wide Receiver, Notre Dame
The Philadelphia Eagles were supposed to field the best team money could buy this season. Instead, they are on the verge of a coaching change if they don't make the playoffs in 2012.
With DeSean Jackson's contract expiring and Steve Smith failing to make an impact, the Eagles will be desperate to add a consistent threat for Michael Vick. Michael Floyd has the body type and run-after-catch skills to be very dangerous in Andy Reid's offense.
This is an area where Philadelphia could also look at linebackers, but no player fits the bill in a 4-3 defense this early.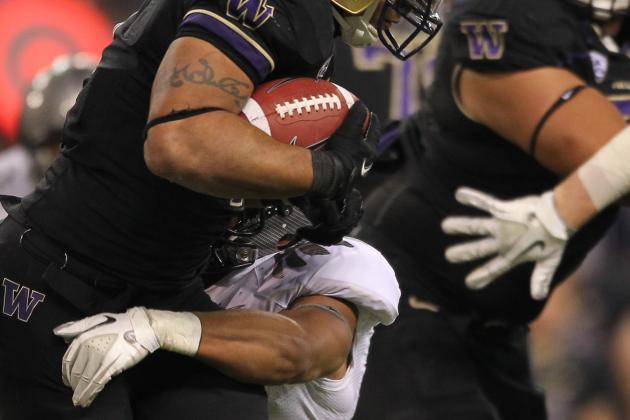 Otto Greule Jr/Getty Images

Chris Polk, Running Back, Washington
The Jets were predicted to draft outside linebackers or defensive ends in previous mock drafts. This pick speaks to the power of Tony Sparano as the new offensive coordinator.
Sparano will want a big, strong, athletic running back in the New York backfield. Shonn Greene has proven he's not that player, and LaDainian Tomlinson is nearing retirement. The one thing Mark Sanchez has never had is a power-running attack. Chris Polk would bring that and add a safety valve as a receiver out of the backfield.
The Jets could go many ways here, including outside linebacker and wide receiver. This pick should be all about the best player rated on their board.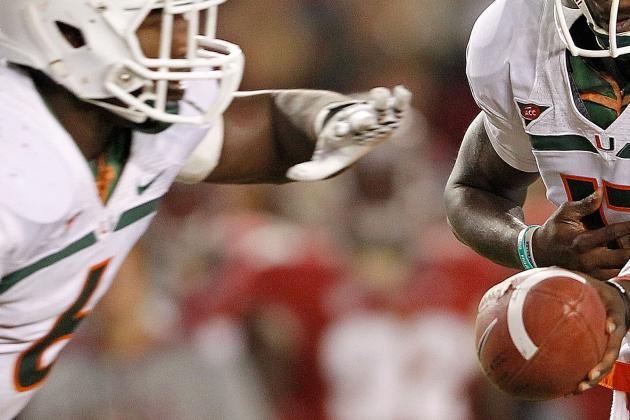 Mike Ehrmann/Getty Images

Lamar Miller, Running Back, Miami (FL)
After an early exit from the playoffs where their lack of a run game was exposed, the Cincinnati Bengals will use their first-rounder to look to find a change-of-pace back to pair with (or replace) Cedric Benson next season.
Miami's Lamar Miller is the best of the backs left on the board—he ranks as my No. 9 overall player right now.
Miller is a capable runner, receiver and return man. He's bringing the three "Rs" to Cincinnati, where a speed back is needed to complement Benson's bruising style of play.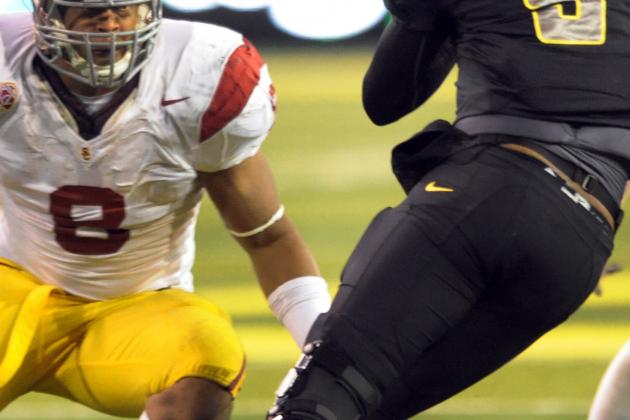 Steve Dykes/Getty Images

Nick Perry, Outside Linebacker, USC
At left tackle, Jared Gaither has played very well since being picked up off the street and may earn himself the starting job next season if he's re-signed. And that's why left tackle will most likely not be a need in San Diego.
If the Chargers don't look to fix their offensive line, fixing their defense will be a key. Finding a pure pass-rusher opposite Shaun Phillips will also be a key, even with improved play late in the season from Antwan Barnes. Ideally, San Diego can use this selection to draft the best player on their board.
Nick Perry is a freak of an athlete with the burst to make a big impact as an edge rusher. He'll be an instant impact in San Diego's attacking defense.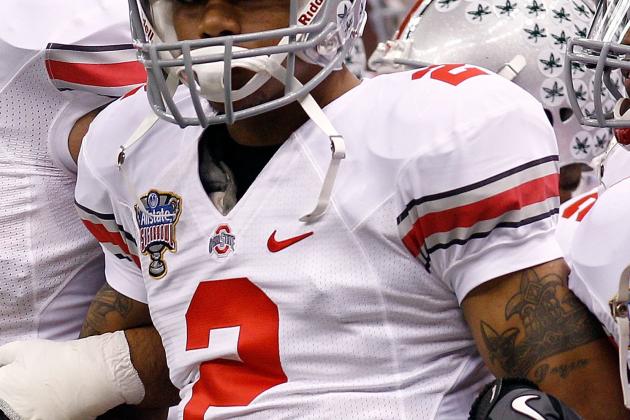 Chris Graythen/Getty Images

Mike Adams, Offensive Tackle, Ohio State
The Chicago Bears used their first pick in the 2011 NFL draft to select offensive tackle Gabe Carimi. While Carimi has missed much of his rookie season to injury, he's projected as a long-term starter at right tackle.
Fixing the problem at left tackle is the focus of this pick. Adams is a fast-rising prospect who will catch the eye of NFL scouts with exceptional agility and strength at the position.
Chicago needs to get better at many positions, but none is more important than finding an NFL-quality left tackle.
Mike Zarrilli/Getty Images

Melvin Ingram, Defensive End, South Carolina
The Tennessee Titan defense was solid all season, but they ranked sixth-worst at sacking the quarterback. The defensive tackles are solid, but bringing in speed and power at defensive end is needed.
Derrick Morgan, the team's last first-rounder at defensive end, has been a bust and may discourage the front office from pulling the trigger on another defensive end.
Outside of drafting a cornerback to replace Cortland Finnegan—should he leave in free agency—no other selection makes sense for the Titans.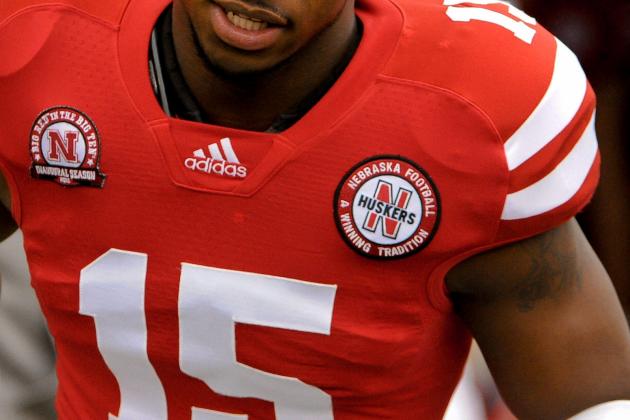 Eric Francis/Getty Images

Alfonzo Dennard, Cornerback, Nebraska
Leon Hall is still one of the better cornerbacks in the NFL, but he needs help on the other side of the field. Nate Clements and Pacman Jones are stopgap players. What the Bengals need is a true cover man. This is an area Cincinnati could address with one of its two first-round picks.
Alfonzo Dennard is the best senior cornerback in this class. He doesn't have great size, but Dennard makes up for it with strong play off the line and great leaping ability. He's tough against the run and in press coverage—a must for any defender in the AFC North.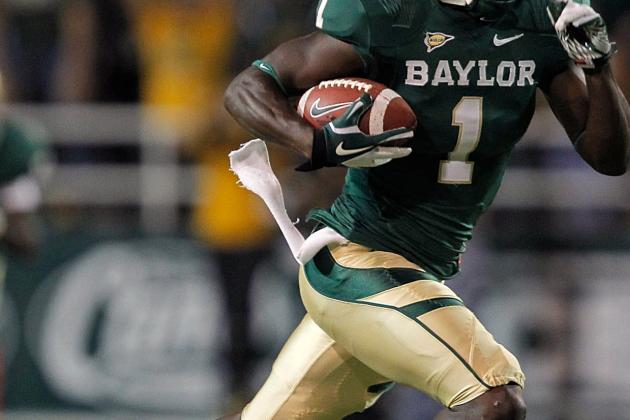 Sarah Glenn/Getty Images

Kendall Wright, Wide Receiver, Baylor
With their first pick the Cleveland Browns grabbed their workhorse running back to fuel the offense. With their second pick they will look to continue adding to the O.
Their second-rounder from last year, Greg Little, has some potential, but outside of him there is no one worth building around at wide receiver. Colt McCoy needs help, and it should come in the form of a first-round wide receiver.
Kendall Wright would give Cleveland a legitimate No. 2 wide receiver to work opposite Little, who had a good enough rookie season to think he's a true option at No. 1.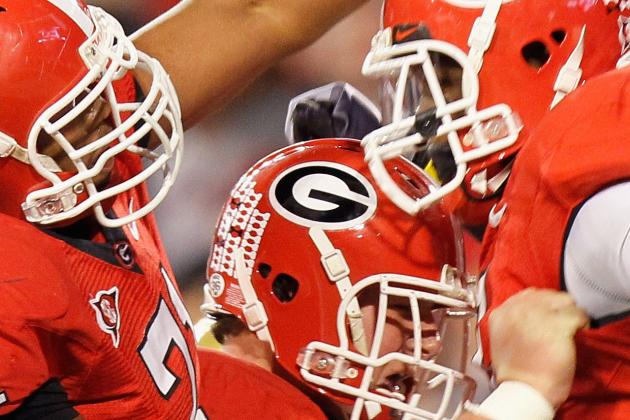 Kevin C. Cox/Getty Images

Cordy Glenn, Offensive Tackle/Guard, Georgia
Some may say a cornerback or even a running back would be the better pick. I disagree. The Detroit Lions need to build their offensive line.
Jeff Backus is near retirement, and the team has no one to replace him at left tackle. Glenn has played both tackle and guard at Georgia, and while a bit heavy for the left side, he has the footwork and athleticism to make the transition to the NFL as a tackle.
Worst-case scenario, the Lions have an All-Pro-quality guard in Glenn. Best case, he becomes a fixture at left tackle.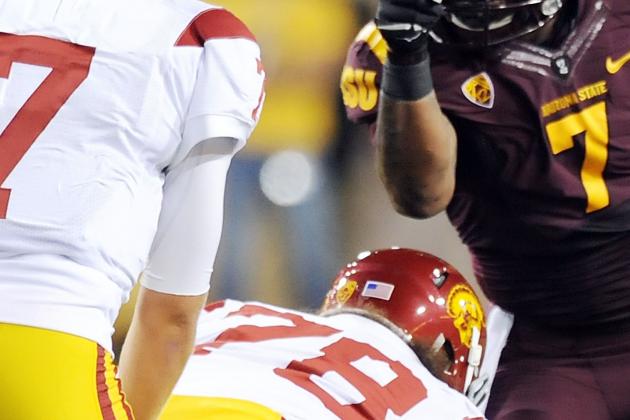 Norm Hall/Getty Images

Vontaze Burfict, Inside Linebacker, Arizona State
The Pittsburgh Steelers really need help at offensive tackle, but they also need not reach for a position that doesn't provide value here. That's why they'll instead move to add depth and value by selecting a potential All-Pro inside linebacker.
Few players have the raw ability of Vontaze Burfict, but few players will need as much care early in their careers. Burfict has been categorized as a character problem on the field, and he needs a strong hand in a coach and a strong veteran locker room.
In Pittsburgh the team will ease Burfict in as a potential replacement for James Farrior.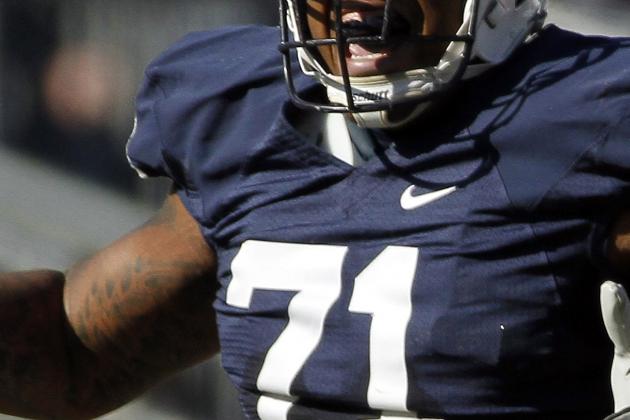 Justin K. Aller/Getty Images

Devon Still, Defensive Tackle, Penn State
You might think the Denver Broncos would want to look for offensive linemen, cornerbacks, maybe a quarterback or even help at running back. Nope.
Under John Fox, the Broncos are committed to building a strong defense to complement a ball-control offense. The next step for Denver is to draft a stud defensive tackle to draw double-teams and split the gaps in the offensive line.
Devon Still is the best defensive tackle in this class and brings great value for Denver with pick No. 25.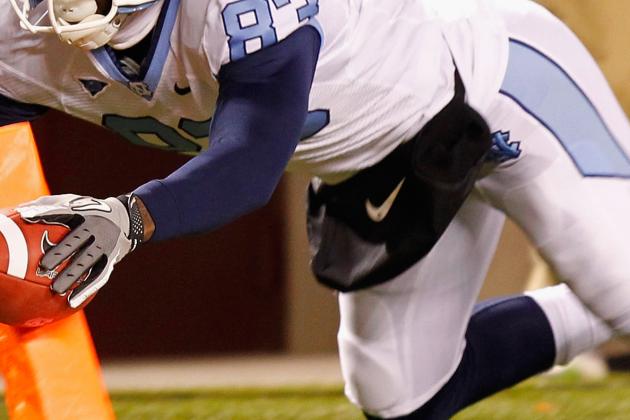 Geoff Burke/Getty Images

Dwight Jones, Wide Receiver, North Carolina
The Houston Texans, if healthy, should be considered Super Bowl contenders in 2012. To make those dreams a reality, Houston needs to find and develop options at wide receiver other than Andre Johnson.
Jacoby Jones has been a fine No. 2 receiver, but the team needs a burner in the slot who can stretch a defense and create mismatches.
Dwight Jones is a name you should write down. He's big, has great burst and is the type of player who could make a big jump up draft boards this season. Just remember you heard it here first.
Eric Francis/Getty Images

Jared Crick, Defensive End (3-4), Nebraska
The New England Patriots are getting by with castoffs in the starting lineup at defensive end and defensive tackle, but the lack of talent outside of Vince Wilfork has been evident.
Mark Anderson and Andre Carter have had good seasons, but are they long-term answers? If the team hopes to transition back to their 3-4 scheme—or if they want to improve the play next to Wilfork at the three-technique position—they'll need to focus on the draft.
Jared Crick has top-15 talent, but he missed the second half of the 2011 season with a torn pectoral muscle. He should be fine by the time the scouting combine rolls around in late February, but there is a likely chance his draft stock takes a hit from it.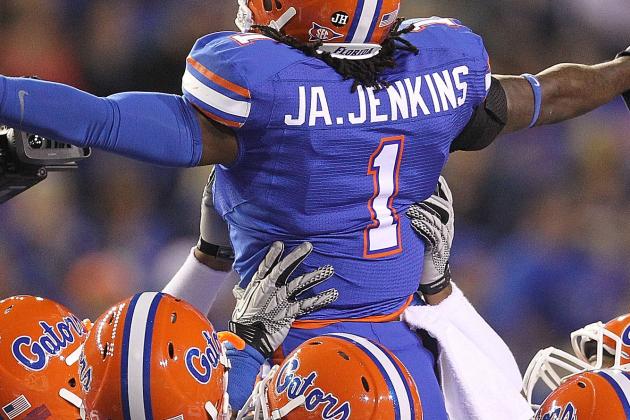 Mike Ehrmann/Getty Images

Janoris Jenkins, Cornerback, North Alabama
The Green Bay Packers' secondary was straight-up exposed by the New York Giants—as was their pass rush. Look for the Packers to use their first-rounder on the best available defender.
Janoris Jenkins has top-15 talent but has fallen due to off-field issues that led to his dismissal from the University of Florida. Jenkins has said that if Urban Meyer were still coaching he wouldn't have been let go from the team and university, so that's worth considering.
Green Bay has a strong, solid locker room that can afford to take on a questionable young player with undeniable talent.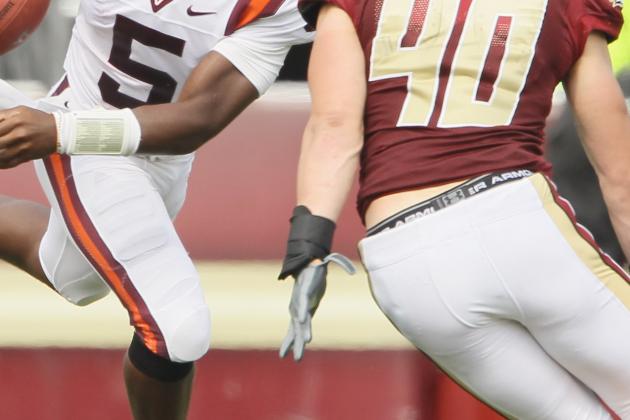 Elsa/Getty Images

Luke Kuechly, Inside Linebacker, Boston College
The New York Giants have a fierce defense, but they could use more speed and more coverage ability from their linebackers. The team needs a big upgrade in the middle. Luke Kuechly is a great fit at inside linebacker in this system.
Kuechly is a major tackling machine, but he will have to play behind a defensive line that can help protect him from traffic. There's even a possibility he would make the move to outside linebacker once in the NFL.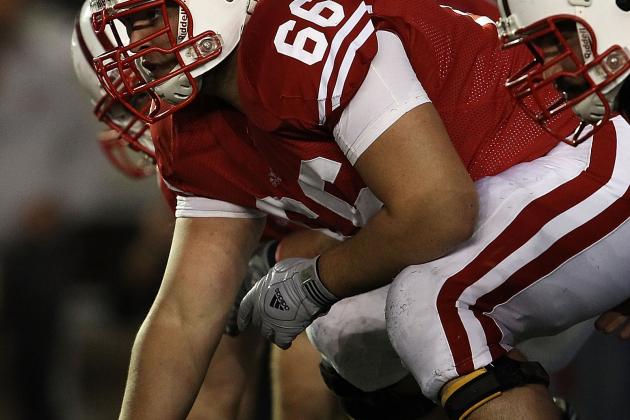 Jonathan Daniel/Getty Images

Peter Konz, Guard/Center, Wisconsin
The Baltimore Ravens have very few holes but do a good job drafting to fill future needs. At center the team has veteran Matt Birk. At left guard they have free agent Ben Grubbs. This pick helps both.
Konz could slide to guard and start for the long haul or fill in until a proper replacement is found for Grubbs. He also works well as a backup and future replacement for Birk, who is on the downside of his career.
This is one of those Ozzie Newsome picks that seem unnecessary at the time but end up being brilliant down the stretch.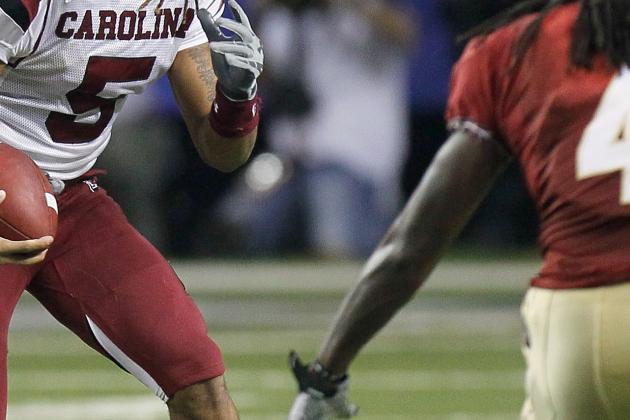 Kevin C. Cox/Getty Images

Stephon Gilmore, Cornerback, South Carolina
Carlos Rogers has been a top-five free-agent signing this season. The 49ers will want to offer him a three- to four-year deal this summer and hope he's interested in returning. Even with Rogers back for another season, drafting for depth and more talent opposite Rogers is an early need.
Gilmore does more than fill in opposite Rogers—he brings added value as a return man should Ted Ginn or Kyle Williams move to more of a wide receiver role in 2012.
Gilmore is a threat in the run game, as a shutdown cornerback and even in zone cover. He's as ready for the NFL as any corner in the class.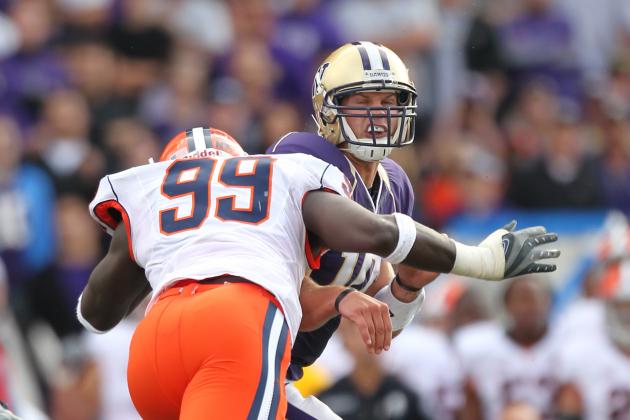 Otto Greule Jr/Getty Images

Chandler Jones, Outside Linebacker, Syracuse
When the New England Patriots have two first-round selections, Bill Belichick has never traded the first of those picks. The second he's not afraid to move.
Chances are this pick will not belong to New England by the time the pick comes up on the clock, but should Belichick buck history and decide to hold on to the selection, the team could do worse than adding a pass-rushing threat like Chandler Jones.
A recent entry into the draft, Jones has freakish size and strength off the edge. Teams looking for a 2012 version of Aldon Smith will fall in love with Jones' ability. He's like a younger Willie McGinest-type player, which is what the Patriots lack.