Andy Roddick: 3 Men A-Rod Doesn't Want to Face in His Australian Open Draw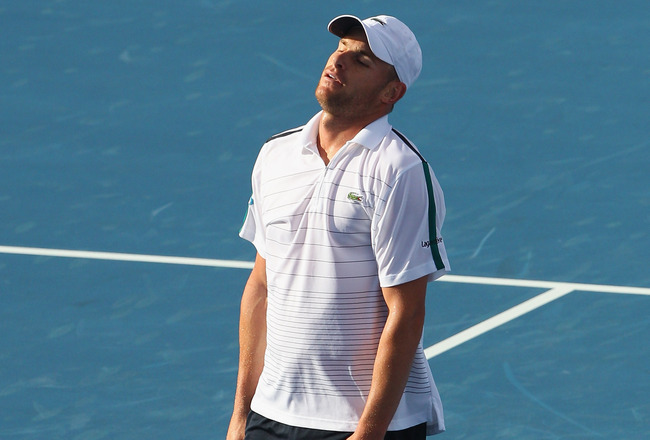 Lucas Dawson/Getty Images
Andy Roddick only has one Grand Slam victory to his name, but us Americans still hope for the best for A-Rod every time a Grand Slam roles around, as is the case in this year's Australian Open.
Nothing will change as long as Roddick stays alive at the Australian Open. The truth is that it would be a considerable upset if an American walked away from the Australian Open a winner, but Roddick is one of the only guys who could potentially pull it off.
To do it, Roddick is going to need to be at the very top of his game, but he's also going to need the luck of the draw.
In this case, the "luck of the draw" means not having to square off against any of the three players listed ahead on this humble, little slideshow.
3. Lleyton Hewitt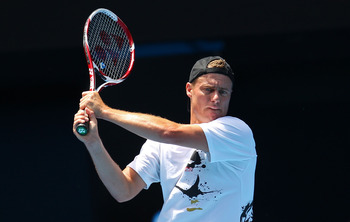 Scott Barbour/Getty Images
Lleyton Hewitt's best days have long since passed us by. He hasn't been a legitimate threat for years, and it would be an utter shock if he went on any kind of run at this year's Australian Open.
But Hewitt only needs to make it to the second round to set up a potential match against Roddick. At the very least, what we'll have is a match between two big-name players.
We could also have an upset waiting to happen. Hewitt would not be seeing Roddick for the first time, so Roddick has nothing Hewitt hasn't seen before.
The question would be if Hewitt could find a way to consistently return Roddick's blistering serves. That alone wouldn't win him the match, but doing so would negate (or at least lessen) Roddick's main strength. Hewitt's abilities as a volleyer could take care of the rest.
The idea of Hewitt actually winning might be a stretch, but you would like Roddick's chances better against someone who hasn't been there, done that or faced him before.
2. Milos Raonic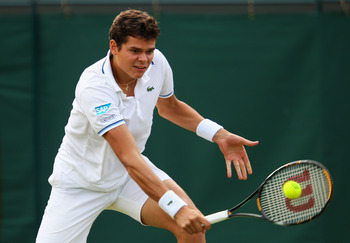 Julian Finney/Getty Images
If there's a rising star you want to keep your eyes on in 2012, it's Milos Raonic. He hasn't made any real noise yet in his career, but it's coming. We saw a glimpse of Raonic's potential when he topped Janko Tipsarevic at the final of the Aircel Chennai Open.
We could very well see a glimpse of his potential again if he and Roddick meet in the third round. If things actually pan out that way, you just know Raonic will be heading into the match looking to send a loud and clear message.
And he could do it.
Like Roddick, Raonic gets by largely thanks to his killer serve. He can get it over 140 miles per hour, and he once got it up to 150 miles per hour.
If Raonic has his best serve against Roddick, he would probably be done. In all likelihood, the only real issue would be whether Raonic could avoid letting Roddick stick around by committing too many unforced errors. If all things are equal, he's the better player, so he would have to keep things equal.
If he did that, Roddick would be done.
1. Novak Djokovic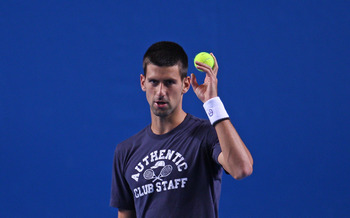 Scott Barbour/Getty Images
If Andy Roddick actually meets up with Novak Djokovic, it will mean he has done well. They can't meet until the fourth round.
If this meeting actually comes to fruition, Djoker would have an easy ticket to the quarterfinals. He is the best player in the world right now, and he is certainly head and shoulders above Roddick.
We can sit and wax poetic about all the things Djokovic does well, but what would matter against Roddick is how good Djoker's return game is. His is really good. Good enough, I'll wager, to guide him to a straight-sets victory over Roddick if these two meet up.
But like I said, if Roddick even makes it to Djokovic, it will mean he's had a nice run.
That should tell you just how good (or not good) Roddick is at this stage of his career.
Keep Reading