Syracuse-Pitt: 2 Teams Going in Opposite Directions
January 16, 2012

Justin K. Aller/Getty Images
Before the start of the 2011 season, it was announced that the Syracuse Orange and Pitt Panthers would be leaving the Big East Conference for the Southern-rooted Atlantic Coast Conference. The defiant move was advertised as the end of the Big East as we know it and was supposed to give basketball supremacy back to the ACC.
From its beginnings in the early '80s, the Big East has been a basketball juggernaut, but in the '90s the ACC wrestled the distinction of being the premier conference in the NCAA from the Big East. Starting with Syracuse's national championship in 2003, it seems the Big East has taken that title back for the time being with Connecticut reigning as the current champion. Both Syracuse and Pitt have played a major part in that success.
Syracuse coach Jim Boeheim is most likely a fraction of a season away from win No. 900 in his storied tenure while Pitt coach Jamie Dixon is carving out quite a name for himself. Dixon, 46, has already garnered 227 wins and has managed to win more than 78 percent of the games he's coached and won two Big East regular-season championships and three Big East tournament titles. Pitt has even won eight of its last nine games against Syracuse, including five in a row at the Carrier Dome.
Both schools entered this season with high hopes of postseason glory, with Syracuse being the preseason No. 5 and Pitt being the preseason No. 10.
Pitt stumbled out of the gate somewhat with an 86-76 setback to Long Beach State in its third game of the season, but rallied to an 11-1 start. Syracuse made quick work of its first 12 opponents, making it through unblemished. At the close of Week 7, Syracuse was the No. 1 basketball team in the NCAA with Pitt being voted No. 13.
This is where the schools' paths drastically diverge.
After crushing St. Francis for win No. 11, Pitt responded by dropping six straight games. Starting with a four-point loss to Wagner and including a 24-point loss to Rutgers, Pitt has struggled mightily find its way and is the only school in the Big East to not win a conference game this season.
Syracuse, on the other hand, has won every game this season and hasn't effectively been challenged, save for a late run by Marquette that came up empty.
According to Las Vegas oddsmakers, Syracuse is a 15-point favorite, but this game has the feel of the perfect trap.
Pitt hasn't lost seven games in row in almost 16 years and after losing a tight game to Marquette is looking for some Orange-colored redemption. Pitt has not dropped a game to Syracuse since March of 2006, winning five straight since.
Pitt has also been the thorn in Syracuse's side the last two seasons. Two seasons ago, Pitt was the first team to beat Syracuse after an 18-0 start, and last season 13-0 became 13-1 at the hands of the Panthers.
On the surface, this would appear to be a blowout waiting to happen for the Orange, but the players know better. Any team that overlooks another in the Big East is usually going to end up on the wrong side of that deal, but Boeheim is keeping a blue-collar approach to each game.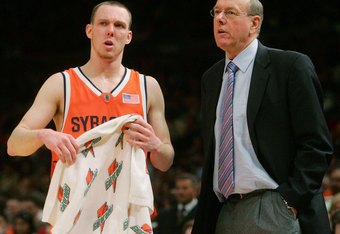 Jim McIsaac/Getty Images
When asked what kind of focus it takes to win your first 19 games, Boeheim said,
The same focus it takes to win your first one, the exact same focus. We are just trying to get ready for the next game, that's all we thought about and that's what we are going to keep doing. That's the only way to approach basketball games. We have to get ready or we are going to get beat. We just have to get ready every night. Watching games today, a couple of teams were not ready and they got beat. It's as simple as that.
At stake are several milestones for the Orange. A win against Pitt would give Syracuse its best start to a season in its history and would give Coach Boeheim win No. 976 and a tie with Adolph Rupp at fourth on the all-time Division I wins list. Syracuse will also try to extend its six-week reign atop the polls. Syracuse was the No. 1 team for six weeks in 1989-90 but hasn't matched that amount until this season.
As long as Syracuse keeps the sting of last year's loss fresh and doesn't look past Pitt, the Orange should be fine, but stranger things have happened in this matchup, and a win against the No. 1 team in America could do wonders for turning around the dismal season of Pittsburgh.
Syracuse should be able to use its suffocating defense to create fast-break points off turnovers and the Orange's deep bench will keep the flow of new legs fast and fresh.
Prediction:
Syracuse wins, 78-64