Tim Tebow and the Denver Broncos: Where Do They Go from Here?
January 16, 2012

Al Bello/Getty Images
After the 45-10 drubbing the Denver Broncos and Tim Tebow took at the hands of the New England Patriots on Saturday, the team's focus must turn to the future and how it can improve before the start of next season.
This year, in spite of Tebow Mania, the wins and losses were driven by their defense. The Broncos finished the regular season with the 24th-best defense by points per game (24.4) but were consistently better than that in their wins.
A full, healthy season from key contributors Champ Bailey, Elvis Dumervil and Brian Dawkins will be critical in making the defense tick. Dawkins' absence from the secondary certainly made things more difficult in their game against the Patriots, and Tom Brady took full advantage.
Secondary play will probably make or break this team next year. The Broncos were tied for 28th in interceptions with nine on the season and 18th in passing yards surrendered (231.5 average). With Bailey and Dawkins healthy, opposing teams will have to be more careful with their air attack.
Adding some depth to their stable of corners and safeties might also help to make them a little more injury-proof.
The emergence of rookie Von Miller was a huge part of Denver's success on defense. His 11.5 sacks helped give Denver the 10th-most sacks in the NFL for the season. His continued improvement as a sophomore will go a long way towards improving the team's standing overall.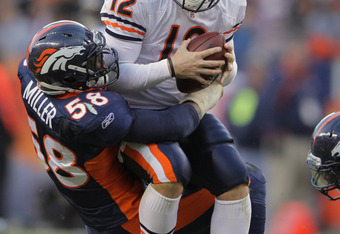 Doug Pensinger/Getty Images
On offense, there are issues, to be blunt.
Tim Tebow has been getting all the press and accolades, but his passer rating was a very pedestrian 72.9. A 46.5 percent success rate when throwing simply won't cut it as a starter in the NFL. He will have to conjure some magic in the offseason to complete passes or his career as a starting QB might be short-lived.
Some help in the receiving corps might also help. Demaryius Thomas, Eddie Royal, Eric Decker and Daniel Fells aren't a group that strikes fear into the hearts of other teams. They may have youth on their side and might be able to develop as a result, but this team needs a stud go-to guy for Tebow to target 10 times a game. Denver needs to look to either an offseason trade or the draft to try to address this weakness.
The ground game should be set. Everyone knows Tebow can run if he gets in trouble. Along with Willis McGahee and a hopefully healthy Knowshon Moreno, the Broncos should have lots of good options for moving the ball on the ground.
The team as a whole was second to last in passing yards per game (152.1) and 25th in points per game (19.3). Even with the best ground attack in the NFL, averaging 164.5 yards rushing per game, this needs to improve dramatically if Denver truly hopes to be competitive.
Pass protection was actually pretty decent during the season, with the Denver O-line giving up the ninth-fewest sacks in the NFL (42). It's also giving the running game holes to work with, so it is looking fairly solid as a unit.
Depth, health and experience will be needed in several facets of their game if the Broncos are to be contenders next season. Most critically, though, they need to get better at passing the ball and scoring points.
A lot better.