2012 NFL Draft: Ideal 1st-Round Picks for Eliminated Playoff Teams
January 16, 2012

Scott Boehm/Getty Images
We're down to the final four in the NFL postseason, and that means the other eight teams can start doing what every other NFL team is already doing.
Preparing for the 2012 NFL Draft.
Conventional wisdom suggests that playoff teams don't need as much help as non-playoff teams, but that's not the case. Take a look at how each of the eight eliminated teams was eliminated, and you'll notice that they are where they are because some fatal flaws were exposed.
The draft is a chance to fix those flaws, starting of course in the latter third of the first round.
Only six of the eight eliminated teams will be drafting in the first round, though, as the Atlanta Falcons' pick belongs to the Cleveland Browns and the New Orleans Saints' pick belongs to the New England Patriots.
Nonetheless, let's take a look at what the other six teams should do with their first-round picks.
Cincinnati Bengals (No. 17 and 21 picks)
Jamie Squire/Getty Images
The Bengals have two first-round picks in the 2012 draft, as they got one from the Oakland Raiders in the Carson Palmer trade.
One of these picks will probably be used on a running back. Cedric Benson is a free agent, and there's quite a bit of uncertainty surrounding his future with the team (if there is such a future). You can get the gist of the situation by reading a recent article in the Cincinnati Enquirer.
Whether they choose to go for him at No, 17 or No. 21, Miami's Lamar Miller would be a good pick for the Bengals. He's not Trent Richardson, but he's a running back with star potential who would fit well alongside Andy Dalton and A.J. Green.
The other pick should be used on defense. The Bengals could choose to draft a cornerback, as they need a permanent replacement for Johnathan Joseph.
If the Bengals are happy with their pass defense (No. 9 in the NFL in 2011), they could choose to shore up their front seven by upgrading their linebacking corps. That would depend on which players are available, as there may not be any players who are upgrades over what they already have.
For example, it wouldn't be at all surprising if the Bengals drafted Vontaze Burfict if he falls to them.
Detroit Lions (No. 23 pick)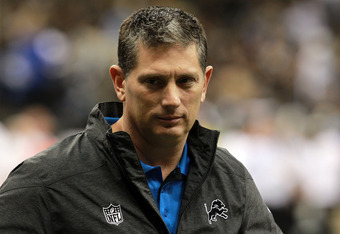 Ronald Martinez/Getty Images
If the Lions are going to upgrade their offense, it will be by shoring up their offensive line. They could look for a tackle who can play on both sides of the line, but don't rule out them drafting a center or guard prospect who can play anywhere on the interior. 
To that end, Detroit's options will be limited, so the team could easily decide to address its defense instead.
If the Lions do choose to address their defense, they could upgrade either their linebacking corps or their secondary.
An outside linebacker would be a good idea, and you wonder if the Lions could go for a guy like North Carolina's Zach Brown. He would add an extra dimension to a front seven that is already pretty good.
If the Lions go secondary, I would expect them to pick up an extra cornerback. Somebody like Alfonzo Dennard or Stephon Gilmore would be good.
Pittsburgh Steelers (No. 24 pick)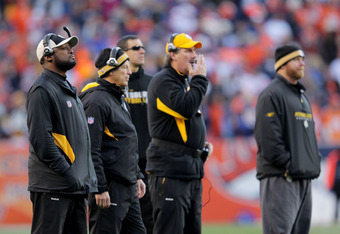 Doug Pensinger/Getty Images
Pittsburgh's top priority in the draft should be finding offensive line help, but they're probably going to be out of luck. A lot of teams drafting ahead of them will also be on the lookout for offensive line help, so pickings could be pretty slim by the time the Steelers are on the clock.
If the Steelers choose not to reach for a lineman, they'll likely look to patch holes on their defense. It's good, but it's not as steely as it once was.
One thing the Steelers could do is take a nose tackle who could step in for Casey Hampton down the line. They could also look to add a linebacker, a position the Steelers always do well with.
We could also see the Steelers draft a cornerback. The guys they have are good, but there is something to be said about how the Steelers let Tim Tebow get the better of them in the Wild Card Round. That's a concern.
I personally could see the Steelers targeting guys like Memphis nose tackle Dontari Poe, Alabama inside linebacker Dont'a Hightower, and they may even roll the dice with a prospect like North Alabama's Janoris Jenkins.
Denver Broncos (No. 25 pick)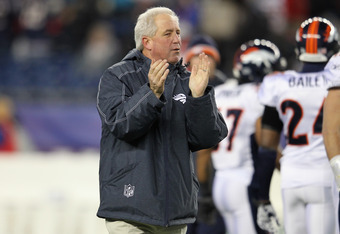 Jim Rogash/Getty Images
Since the question is bound to be asked, the Broncos could very well draft a quarterback in 2012. 
But if they do, it will be in the later rounds, not the first. Tim Tebow deserves another season to prove his worth, and there won't be any QBs worth taking at No. 25 anyway.
I wouldn't be surprised if the Broncos took a running back, though. Willis McGahee had a great season in 2011, but he's getting up there in years. Knowshon Moreno tore his ACL late in the season, and it wouldn't be surprising if he's not with the team in 2012.
I'll leave that up to the Broncos. But if they do go for a running back, Washington's Chris Polk is a guy who will be in play.
If not, the Broncos have a number of needs on defense, most notably at defensive tackle and cornerback. There will be plenty of DTs for them to choose from at No. 25, and they could pluck one of the last first-round-worthy CBs on the board.
Houston Texans (No. 26 pick)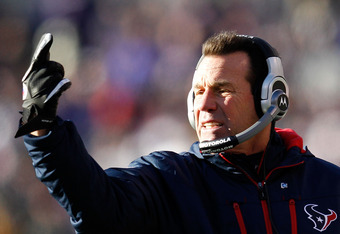 Rob Carr/Getty Images
The Texans are a Super Bowl-caliber team if they're fully healthy, and they're actually not going to need much when they enter the draft in April.
One thing they could use, however, is a speedy wide receiver who could take some pressure off of Andre Johnson. A guy like Baylor's Kendall Wright would be too perfect, and he could be available at No. 26.
If the Texans don't go for a receiver, they'll probably look to patch holes left by departed free agents. 
Other than that, the Texans are pretty well set. The future is bright.
Green Bay Packers (No. 28 pick)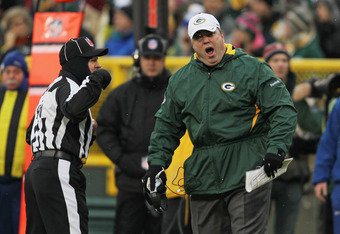 Jonathan Daniel/Getty Images
After dominating during the regular season, the Packers were exposed in a big way by the New York Giants. It's clear that they have a lot of areas they need to fix.
Offensively, there's one area where the Packers are lacking, and that's at running back. If they choose not to get a running back in free agency, I'll expect them to target one in the draft. If they target one right away, Chris Polk is a guy who could be at the top of their list.
The Packers could also address their defense. The most pressing need they have on defense is for another linebacker who can keep up with Clay Matthews. There won't be too many perfect fits on the board when the Packers are picking, but the Packers will find one. They're better than anybody at identifying talent.
Elsewhere, the Packers could also use a defensive end, and you may even see them add some secondary depth. Their secondary is strong, but it's apparently not strong enough. The Packers had the league's worst pass defense all season.