2012 NFL Draft: Updated First-Round Picks After Divisional Games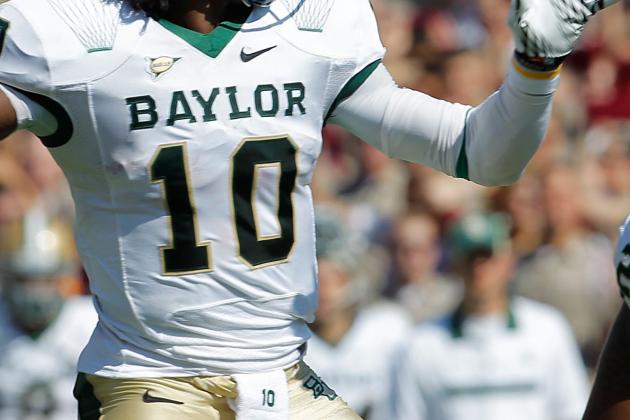 Sarah Glenn/Getty Images

With the Divisional Round of the NFL Playoffs now over, the 2012 Draft picture has become a little clearer than it was last weekend.
While the top spot is still safely occupied by Andrew Luck, the fun can start as early as the third pick in terms of potential trades.
However, even without the possibility of trades, the talent coming out can make a huge difference for the teams that land them.
The final four picks are organized by record, pending the remainder of the NFL Playoffs.
Begin Slideshow

»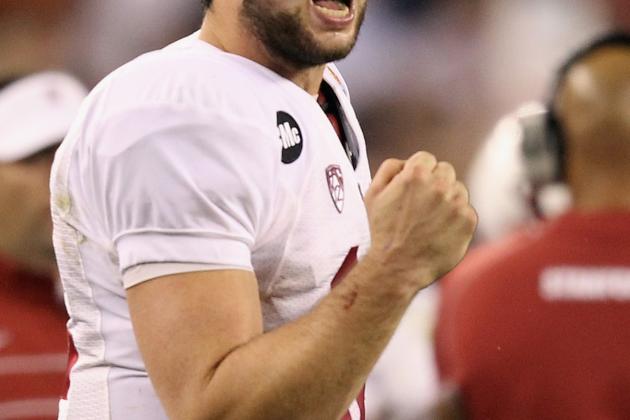 Christian Petersen/Getty Images

When it comes to selecting quarterbacks, the Colts have a long history of doing it right. Three of their picks are regularly discussed as the greatest ever, even if John Elway never actually played a game for the Colts after being drafted by them.
Jim Irsay certainly hopes that Andrew Luck is the fourth in a long line of great quarterback selections for the franchise, and all indications are that he will be.
Even though the pairing of Manning and Luck could be stressful and potentially lead to a messy divorce between Peyton and the Colts, Luck is a prospect not to be missed.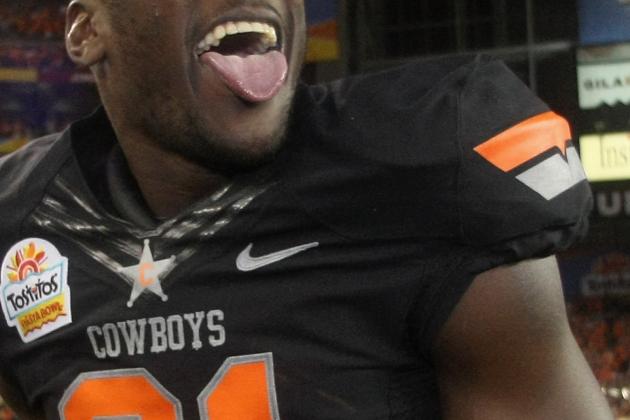 Donald Miralle/Getty Images

Blackmon will find the transition from college to pro to be a simple one, considering he will have another Big 12 star throwing him the ball in Sam Bradford.
Jeff Fisher knows that he has been given the keys to a potentially electric offense with Bradford at the helm, but Blackmon is the key to getting it started.
The Oklahoma State standout has the kind of route-running ability and sure hands to help Bradford regain his form next season.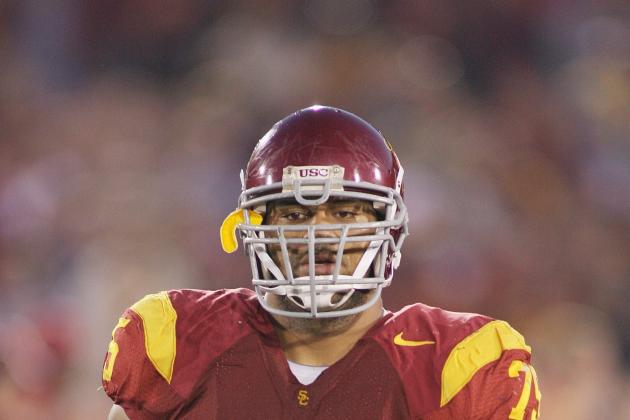 Jeff Golden/Getty Images

The Minnesota Vikings saw the need to protect Christian Ponder many times this season, and they will take this opportunity to solidify their line and add an immediate starter.
Even though Kalil is the best tackle on the board, this could be a spot where the first trade happens, as any first-round talent would start on the Vikings line.
It's a trade possibility, but someone would have to be really hot for RG3 to make the move up and cause the Vikings to lose out on Kalil.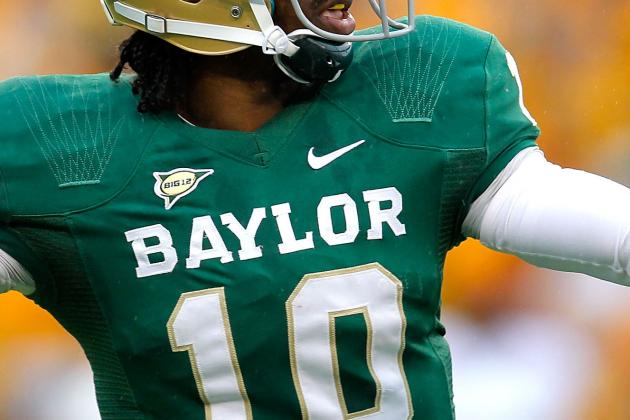 Sarah Glenn/Getty Images

There has been some speculation that the Browns might stay away from a quarterback in the draft this year, but Griffin's stock is sure to rise, and the Browns might be sending smoke screens to the rest of the league.
Team president Mike Holmgren might take time to come around to the idea of building an offense around RG3, but he will realize that Cleveland needs electricity.
This means that Matt Flynn will likely have another destination, since the quarterback position in Cleveland will be full.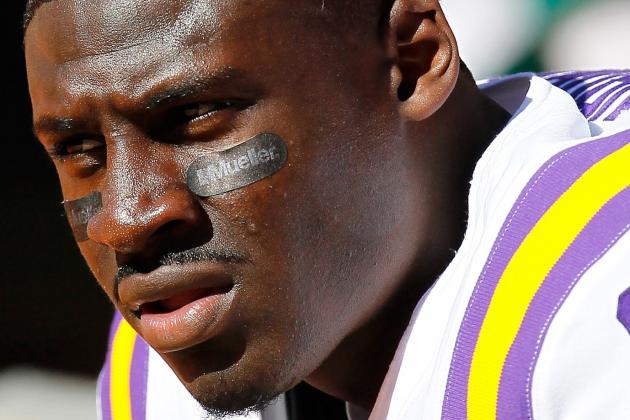 Kevin C. Cox/Getty Images

The Tampa Bay Bucs have a lot of talent in their midst already, and with new leadership on the way, they simply need to take the best talent available on the board.
Claiborne will come in and take the reins from Ronde Barber in the defensive backfield and not miss a beat doing it.
It may take time to fill the immense shoes of Barber, but in time, Tampa fans will grow to love the former LSU Tiger just as much.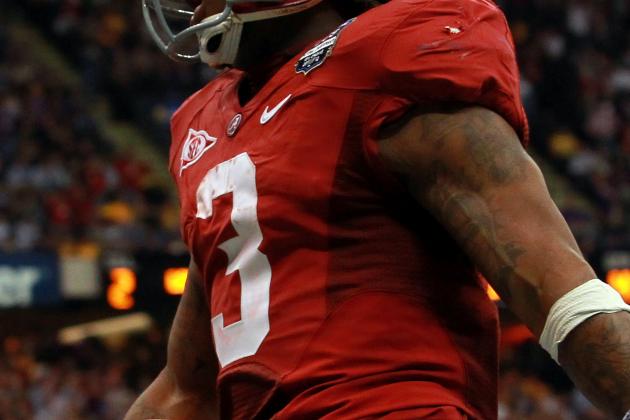 Ronald Martinez/Getty Images

Mike Shanahan always had great luck picking running backs while in Denver, but this time, there will be no luck involved.
Roy Helu and Evan Royster have done a great job, but neither are the kind of game-changer that Richardson will be at the next level.
Shanahan will look to pick up Matt Flynn at QB and pair him with Richardson in the backfield to launch his offensive attack on the NFC East.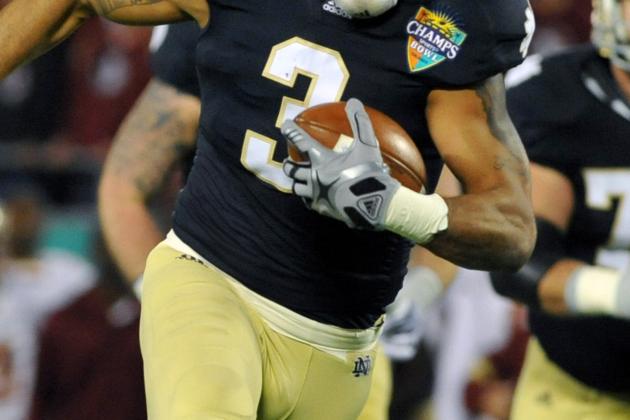 Al Messerschmidt/Getty Images

There is a lot of speculation that Jacksonville will be looking for a big splash at receiver, similar to what new head coach Mike Mularkey received with Julio Jones while in Atlanta.
It makes sense that they would want to add weapons for Blaine Gabbert, but the smarter solution would be to add tools like Floyd, who hauled in 100 balls this season for the Irish.
Gabbert and Co. must find stability before they find firepower, and having MJD covering the ground and Floyd helping to keep possession through the air, they may have that.
Justin K. Aller/Getty Images

The Carolina Panthers have got something special going on offense with Cam Newton, but they need to lay the foundation to control the line on both sides of the ball.
Devon Still gives them the best chance to do that from this draft position. If he can come in and stabilize the middle of the line on defense, the rest of the defense, from pass rush to coverage, should improve.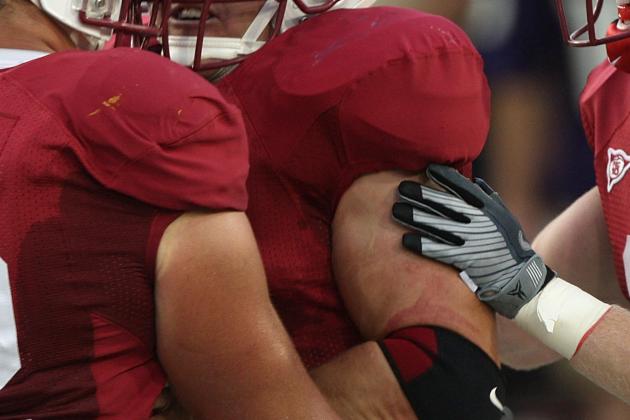 Jed Jacobsohn/Getty Images

The Miami Dolphins will look to add beef to their offensive line and help Reggie Bush, and whoever is playing quarterback, keep this offense on track.
DeCastro is the top-ranked interior lineman in the draft and has equal experience pounding the ball and protecting a future legend at quarterback in Andrew Luck during his time at Stanford.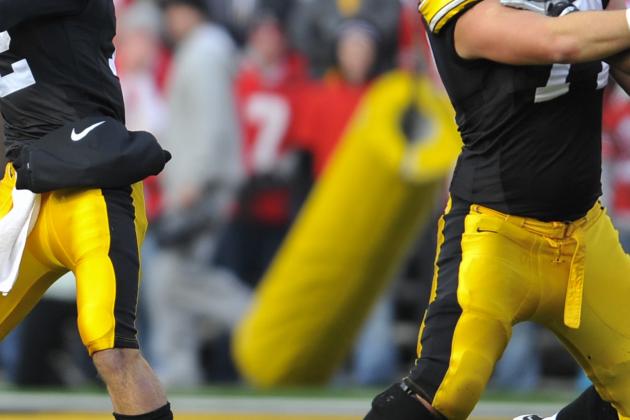 David Purdy/Getty Images

For better or worse, the Buffalo Bills have hitched their wagons to Ryan Fitzpatrick and in 2012, they must go about protecting him.
Behind Matt Kalil, Reiff is the strongest prospect at tackle and will help shore up an offensive line that will be asked to give Fitzpatrick plenty of time to work.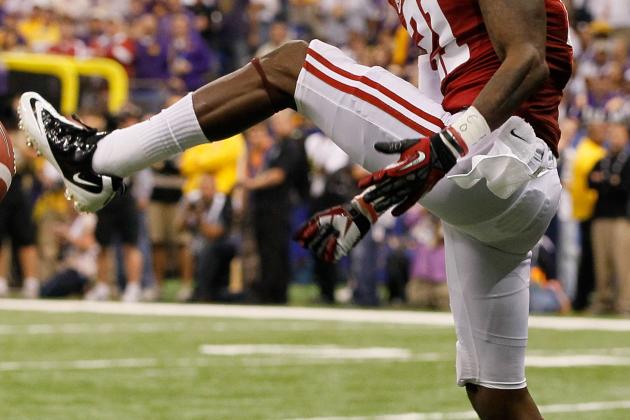 Kevin C. Cox/Getty Images

Don't look now, but with the addition of Kirkpatrick, the Seahawks may have one of the most talented and exciting young defensive backfields in the NFL.
The Crimson Tide star will join Brandon Browner and Cam Chancellor and make Seattle one of the hardest teams to pass on the NFL.
Seattle has many needs, but it will be hard to pass on talent like this, who in other years could be in the top 5.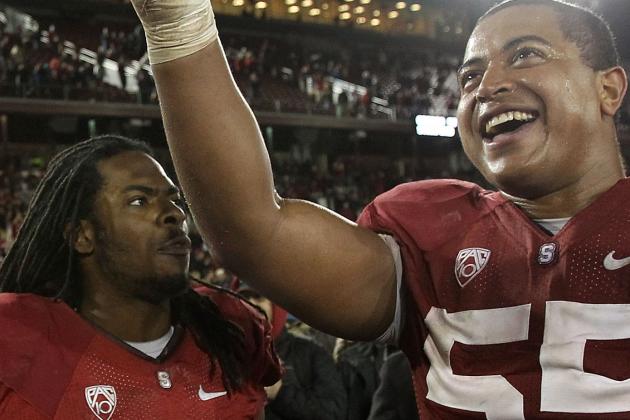 Ezra Shaw/Getty Images

If the Chiefs decide to roll with Kyle Orton, or even bring back incumbent starter Matt Cassel, protection is going to be a high priority.
Throw into the mix the fact that Jamaal Charles is returning from injury, and the need to have big bodies in front of their offensive stars is a must for Kansas City.
The defense was resurgent for Kansas City down the stretch, and that will allow them to utilize this pick to help the offense.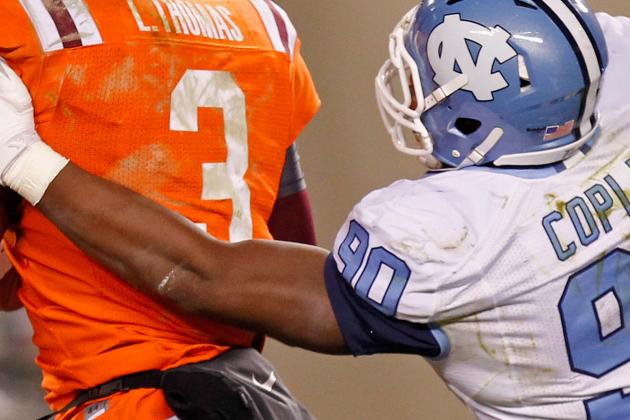 Geoff Burke/Getty Images

The Arizona Cardinals are in a division where every team likes to run. Whether it is Frank Gore, Marshawn Lynch or Steven Jackson, the Cardinals need bulk in the middle to stop it.
Coples can give them size and another big body to plug up the middle of the field and force the other teams in their division to do what they do not want to do, which is pass.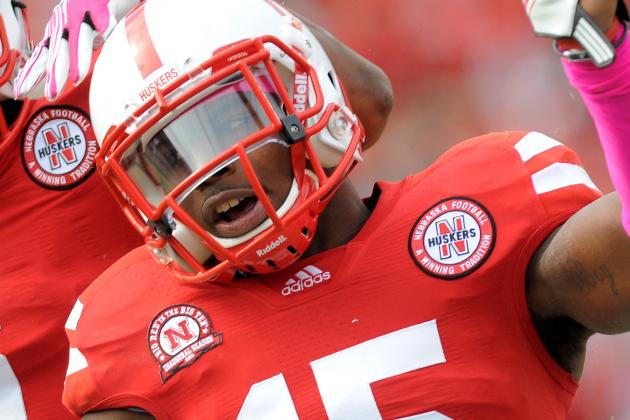 Eric Francis/Getty Images

The Dallas Cowboys are seriously in need of a cornerback who cannot be leaped over by Jake Ballard.
Terence Newman has been a great Cowboy, but for Rob Ryan's attacking style to work, he must have cover corners who also know their way around tackling.
Dennard comes from a strong pedigree of Blackshirts in Nebraska and will fit in very well in Dallas.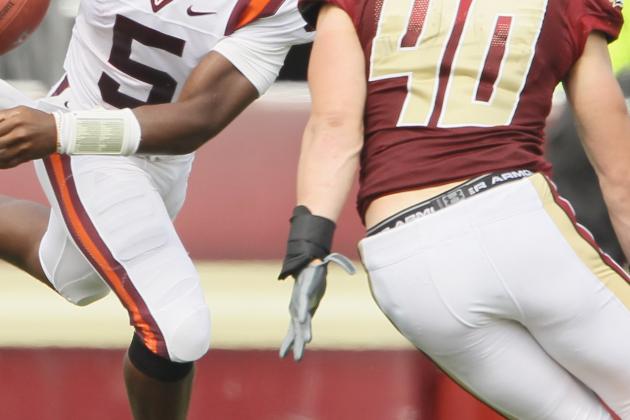 Elsa/Getty Images

The Philadelphia Eagles have got the pass rush taken care of with Jason Babin, but what they need is a strong presence inside that does nothing but tackle.
Luke Kuechly is a tackling machine with over 190 combined tackles in 2011 and will provide much-needed support to a struggling Eagles defense.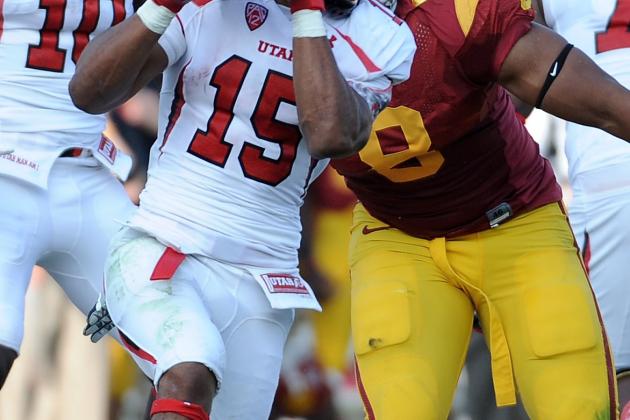 Harry How/Getty Images

The New York Jets are in serious need of a pass rush and someone with speed to help do it.
Coming out of USC, Nick Perry runs a 4.64 40-yard dash and uses all of that speed to apply pressure.
Rex Ryan and his defense are in serious need of a lift to restore their elite ranking in the NFL, and it starts with this draft. Ryan hasn't had the best track record here, but Perry should be solid NFL player relatively quickly.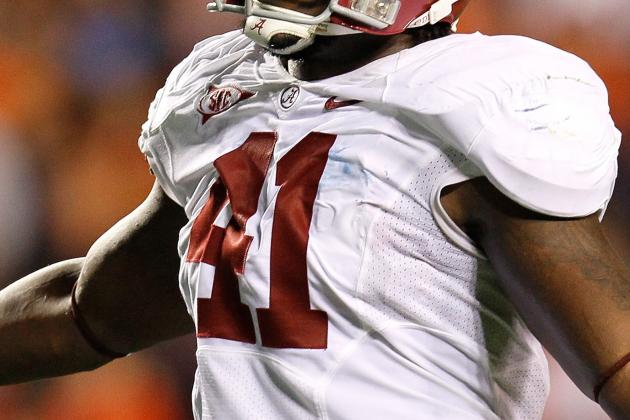 Kevin C. Cox/Getty Images

The Bengals are playing with house money here, so they can go after the best talent left on the board and make an already-stout defense even better with Upshaw.
His size, speed and football smarts gained at Alabama will make him a Pro Bowl-caliber player for the Bengals for many years to come.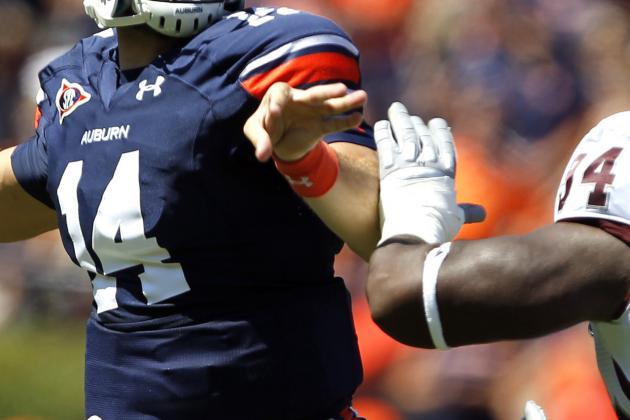 Butch Dill/Getty Images

The resurgence of the rushing game in every AFC West city but San Diego means that the Chargers need to shore up their interior defensive line.
Cox brings a nice mix of size and athleticism to the defense and should help shut down dynamic rushing threats like Darren McFadden, Jamaal Charles and Tim Tebow.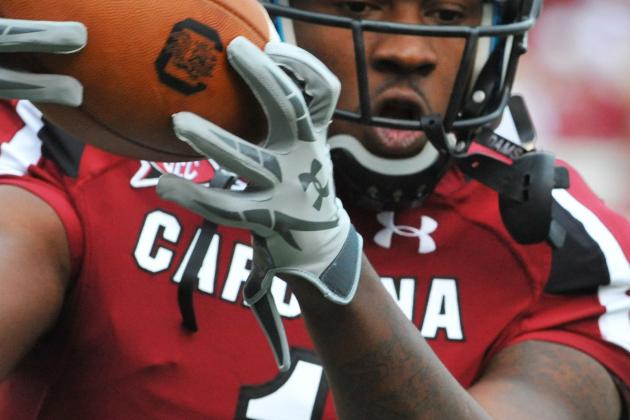 Al Messerschmidt/Getty Images

Alshon Jeffrey is a prospect that many people see as one on the rise, but he may still be around at 19, and if so, he is a perfect complement to the Bears offense.
Jay Cutler has been in perpetual need of a game-breaking receiver and Roy Williams was not that player this year for Chicago.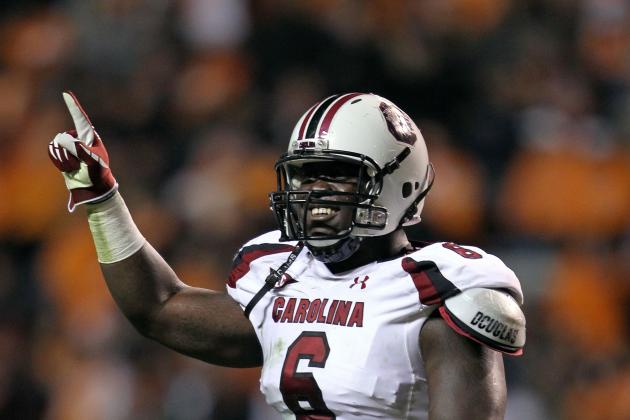 Andy Lyons/Getty Images

The Titans will be eager to follow up their 2011 campaign with another push for the playoffs, but with many of the top offensive prospects at receiver off the board, the Titans need to go defense and get help for their pass rush.
Ingram netted 8.5 sacks and over 13 tackles for loss for the Gamecocks last season, and the Titans will be hopeful that he can do the same against AFC South opponents.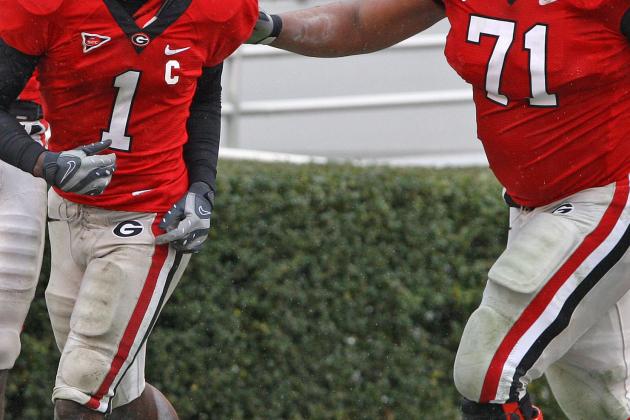 Mike Zarrilli/Getty Images

The Bengals have to like the production that they have gotten out of Cedric Benson, but as he gets older and they search for changes of pace and replacements, they need to solidify their offensive line.
Glenn has the size at 6'5' and almost 350 pounds to be a staple on the line for many years and can help protect Andy Dalton as the Bengals try to climb to the top of the AFC North.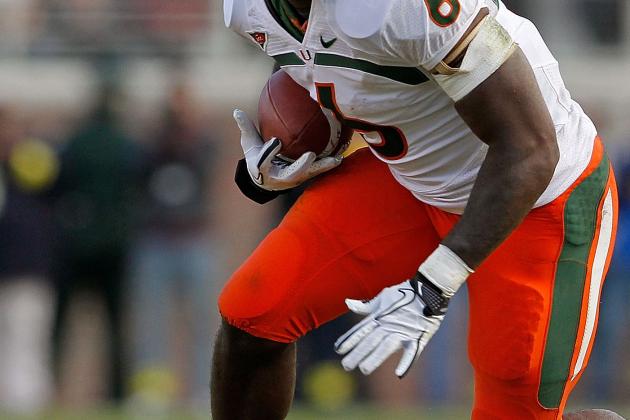 Mike Ehrmann/Getty Images

The Cleveland Browns will have added the quarterback earlier and now will look to find the running back they can count on game in and game out.
Miller has game-breaking speed and will be a great complement to the wide-open offense that will come along with RG3.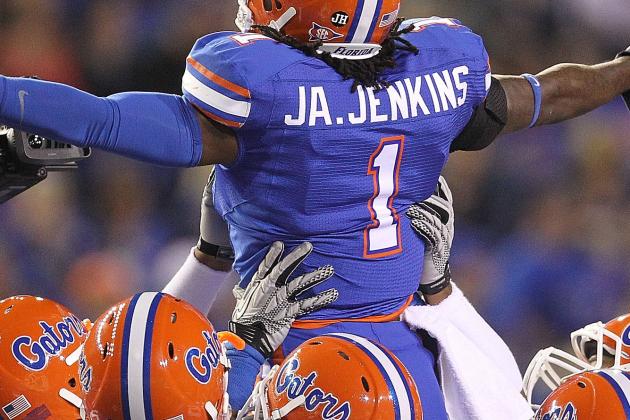 Mike Ehrmann/Getty Images

The Detroit Lions were exposed by the New Orleans Saints as a defense that cannot survive when the pass rush doesn't get home.
Having a talent like Janoris Jenkins in the defensive backfield can help create coverage sacks for the already-potent defensive line and solve matchup issues for other potent aerial attacks in the NFC.
(Some legal trouble caused Jenkins to move on from Florida to North Alabama.)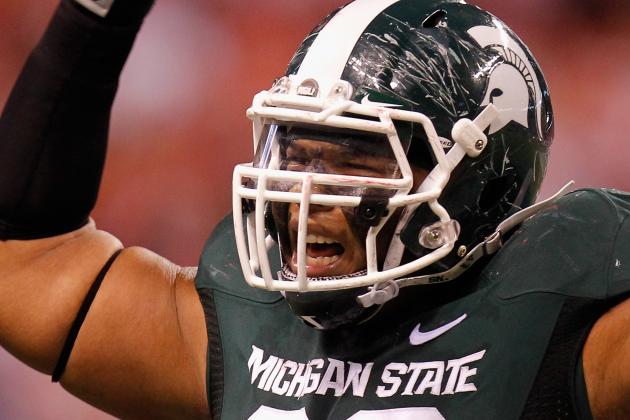 Gregory Shamus/Getty Images

It's not that the Steelers lacked depth this season, but their depletion from injury showed their age at certain positions, which in time will severely threaten their depth and continued defensive dominance.
Jerel Worthy has the size to stand in the place of a force like Casey Hampton, and the agility to keep up with the linebacking corps in Pittsburgh.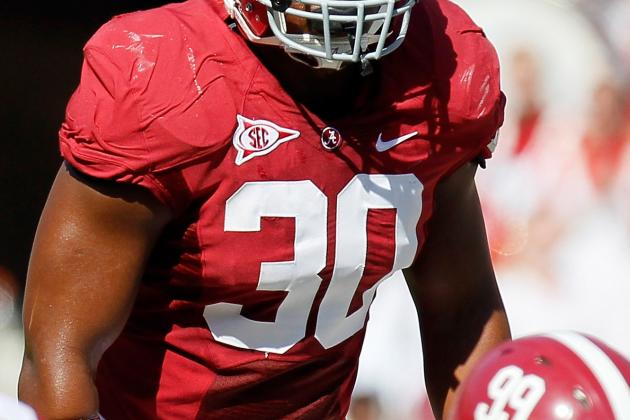 Kevin C. Cox/Getty Images

The Denver Broncos' defense was the main reason that they made their run to the playoffs.
However, in many games, their lack of experience and run-stuffing ability at middle linebacker caused huge problems.
Hightower and his Alabama cohorts made mincemeat of the potent LSU rushing attack, and Denver fans should be hoping that Hightower can fill the enormous shoes left many years ago by Al Wilson.
Sarah Glenn/Getty Images

The Houston Texans learned a valuable lesson after losing their first- and second-string quarterbacks in one season, and it has nothing to do with the quarterbacking position.
If you are going to be left with a third-string QB, you better have a many weapons on offense as possible to help him out.
Kendall Wright will be a great addition to the already-potent Texans offense, and if the worst happens again, than at least TJ Yates will have more to throw to.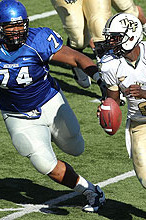 The Patriots have a solid producer in Vince WIlfork on the defensive line, but the fact that they attempted to work with Albert Haynesworth means that they are still looking for help there.
That help could come in the form of 350-pound Dontari Poe out of Memphis. His size alone can help eat up the entire middle of the field and allow linebackers to shut down opponents.
Injuries to the offensive line were not the total downfall of the Packers in the postseason, but it was a constant problem for the Pack this season.
Depth is always something that teams are looking for and at this point in the draft, the Packers just need to add some depth to the immense talent that they have and hope they are better prepared for the offseason next year.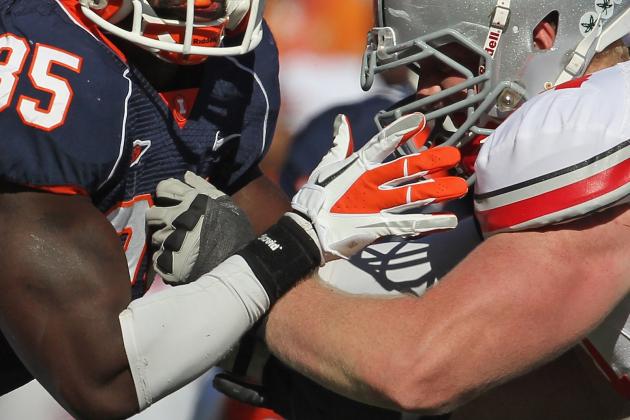 Jonathan Daniel/Getty Images

The New York Giants already have the most feared defensive line in the game, and the likely reason is that they are always in position to draft great talent and add it to the mix.
Names like Justin Tuck and Osi Umenyiora will not always be around in New York, but adding a player with the speed rushing ability of Mercilus to Jason Pierre-Paul in New York will usher in the new age of dominance on the line in New York.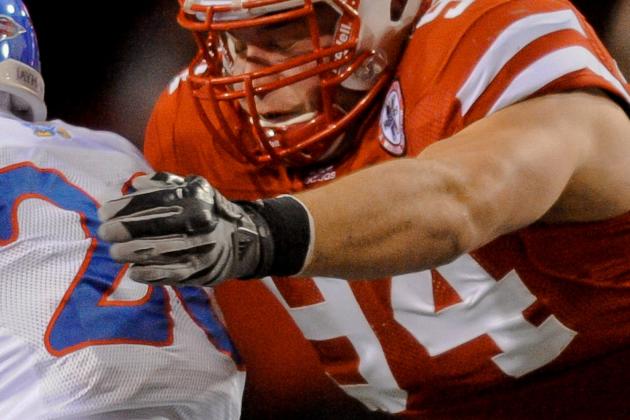 Eric Francis/Getty Images

The Baltimore Ravens are always looking to add pieces to help their defense, and Crick is an excellent pass rusher who follows in the footsteps of Kyle Vanden Bosch and Ndamukong Suh.
A pedigree like that is exactly what the Ravens are looking for and what keeps their defense in business year after year.
Crick is a great mix of speed and size with a motor that never stops.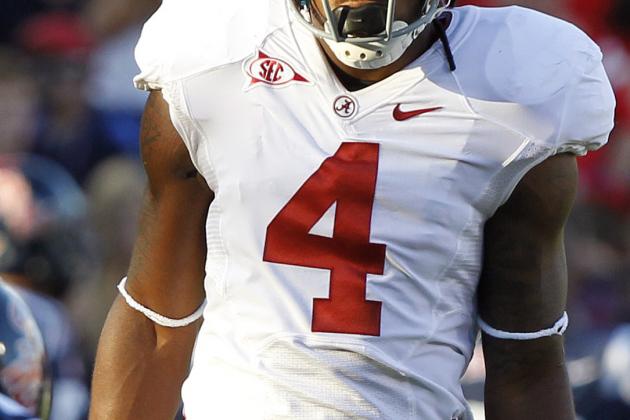 Butch Dill/Getty Images

Adding Mark Barron to Dashon Goldson in the 49ers defensive backfield is going to be a huge boon for the Niners defense next season.
Barron can help in the run-heavy NFC West and keep the 49ers defensive dominance over their opponents.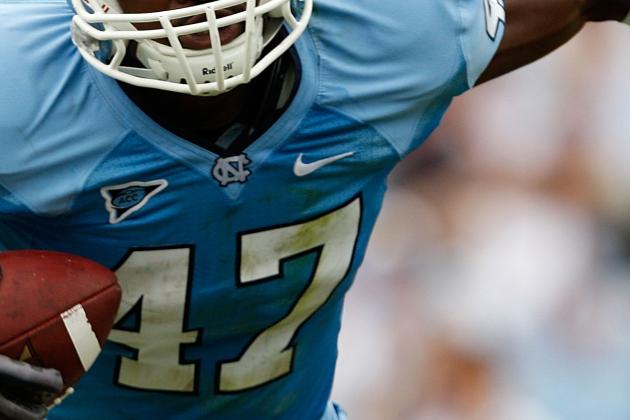 Streeter Lecka/Getty Images

Even though the defense gave a great performance in their playoff game against Denver, they could use some help.
Brown has got speed and a very high football IQ, which is something that Bill Belichick can work with.