2012 NFL Free Agents: Ranking the Top Potential Duds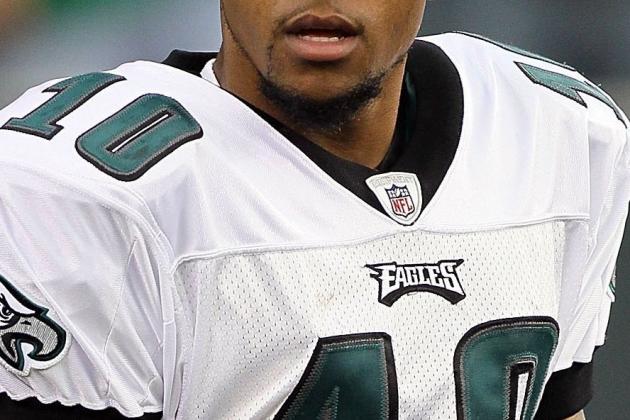 Jim McIsaac/Getty Images

Every year there are free-agent signings in the NFL that turn out to not be worth the investment. Sometimes the player is not able to handle the pressure of a long-term contract, and other times it's simply because the player was overpaid.
The 2012 NFL free-agent pool is full of potential duds, so it should be no different next season.
In 2011, Braylon Edwards was one of the worst free-agency signings of the offseason. He wasn't signed to a huge deal, however, but the San Francisco 49ers cut him even before the end of the regular season.
So who will be this year's Edwards?
Here's a power ranking of the top potential duds in the NFL free-agent market.
Begin Slideshow

»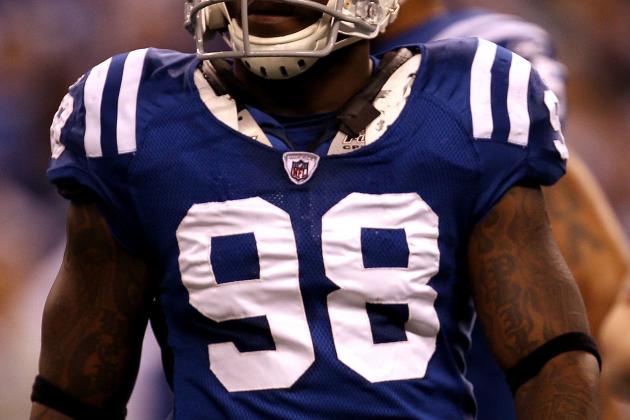 Jonathan Daniel/Getty Images

Some view Robert Mathis as one of the more underrated players in the league. Dwight Freeney, the right defensive end on the Indianapolis Colts, gets all of the attention, even though Mathis has been just as productive.
Mathis has been racking up solid sack totals ever since 2004. He's had at least 9.5 sacks in seven out of his nine seasons in the NFL.
He has an array of techniques he can use to beat his blockers and get to the quarterback. He also gets off of the line quickly and is known to strip the quarterback from time to time.
But how big of an impact did having Freeney rush the quarterback from the opposite end have on Mathis' success?
If anyone, opposing offensive lines double Freeney in pass protection. That would leave Mathis with plenty of one-on-one matchups against the right tackles. Plus, having Freeney on the left side and taking on the left offensive tackle, which is generally the better of the two, allows Mathis to work against the lesser of the offensive tackles.
Mathis isn't known for his run defense either. He can get pushed around on running plays, so it's sometimes a liability to have him on the field in certain situations.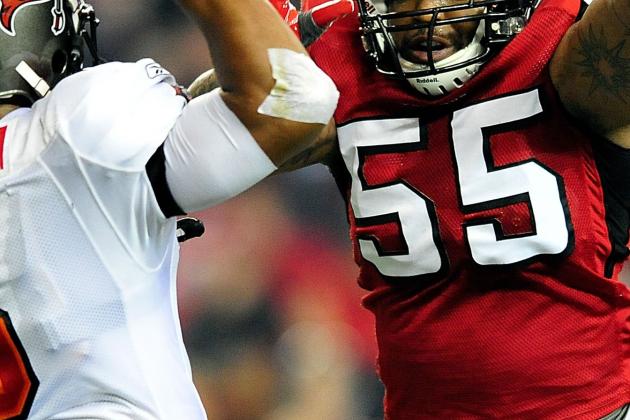 Grant Halverson/Getty Images

Once Jason Taylor officially retires, John Abraham will be the all-time sack leader among active players.
Abraham has had a long and luxurious career in the NFL and has imposed his will on many quarterbacks. In his 12-year career, he has compiled 112 sacks and forced 37 fumbles. It's amazing how such an accomplished player doesn't get the recognition he rightly deserves.
Even at 34 years old, he's still playing at a high level. He accumulated 9.5 sacks and four forced fumbles during the 2011 season.
But who knows how much longer Abraham will be able to keep playing at a high level? He'll be 35 years old by the time the 2012 season starts, so teams won't exactly be throwing multi-year contracts at him.
Signing a 35-year-old defensive end is simply not a good investment. He might have one or two more years left in the tank, but it's hard to deny that he has lost a step or two.
Matt Sullivan/Getty Images

Brandon Lloyd is one of the most overrated wide receivers in the NFL.
As a San Francisco 49ers fan, I used to get a kick out of watching him make some of the most athletic catches I have ever seen.
But that's all Lloyd is: a human highlight reel.
He doesn't go over the middle and shies away from contact in order to preserve his body. I can't tell you how many times I have seen Lloyd catch a ball and then give himself up by falling on the ground.
The fact that he only had 148 yards after the catch in 2011 drives that point home. That was the lowest amount of "YAC" for any receiver who caught at least 50 passes.
He's an athletic receiver who will find a way to get open, but don't count on him putting his body on the line to help his quarterback out.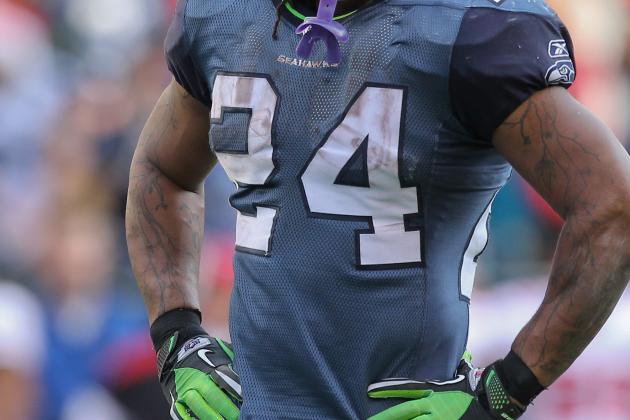 Otto Greule Jr/Getty Images

Signing a veteran free-agent running back who has some mileage is always a risky thing to do.
Although Marshawn Lynch is only 25 years old, he has been in the league for five seasons and has taken his fair share of hits.
But "Beast Mode" had the best year of his career in 2011. He rushed for 1,204 yards and 12 touchdowns and also went through a stretch of scoring at least one touchdown in 11 straight games.
He instantly became a fan favorite in Seattle for his jaw-dropping runs and interesting personality. The Seahawks fanbase would riot if the front office didn't bring Lynch back, but would it be a smart business decision?
We have seen running backs like Chris Johnson and Larry Johnson completely fall off the map after receiving the long-term contract that they held out for.
Signing a veteran running back is always a risk, and it will be no different for Lynch this offseason.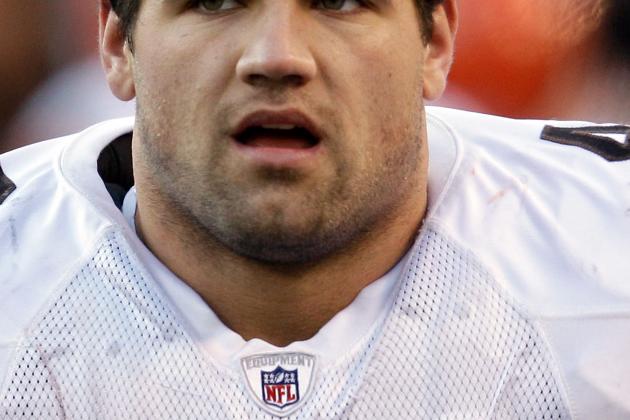 Rob Carr/Getty Images

You can blame it on the "injury-plagued" season that he had in 2011. You can blame it on the fact that he didn't get paid. Heck, you can even blame it on the infamous "Madden Curse."
Either way, Peyton Hillis' free-agent stock plummeted after his disappointing season in 2011. He was disgruntled because the Cleveland Browns were unwilling to reward him with the contract that he desired, and he let his frustrations affect his productivity on the field, or lack there of.
His dissatisfaction with his contract situation was also well-known throughout the Browns' locker room. It got to the point where unnamed veteran players began to question Hillis' priorities.
I think Hillis is a one-hit wonder. His tough and physical running style is not known for prolonging careers in the NFL.
Teams will look at him as an unproven and money-motivated running back. His ambition to get paid over playing football for the sake of his teammates will not help his chances of receiving the contract he desires.
Joe Robbins/Getty Images

It will be interesting to see where Reggie Wayne ends up this offseason.
He has already openly admitted that he wants to return to Indianapolis, and will likely take a hometown discount if the Colts opt to re-sign him.
But do the Colts still think he has anything left in the tank?
He's 33 years old and has been taking hits in the NFL level for 11 years now. He claims that he feels like he's 23 years old, but that could've been a ploy to lure other teams into offering him a hefty contract.
The other question will be whether his drop-off was a result of quarterbacks like Kerry Collins, Curtis Painter and Dan Orlovsky throwing to him, or rather if age was finally catching up to him.
Also, there is no doubt that Peyton Manning had something to do with Wayne's success in the NFL. Who knows how productive Wayne will be in another system with a new quarterback throwing to him?
A lot of question marks surround Wayne, which will likely prevent him from receiving the long-term contract that he probably desires.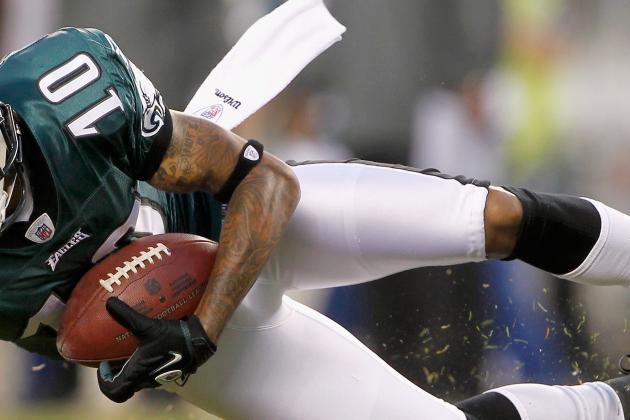 Rich Schultz/Getty Images

Red flags should go up when teams discuss the possibility of offering DeSean Jackson a long-term, multimillion-dollar contract next offseason.
He is certainly one of the most exciting wide receivers in the NFL. His speed and deep-threat ability are unmatched by anyone else in the league. His ability to stretch the field and draw defenders along with him opens up windows for his teammates to make plays.
But is he worth top receiver money?
You have to look at all areas of the game when evaluating Jackson's worth. He seemingly has the knack of disappearing from the game for long stretches. His value also diminishes when in the red zone because he isn't the most physical receiver in the game. At 5'10", 175 lbs, he doesn't have the body to muscle with defenders in the shortened field.
Teams also have to worry about his longevity because he is a smaller receiver. How many more hits is he going to be able to take?
Lastly, there is cause for concern about his work ethic and attitude on and off the field.
Signing Jackson to a long-term contract is a big risk, but there is also the potential for a huge return on the investment.