Breaking Down the Green Bay Packers Early Exit from the 2012 NFL Playoffs
January 16, 2012

Jamie Squire/Getty Images
Packers linebacker Clay Mathews loves to do his Beast Mode celebration after making a big play. The Packers were beasts among boys for their 2011 playoff run and most of the regular season.
But Sunday night, the beast died a quiet death. That's not to say the Packers won't be back next season. This team is still young, with a fantastic nucleus. All that truly expired on that cold January night was the Packers' Super Bowl hopes.
It was another serious blow to the Lambeau Field playoff mystique. Eli Manning has now won there twice. Atlanta won there in 2003.
A defending Super Bowl champion, who went 15-1 on the year, shouldn't lose their first playoff game. So why did they? We'll look at the most important reasons they lost.
New York Started Hot
The New York Giants opened the game with a five or six-minute drive that ended in points. They then scored a touchdown soon after. The Packers trailed early in this game and never led, a far cry from their dominant year of 2011.
Nick Collins' Absence was Finally Felt
This one was sneaking up on the Packers like a volcano and erupted at the worst possible time. After losing Collins early in the year, Green Bay's pass defense got really bad. They were never great, but Collins gave them a serious interception threat. He made just enough plays in coverage. But most importantly, he tackled.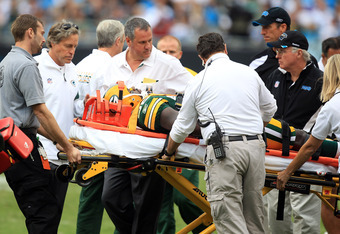 Streeter Lecka/Getty Images
Led by Charlie Peprah, the Packers secondary had one of the worst tackling/coverage performances of their season. On Hakeem Nicks' first touchdown grab, he should have been held to a 15-yard completion. Instead, Peprah looked for the big hit instead of the tackle, and Nicks outran everyone to the end zone. 
On Nick's second touchdown, the Packers played maybe the worst Hail Mary coverage ever witnessed. The Packers split their coverage into two groups: one group at the goal line and the other too far back in the end zone. This left a four-yard window for Nicks to get open and locate the pass. 
The Packers could have survived all of this if they could have created some turnovers. They had survived all season with a very bendable defense, because that defense produced 31 interceptions as well. But tonight was different. The Packers forced only one interception and never rattled Eli Manning. Manning had time to scan the field, he had receivers running wide open and those receivers broke tackles once they caught the ball.
Having a healthy Nick Collins would have helped the Packers in those three areas.
Turnovers
With the Packers down by 10 in the middle of the fourth quarter, Ryan Grant coughed up the ball. New York promptly picked it up and returned the fumbled ball down to the Packers' three-yard line.
Until that point, Green Bay was still in decent shape for a comeback. Yes, the offense had stalled most of the second half. Yes, the Giants' defensive line may have killed Aaron Rodgers before he could do it. But it's impossible to know because Grant fumbled that chance away.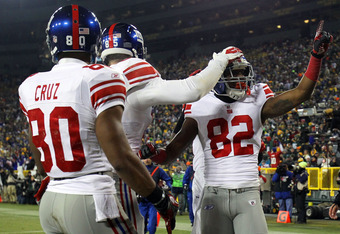 Jonathan Daniel/Getty Images
We can't just blame Grant—the Packers turned the ball over three other times, and they usually came right as the team seemed to be gaining a little momentum.
Tempo
When the Kansas City Chiefs beat Green Bay back in December, they did it by controlling the tempo. New York did the same thing. Tempo doesn't just mean the time-of-possession battle, which New York actually lost Sunday night. It means keeping Green Bay out of their patented offensive and defensive rhythms.
By leading or being tied most of the game, the Giants didn't have to pass every down to stay in the game with the Packers. This meant Green Bay couldn't blitz the quarterback and focus on generating turnovers. Long, hard-nosed drives kept the defense guessing and kept Rodgers on the sideline.
When Rodgers did get on the field, New York took away the deep ball. Green Bay typically gets three or four deep passes every game. It stretches defenses out and creates momentum swinging plays. It also makes it easier to run the ball. New York never let them do that. They kept their safeties deep and were able to often rush just four linemen, while still robbing Rodgers of the time to look downfield.
Other people will tell you Rodgers was rusty. I don't agree. He missed some passes and didn't play his sharpest game. But he played well enough to win. His receivers dropped seven balls that normally would have been completed. His defense finally broke down to a red-hot Giants' passing attack. A few breaks went the Giants' way. Now, the players head home for the season.
The Packers have more than a few questions in 2012. Will they keep Jermichael Finley? Will they move Charles Woodson to safety full time? How much of the staff that coached this team to a Super Bowl title will be coaching elsewhere next season?
Time will tell. Our focus now shifts to two cities with the entire nation in between. San Fransisco and Foxborough. Championship football, I can't wait.