Eddie Chambers' Absence Won't Damper Excitement in South Philly Boxing Show
January 15, 2012

By Michael Cassell 1/16/2012
philaboxingreport.com
Philadelphia heavyweight contender Eddie Chambers (36-2, 18 KOs) suffered a rib injury in training and has been forced to withdraw from his scheduled bout with former titleholder Sergei Liakhovich (25-4, 16 KOs), promoter Main Events announced Friday night. Chambers and Liakhovich were due to meet Jan. 21 at the Asylum Arena in Philadelphia, Chambers' hometown. This was to be the main event of NBC Sports Network's very first "Fight Night" card. 
Chambers, who was knocked out in 12 rounds against Wladimir Klitschko, was on a comeback, but has been recently bothered by injuries. It's the price of being the small man in a big man's division. He backed out of a fight last year against awkward southpaw Tony Thompson citing a back injury, and decided to take a television bout against Liakhovich instead of a postponement with Thompson.
After suffering the rib fracture, Chambers was horribly disappointed, saying "I needed this fight!"
And Eddie, we all couldn't agree more.
But if you bought tickets to "Fight Night" in South Philadelphia, do not go cashing them in just yet. As much as I liked the main event, I have to be perfectly honest when I tell everybody that the meat of this card was always in the under card. When Mike Jones met Jesus Soto-Karass (24-6-3, 16 KOs) last year on HBO, most boxing insiders knew Soto-Karrass was an extremely dangerous fighter. Physically, the guy looks more like a golfer than a fighter, but in boxing, you can never judge a book by its cover. Soto-Karrass can turn a lazy dream into a complex nightmare.
He has three key things going for him. One, he can take a punch, Two, he has real skills and experience, and third and most important, he is flat-out relentless. If you want to add some more spice into this stew, Soto-Karrass is going to be facing Philadelphia bad boy Gabriel Rosado (18-5, 10 KOs). Since losing to another Philadelphia fighter two times by the name of Mike Jones, Soto-Karrass has been walking around with a chip. Now, he gets to come to South Philadelphia (the heart of "Rocky land" and try take out one the toughest junior middleweights in the area. It's not full-out revenge, but it would taste pretty sweet.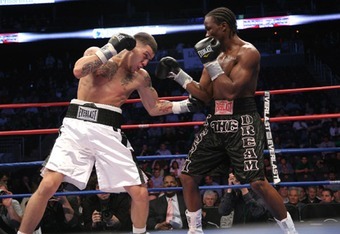 Junior middleweight Gabriel Rosado is a fighter that has had an up-and-down career. I remember watching his early fights and thinking this kid has some real flashes of brilliance. He seemed to lack the discipline not to get caught up in a brawl.
Lately, however, unless you count his last fight with cop in Atlantic City back in July, he seems to be finding that discipline and  learning his craft while opening eyes nationally with big wins over Saul Roman, Kassim Ouma and Latif Mundy. He has won his last four fights, and some would say that he got robbed in his last loss to Philadelphia fighter Derrick Ennis.
Rosado is a very tough fighter. The styles matchup between Soto-Karrass and Rosado is brilliant. You have a fighter in Rosado that is a ticking time bomb who wants to brawl, but is constantly trying to keep composure. Then, you have the relentless pursuer in Soto-Karrass.
Throw that into a bag, shake it up and add a little Philly revenge and pour onto a ring on a televised fight in South Philadelphia, and you are going to get one heaping serving of pugilistic sustenance.
I absolutely love this fight, and if you're lucky enough to see it live in a small venue, you are going to get your money's worth times 10.
The rest of the card looks very good, including a nice card with welterweight Joel "Love Child" Julio (37-4, 31 KOs) who faces Chris Fernandez (19-14-1, 12 KOs). The New Ray Robinson will be facing his biggest battle yet when he faces rugged veteran  Doel Carrasquillo of Lancaster, Penn.
Get tickets while you can, because I have a feeling that the Asylum in South Philadelphia is going to be a packed house.
Russell Peltz  tickets: 215-765-0922; 973-200-7050