Denver Broncos Report Card: Grading the Team's Performance in Saturday's Loss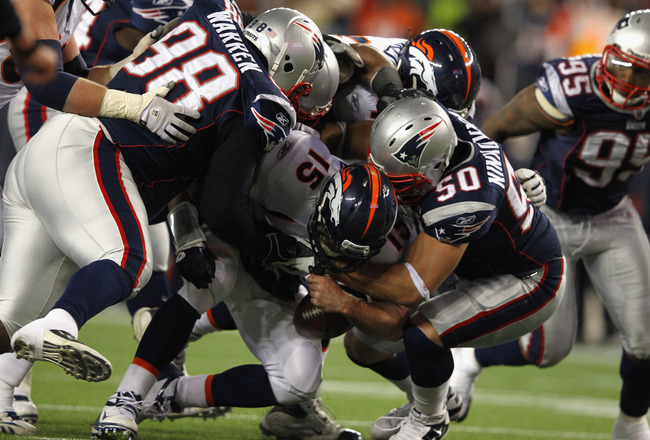 Al Bello/Getty Images
The outcome of this game is known by all.
The Tebow Train came to a screeching halt on Saturday at Gillette Stadium as Tom Brady delivered one of the greatest playoff performances ever seen by a quarterback.
Brady not only threw for six touchdowns—five in the first half alone—but even threw his hat into the kicking game and locked down a career-long 48-yard punt near the end of the game.
Meanwhile, on the Broncos' sideline, Tim Tebow could only watch as the Denver defense gave up point after point in between terrible offensive drives.
There are many lessons to be learned in this loss for the Denver Broncos and plenty to consider going into what will surely be a long offseason.
One glaring reality came to fruition on Saturday—how far Tebow has to go before he can continue to run this team.
Let's hand out some report card grades for each of Denver's units in what was ultimately its second-worst loss of this 2011 season.
Offense Didn't Prove Anything Other Than Its Ineptitude in Loss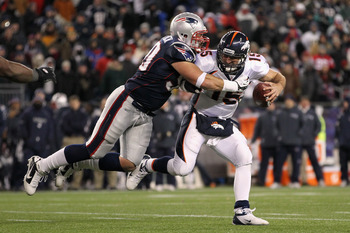 Jim Rogash/Getty Images
Let's run through some stats to get the picture as clear as we can for this loss.
Tim Tebow passed 26 times while completing only nine for a total of 136 yards and no touchdowns.
Starting running back Willis McGahee ran the ball 17 times for 76 yards and Denver's only touchdown in four quarters.
Demaryius Thomas, Denver's No. 1 wideout, caught six of Tebow's nine completions for 93 yards.
Tebow lost a fumble early and was sacked five times.
Denver's offensive yards were doubled by that of New England's—252-509 net.
Denver managed to average 3.5 yards per offensive play, including sacks. That should be enough to move the chains, but it only managed to produce 15 first downs to New England's 31.
Simply put, this offense stank.
It started with Tebow making poor decisions—or none at all and getting sacked—and ended with his receivers dropping the ball.
Under no circumstances did this offense display an ability to consistently win in the postseason. It hardly earned the right to keep playing during the second half.
Drops, sacks, terrible throws, no passing game. This is what the Denver offense represented Saturday night—a bad one.
Even if this offensive production was compared to all the rest during this year's postseason, it would still earn an F. An F- if that's a real grade.
In a search to find saving grace for how this offense performed on Saturday, I can find none.
Was this offense simply outcoached by Bill Belichick?
Or were Mike McCoy and John Fox just ineffective against the 31st-ranked defense in the league?
Who knows for sure?
What's clear is this offense is by no means playoff-caliber, and it will take some serious retuning and a lot of practice for them to earn their right into the postseason again next year.
Defense Was Elaborately Dissected; No One Person to Blame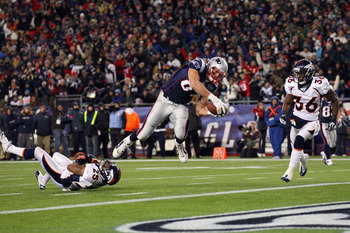 Al Bello/Getty Images
Tom Brady had a field day against Denver once again.
Passing for five touchdowns in one half is something no one could have predicted.
But Brady still managed to do it. And he did it against a defense that came in confident in its game plan and skills.
Abandoning the primary defense of a truly elite pocket passer—sack the quarterback—Denver's defense instead relied on pass coverage against two of the best tight ends in the league.
Once again, as in Week 15, the defense was embarrassed.
One of the biggest questions entering the week was whether Aaron Hernandez could duplicate his great game from Week 15 or if Rob Gronkowski would return to the spotlight and run a muck in the Denver secondary.
Unfortunately for Denver, both of these Pro Bowl-caliber tight ends managed great days and made every makeshift pass defender Denver could muster look foolish.
The mismatches were out of control.
Linebackers and defensive ends were covering two of the best tight ends in the game.
Champ Bailey and Andre Goodman seemed lost in their own backfield as receivers, running backs and tight ends ran circles around them. Soon after running circles, they promptly ran with the football into the end zone.
The pass rush accounted for a total of zero sacks.
The secondary managed only one interception—coming by way of a terribly overthrown pass by Brady.
Denver's leading tacklers, Joe Mays and Ryan McBean, managed only four tackles apiece.
There were no superstars, no gamers and no big playmakers.
This defense accounted for no energy in this game and played deflated for an entire 60 minutes.
To top it all off, when the game was entirely out of hand in the fourth quarter, the defense responded to Brady's third-down punt with violence. A fight broke out—started by rookie Von Miller—and spilled onto the sidelines before being broken up by the officiating crew.
Were it not for the one interception Quinton Carter pulled in, Brady would have most likely thrown for seven touchdowns in this game.
If Belichick and Brady had never pulled their feet off of the gas pedal, that offense would have easily put up 60 or more points on Denver on Saturday night.
This defense lacked a solid and reliable game plan, executed whatever plan it did have poorly and ended the night in shame on the sidelines.
And for all of this, joining the offense, it receives an F.
Denver has a lot to work on this offseason. There is no one position that requires work more than any other.
Hats off to John Fox and crew for getting this team two weeks further into the postseason than anyone could have imagined back in September. It's back to the drawing board for what will surely be a critical draft for this team.
Keep Reading

Denver Broncos: Like this team?