2012 NFL Mock Draft: Teams That Must Trade Up
January 16, 2012

Sarah Glenn/Getty Images
The percentage of teams now focused on the 2012 draft is at 87.5.  Like every single year, surprising swaps will ignite throughout the first round.  Here is a full first-round mock highlighting the teams most likely to trade up. 
1. Indianapolis Colts: Andrew Luck, Quarterback, Stanford
ESPN's Chris Mortensen reported that, according to sources, Indianapolis will indeed select Luck.  Shocker.
2. St. Louis Rams: Matt Kalil, Offensive Tackle, USC
St. Louis surrendered the most sacks and quarterback hits in the league this season.  Sam Bradford is a franchise QB, but the Rams will ruin him if they don't upgrade his protection.
3. Washington Redskins (swap with Vikings): Robert Griffin III, Quarterback, Baylor
Washington needs a quarterback.  They can't possibly go into the 2012 campaign with Rex Grossman or John Beck under center.  Their best option is to trade up for RGIII.
If Griffin can have a Cam Newton-like rookie season, Washington may just be favorites to win the NFC East.  The Redskins are a talented team; they're just missing the most important position in football.
4. Cleveland Browns: Justin Blackmon, Wide Receiver, Oklahoma State
After missing out on Griffin, Cleveland must improve Colt McCoy's weak arsenal of weapons.  Blackmon could combine with Greg Little to form a solid wide out duo for years to come…as long as they can find someone to throw them the football.
5. Tampa Bay Buccaneers: Morris Claiborne, Cornerback, LSU
Aqib Talib may just take the term lockdown corner to a whole new level behind bars this offseason.  Combine that with the fact that if Ronde Barber had any hair, it would be graying and the Buccaneers need a CB.
6. Minnesota Vikings (swap with Redskins): Dre Kirkpatrick, Cornerback, Alabama
Even Tim Tebow torched the Vikings secondary.  With holes at both safety and cornerback, Minnesota would be selecting a player that can start at both in Kirkpatrick.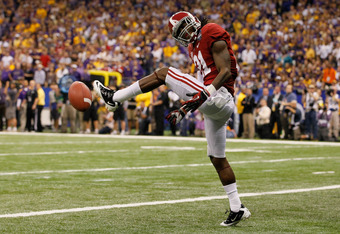 Kevin C. Cox/Getty Images
7. Jacksonville Jaguars: Alshon Jeffery, Wide Receiver, South Carolina
How in the world do the Jaguars expect Blaine Gabbert to succeed with Mike Thomas as his No. 1 receiver?  The 6'4", 229-pound Alshon Jeffery would be Gabbert's favorite target from day one.
8. Carolina Panthers: Quinton Coples, Defensive End, North Carolina
You know when you have the fifth-best scoring offense in the league and you finish 6-10 that your defense is a joke.  Outside of Charles Johnson, Carolina didn't have one defender record more than four sacks this season.
9. Miami Dolphins: Riley Reiff, Offensive Tackle, Iowa
Miami will have to stick it out with Matt Moore for one more year and until they find a franchise quarterback, they need an offensive line that can protect one.  Reiff and Jake Long would form one of the best tackle duos in the league.
10: New York Jets (swap with Bills): Trent Richardson, Halfback, Alabama
New York can't win football games on the back of Mark Sanchez.  They need to boost their running game back to the dominant force it once was.  Adding Richardson would do just that instantly.
Richardson is talented enough to be selected in the top five, but he'll drop because of a lack of need.  Rex Ryan's crew isn't interested in rebuilding, so they'll look to do whatever it takes to win now including trading up.
11. Kansas City Chiefs: Jonathan Martin, Offensive Tackle, Stanford
Kansas City's line is horrible; just ask Matt Cassel's hand.  They could use an upgrade at quarterback, but it isn't like another QB would have a chance behind their line anyway.
12. Green Bay Packers (swap with Seahawks): Devon Still, Defensive End, Penn State
This swap doesn't involve two first-round picks, but a pick and a player.
Green Bay doesn't need to trade up, but the Seahawks need a quarterback.  Expect the Packers to place the franchise tag on Matt Flynn and deal him to the highest bidder.  Seattle can't possibly go another season with Tarvaris Jackson under center and will be desperate enough to overpay for Flynn.
13. Arizona Cardinals: David DeCastro, Guard, Stanford
Arizona's line is horrible; just ask Kevin Kolb's toe and/or head.  If the Cardinals are going to pay a mediocre quarterback $63.5 million over five years, they better protect that mediocre quarterback.
14. Dallas Cowboys: Janoris Jenkins, Cornerback, Florida
Eli Manning thinks the Cowboys secondary is perfectly fine the way it is.  But in all seriousness, Tony Romo isn't good enough to win games with such a poor defense; Jenkins is worth the risk.
15. Philadelphia Eagles: Luke Kuechly, Middle Linebacker, Boston College
Philadelphia may select an offensive lineman here and convert him to linebacker because after all, they did promote their o-line coach to defensive coordinator.  If they do decide to just go the traditional route and select a backer to play backer, Kuechly is the best on the board.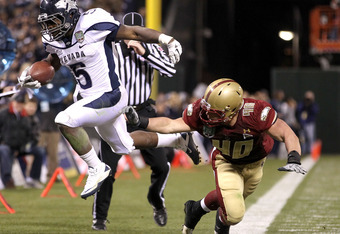 Ezra Shaw/Getty Images
16. Buffalo Bills (swap with Jets): Courtney Upshaw, Outside Linebacker, Alabama
Buffalo's defense finished 27th in the league in sacks this season.  If you watched the BCS National Championship, you know Alabama has a few guys that can get after the QB and Upshaw was the Crimson Tide's best pass rusher.
17. Cincinnati Bengals: Whitney Mercilus, Defensive End, Illinois
While as a team they finished fifth in the league in sacks, Cincinnati didn't have a defensive end record more than 6.5 in 2011.  Mercilus is an athletic freak and would provide great depth at the position.
18. Houston Texans (swap with Chargers): Michael Floyd, Wide Receiver, Notre Dame
Wide receiver may be Houston's only major need on their entire team.  If they can find a dangerous wide out to start across from Andre Johnson, their offensive would be unstoppable.  And that's where Floyd comes in.
The 6'3", 224-pound beast would be worth trading up for in the first round.  Atlanta did the same thing for Julio Jones last year, but the Falcons had to move up much farther than the Texans would to get their weapon.
19. Chicago Bears: Cordy Glenn, Guard, Georgia
Chicago's biggest hole on the offensive line is at guard.  At 6'5", 348 pounds, Glenn definitely has the size to fill that hole.
20: Tennessee Titans: Nick Perry, Defensive End, USC
Tennessee finished 31st in the league in sacks this season.  Perry is a freak athlete and the Titans have drafted prospects on physical ability in the past.
21. Cincinnati Bengals: Lamar Miller, Halfback, Miami
Cedric Benson and Bernard Scott are one of the worst running back duos in all of football.  Miller would easily start from day one and take the Bengals offense to another level.
22. Cleveland Browns: Melvin Ingram, Defensive End, South Carolina
Cleveland only recorded 32 sacks this season as they finished 23rd in the NFL.  Ingram is talented enough to be selected higher than No. 22, but there are so many other talented first-round caliber pass-rushers that he'll fall to the Browns.
23. Detroit Lions: Alfonzo Dennard, Cornerback, Nebraska
Detroit had the 22nd ranked pass defense last season even with a dominating pass rush.  Their secondary is a major weakness and needs to be improved.
24. Pittsburgh Steelers: Vontaze Burfict, Inside Linebacker, Arizona State
James Farrior is 37 years old and nearing the end of his career.  The reckless Burfict could eventually replace Farrior next to Lawrence Timmons and James Harrison would welcome his personal fouls.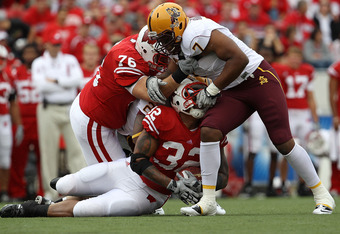 Jonathan Daniel/Getty Images
25. Denver Broncos: Kendall Wright, Wide Receiver, Baylor
Eric Decker and Demaryius Thomas are solid, but Wright is a deep threat that opposing safeties would be forced to respect.  Loading nine and 10 in the box wouldn't be wise with the wide out labeled as the next Mike Wallace on the outside.
26. San Diego Chargers (swap with Texans): Fletcher Cox, Defensive End, Mississippi State
One of San Diego's biggest needs, besides head coach, is at defensive end.  They finished tied for 23rd in the league in sacks this season.
27. New England Patriots: Jerel Worthy, Defensive Tackle, Michigan State
Considering that Albert Haynesworth is now in Tampa Bay, you could say that the experiment was a failure.  New England's poor defense could use an upgrade almost everywhere.
28. Green Bay Packers: Bruce Irvin, Outside Linebacker, West Virginia
Green Bay's defense kept it from winning back-to-back Super Bowls.  Adding a respectable pass-rusher across from Clay Matthews would turn it into a force again.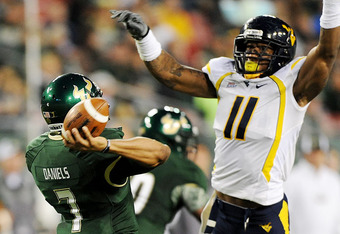 29. New York Giants: Peter Konz, Center, Wisconsin
Eli Manning shouldn't have to put the offense on his back for the Giants to win games.  New York had the worst rushing attack in the league this season and needs to improve their offensive line.
30. Baltimore Ravens: Dont'a Hightower, Inside Linebacker, Alabama
Ray Lewis can probably play forever, but just in case he can't, Baltimore needs to draft an inside backer.  Hightower is talented enough to start next to Lewis from day one.
31. San Francisco 49ers: Mohamed Sanu, Wide Receiver, Rutgers
If the 49ers don't win the Super Bowl, there's a 90 percent chance it was their wide receivers fault.  Michael Crabtree and Kyle Williams have their moments, but there's no doubt that the position is their biggest need.
32. New England Patriots: Mark Barron, Strong Safety, Alabama
Barron provides another upgrade for a weak Patriots defense.  It isn't like Tom Brady needs any help to win football games, but I'm sure he wouldn't mind.
David Daniels is a Featured Columnist at Bleacher Report and a syndicated writer.