UFC 142 Results: What's Next for the Losers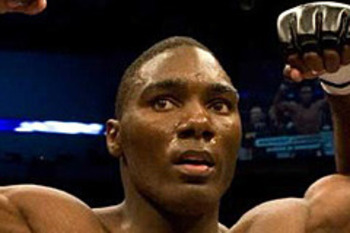 Following UFC 142, which took place at the HSBC Arena in Rio de Janeiro, Brazil, MMA fans have been talking about the future of Anthony Johnson, who was submitted in the first round by Vitor Belfort and released from the promotion for missing weight.
It was Johnson's third time missing weight in the UFC, and with the 27-year-old having planned to make his middleweight debut, it left the UFC no choice but to cut him from its roster.
In the main event, UFC featherweight champion Jose Aldo retained his title with a first-round knockout victory over previously unbeaten challenger Chad Mendes.
Other fighters who came up short on the main card include Terry Etim and Mike Massenzio. This is what's next for them.
Edson Barboza Defeated Terry Etim Via KO (Wheel Kick) at 2:02 of Round 3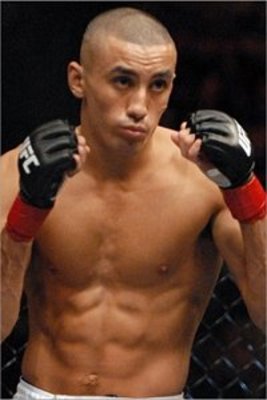 Terry Etim entered his opponent's home country to put on the fight of the night, but it ended with him being on the receiving end of one of the best knockouts in UFC history.
Barboza was able to utilize his leg kicks throughout the first two rounds before he opened up in the third with a wheel kick. It landed flush on Etim's chin and knocked him stiff. He was out before he hit the ground.
Etim still remains an exciting fighter in the lightweight division, and his UFC record stands at 6-4. With many contenders in line for the title, it leaves a lot of fighters from the bottom of the top 25 looking for opponents. He should face the loser of the upcoming Evan Dunham-Nik Lentz bout.
Carlo Prater Defeated Erick Silva Via Disqualification in Round 1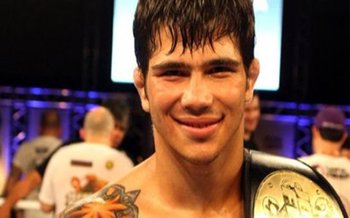 Coming out of the Carlo Prater vs. Erick Silva bout, much criticism has been placed on referee Mario Yamasaki, who ruled the finishing blows were illegal, giving Prater the win by disqualification.
If Silva's loss isn't overturned, the UFC will do the best they can to make sure he gets a fight as if he had been awarded the victory. The stoppage came at just 29 seconds into the first round, and a knee by Silva dropped his opponent.
Silva jumped on Prater and began to unload punches to the head. Yamasaki ruled them illegal for being to the back of the head, and UFC commentator Joe Rogan simply called his call "a mistake."
For Silva, a fight versus Mike Pyle, who was victorious on the undercard, should be next. Pyle has tested many of the best up-and-comers, and it would be a good test for the Brazilian prospect.
Palhares Defeated Massenzio Via Submission (Heel Hook) at 1:03 of Round 1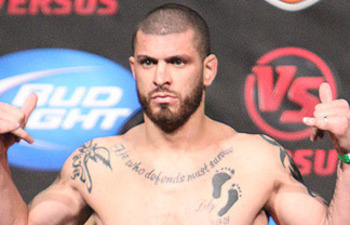 It's hard to blame Mike Massenzio for getting caught in the dangerous leg-lock submission that his opponent, Rousimar Palhares, applied early in the first round. It made the 29-year-old tap out, giving him his fourth loss in the UFC.
With only two wins inside the Octagon, Massenzio might not have too many opportunities to save his career, at least in the UFC.
His next fight will likely be a loser-leaves-town match, and it could come against Tom Lawlor, who is 1-3 in his last four.
Belfort Defeated Johnson Via Submission (Rear-Naked Choke) at 4:49 of Round 1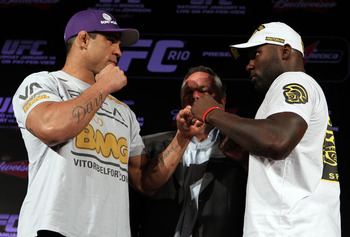 After weighing in 11 pounds over the middleweight limit, Anthony Johnson was forced to give up 20 percent of his purse to Vitor Belfort.
When the fight was over, Johnson received the news that he would be cut from the UFC, leaving him with several options if he continues to fight elsewhere.
He will most likely enter a tournament in the Bellator Fighting Championship, and a fight with Bellator middleweight champion Hector Lombard will probably end up happening.
Jose Aldo Defeated Chad Mendes Via KO (Knee) at 4:59 of Round 1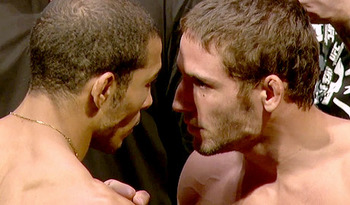 Chad Mendes was already in hostile territory entering his fight with Jose Aldo, and the former NCAA Division I wrestler came up short in trying to obtain his first championship belt after getting knocked out with a knee at 4:59 of Round 1.
Entering the fight, Mendes had gone 11-0 with two victories inside the Octagon. His wins include those over Michihiro Omigawa and Rani Yahya.
There is a good chance Mendes will be fighting for the title again in the future. To get him back on track, a fight versus the loser of the upcoming Hatsu Hioki and Bart Palaszewski bout could be what's next.
Keep Reading