2012 NFL Mock Draft: Players Whose Character Issues Will Concern Teams
January 16, 2012

Norm Hall/Getty Images
It's an unfortunate part of the NFL draft process, but every year the character of a few prospects comes into question.
Whether the concerns are justified or not, pre-draft perceptions of a player's character can have lasting effects on his career.
Of course, the effects aren't always negative. Critics were saying some harsh things about Cam Newton before last year's draft, but that just added fuel to his competitive fire. He responded to his haters by having the best regular season for a rookie quarterback in NFL history.
I doubt any prospects in this year's class will have that kind of success, but a few will come under similar character attacks.
I'll highlight the most likely suspects in this week's 2012 NFL mock draft.
1. Indianapolis Colts: Andrew Luck, QB, Stanford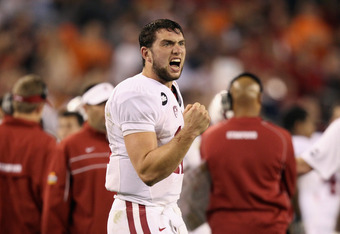 Christian Petersen/Getty Images
With Robert Griffin III skyrocketing up draft boards, it looked like Luck's reign as the top prospect was in jeopardy. However, recent reports out of Indianapolis have squashed that notion. 

Luck is as much of a sure thing as there can be in the draft. He has every tool necessary to become the NFL's best quarterback in a few seasons.
2. St. Louis Rams: Matt Kalil, OT, USC
The Rams desperately need someone to protect Sam Bradford, and Kalil is the best offensive lineman available. Kalil is legitimately one of the best offensive line prospects in the last decade.
3. Minnesota Vikings: Morris Claiborne, CB, LSU
The Vikings have multiple needs and might be better off landing more draft picks.
If they do keep the pick, I like Claiborne here. The Vikings have one of the NFL's worst secondaries, and Claiborne is a shutdown corner.
LSU's other elite cornerback was suspended for failing a drug test, but Claiborne hasn't had any noteworthy off-field issues.
4. Cleveland Browns: Trent Richardson, RB, Alabama
If RG3 falls to Cleveland, the Browns will probably snag him. However, I'm expecting someone to trade up and draft him at No. 3.
If that happens, the Browns should draft Richardson, who is unquestionably the best running back available. Peyton Hillis was a huge bust this season and will likely be leaving in free agency.
Richardson would be the perfect replacement. Everyone loves Luck, but Richardson will be the best player from this class. With his physical tools and work ethic, he will be a monster in the NFL.
5. Tampa Bay Buccaneers: Dre Kirkpatrick, CB, Alabama
The Buccaneers have plenty of issues, but the most glaring is their horrible secondary. They need to upgrade at cornerback and they will do that by adding either Claiborne or Kirkpatrick.
If Minnesota does trade its pick, Claiborne should still be available. If he isn't, Kirkpatrick is a great consolation prize.
6. Washington Redskins: Robert Griffin III, QB, Baylor
Griffin III had a spectacular season, but I'm skeptical about how his skill set will translate to the NFL. He doesn't have the size of mobile quarterbacks like Cam Newton and Tim Tebow, and he doesn't have the elite running ability like Michael Vick.
If he lands in the right offensive system, RG3 will be effective. But if the Redskins don't tailor their offense to his talents, he will struggle.
7. Jacksonville Jaguars: Justin Blackmon, WR, Oklahoma State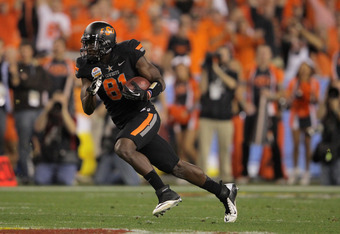 Doug Pensinger/Getty Images
The Jaguars need another weapon for young quarterback Blaine Gabbert, and Blackmon is the best wide receiver in this class.
I wouldn't be surprised if somebody (I'm looking at you, Carolina) traded into the top six to draft Blackmon. But if he falls to No. 7, the Jaguars will happily select him.
Blackmon was charged with DUI in October of 2010, but he is well known for giving back to the community. I doubt the arrest will have any effect on his draft stock.
8. Miami Dolphins: Riley Reiff, OT, Iowa
This isn't a sexy pick, but the Dolphins need some help on the offensive line. They also need a quarterback, but unless they trade up for RG3 it isn't happening in this year's draft.

Reiff had an interesting incident in July 2008, when he drunkenly led eight officers on a 20-minute foot chase. However, I'd be shocked if this comes back to haunt him.
9. Carolina Panthers: David DeCastro, G, Stanford
Personally, I would love to see Carolina trade up to get Blackmon. It's scary to think what Cam Newton could do with Blackmon on the outside.
However, if Carolina stays put, it should improve its offensive line. Notre Dame receiver Michael Floyd isn't worth a top-10 pick, and DeCastro could step in and start in the NFL tomorrow.
10. Buffalo Bills: Jonathan Martin, OT, Stanford
Demetrius Bell hasn't lived up to his potential and is a free agent this offseason. The Bills would be smart to upgrade at tackle.

11. Kansas City Chiefs: Luke Kuechly, ILB, Boston College
The Chiefs could use an offensive tackle, but with Kalil, Reiff and Martin off the board, they should turn their attention to defense.
Kuechly is a tackling machine with outstanding instincts. A Kuechly-Derrick Johnson combo would be one of the best linebacker duos in the league.
12. Seattle Seahawks: Quinton Coples, DE, North Carolina
The Seahawks have plenty of holes to fill, and if Red Bryant leaves for free agency they will look at Coples. However, the big defensive end had a down year at Carolina.
He really struggled against double-teams and chip blocks from running backs. If he doesn't improve in those areas, he'll never be a force in the NFL.
13. Arizona Cardinals: Michael Floyd, WR, Notre Dame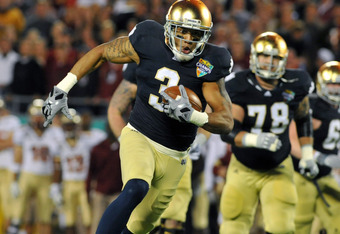 Al Messerschmidt/Getty Images
Arizona really needs an offensive tackle to replace Levi Brown, but the top three are off the board and this would be a huge reach for Florida State's Zebrie Sanders.
Floyd would give the Cardinals another playmaker and draw some attention away from Larry Fitzgerald. Floyd had 100 catches for 1,147 yards and nine touchdowns this season.
He has been arrested in a couple alcohol-related incidents and was suspended from Notre Dame's 2011 spring practice. This will definitely be discussed in his pre-draft meetings.
14. Dallas Cowboys: Mark Barron, S, Alabama
If Dallas is going to make the playoffs next season, it must add a defensive back. Barron is the best available at this point. He's a versatile safety who excels in both pass and run coverage.
Barron was arrested in March of last year after apparently lying to police. It's an interesting story, but I doubt teams will be too concerned.
15. Philadelphia Eagles: Vontaze Burfict, ILB, Arizona State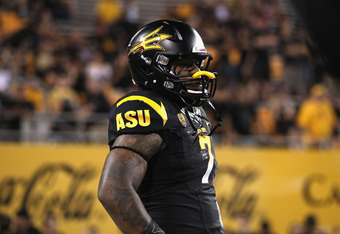 Christian Petersen/Getty Images
The Eagles have loads of talent, but until they upgrade their linebacker corps, they will continue to have disappointing seasons.
Burfict would be a great fit. The violent tackler has all the tools necessary to be Ball So Hard University's next great linebacker.
However, his work ethic and dedication to the game have been questioned. If he doesn't improve his focus, he could end up being a bust.
16. New York Jets: Courtney Upshaw, OLB, Alabama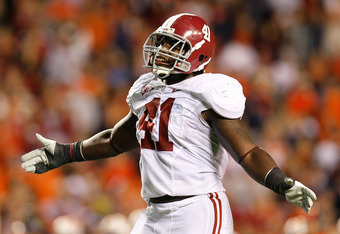 Kevin C. Cox/Getty Images
The Jets could use another pass-rusher, and Upshaw is the best defender available. He has great instincts and is willing to take on bigger blockers. He would be a good addition to Rex Ryan's defense.
Upshaw was arrested in August 2009 after an altercation with his girlfriend. Nick Saban downplayed the incident, but it will definitely be brought up by NFL executives.
17. Cincinnati Bengals (from Oakland): David Wilson, RB, Virginia Tech
Cincinnati should package its two first-round picks to trade up and select Trent Richardson.
If it doesn't move up, Wilson would be a solid option to replace Cedric Benson.
18. San Diego Chargers: Kendall Wright, WR, Baylor
Vincent Jackson is headed for free agency and I wouldn't be surprised if he bolts.
Even if he stays, Philip Rivers could use another weapon. Wright is small (5'9", 190 pounds), but he's elusive and has exceptional speed, a la Steve Smith (Carolina version).
Like Floyd, Wright also needs to make major improvements in his route running if he wants to succeed. He won't be able to blow by defensive backs in the NFL as easily in college.
19. Chicago Bears: Alshon Jeffery, WR, South Carolina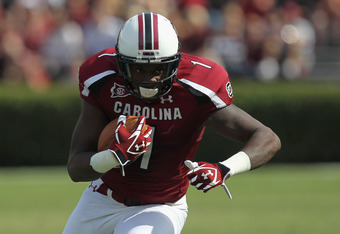 Streeter Lecka/Getty Images
Jay Cutler needs a new toy to play with, and the Bears will be content with drafting either Wright or Jeffery.
Jeffery is a big dude (6'4", 229 pounds), but he's raw overall. If he doesn't improve his technique and consistency, he'll never pan out.
Jeffery was also ejected from his team's bowl game, which won't leave a good impression on team execs.
20. Tennessee Titans: Melvin Ingram, DE, South Carolina
The Titans desperately need to put more pressure on the quarterback, and Ingram is the best pass-rusher available at this point.

21. Cincinnati Bengals: Janoris Jenkins, CB, North Alabama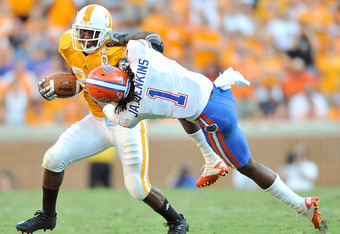 Grant Halverson/Getty Images
The Bengals may draft Jenkins with the 17th pick, but if they opt for Wilson, they'll snag the cornerback here.

Jenkins is an exceptional talent, but he was dismissed from Florida after numerous run-ins with the law. If he has more off-field trouble, his career will be closer to PacMan Jones' than Deion Sanders'.
22. Cleveland Browns (from Atlanta): Zebrie Sanders, OT, Florida State
Tony Pashos is one of the worst right tackles in the league. The Browns would be smart to upgrade that position immediately.
23. Detroit Lions: Peter Konz, C, Wisconsin
The Lions could use an upgrade over Dominic Raiola. Konz is the best center available.
24. Pittsburgh Steelers: Alfonzo Dennard, CB, Nebraska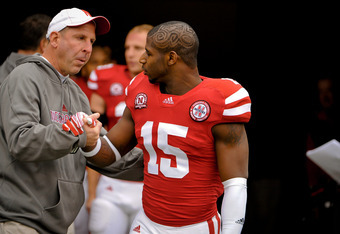 Eric Francis/Getty Images
The Steelers don't have any glaring needs, so they'll likely take the best defender available. Dennard fits that bill and would be a welcome addition to the Pittsburgh secondary.  
He hasn't had any off-field issues, but if you didn't notice, that was Dennard scrapping with Alshon Jeffery in the Capital One Bowl.  
25. Denver Broncos: Devon Still, DT, Penn State
The Broncos need another wide receiver, but with the top four off the board, they should turn to defense.
Defensive tackle is a position the Broncos need to upgrade. Still would be a perfect fit.
26. Houston Texans: Fletcher Cox, DT, Mississippi State
The Texans could use a No. 2 receiver to draw attention away from Andre Johnson, but I doubt they'll reach for one here.
Look for them to upgrade their D-line by picking up Cox.
27. New England Patriots (from New Orleans): Jerel Worthy, DT, Michigan State
The Patriots have plenty of options with their two late picks, but I expect them to beef up their defensive line. Adding the 6'3", 310-pound Worthy would do just that.
28. Green Bay Packers: Ronnell Lewis, OLB, Oklahoma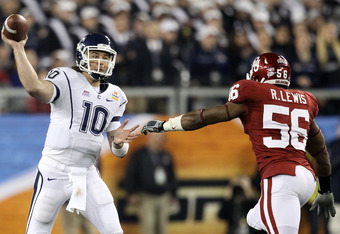 Christian Petersen/Getty Images
The Packers could use some more production opposite of Clay Matthews. Lewis would be a great pickup.  
29. New York Giants: Lamar Miller, RB, Miami
Running back isn't the Giants' biggest need, but Ahmad Bradshaw isn't an elite back and Brandon Jacobs is getting awfully expensive.
Miller would be a cheap and effective addition for New York.
30. San Francisco 49ers: Jarvis Jones, OLB, Georgia
Jarvis Jones was one of the most productive pass-rushers in college football, racking up 13.5 sacks and 70 tackles. He would be a good fit in San Fran.

31. Baltimore Ravens: Dont'a Hightower, ILB, Alabama
The Ravens should be looking for the successor to Ray Lewis' throne in the middle. The hard-hitting Hightower would be the perfect apprentice.

32. New England Patriots: Whitney Mercilus, DE, Illinois
A versatile defensive end/outside linebacker, Mercilus would be a perfect fit in Bill Belichick's defense.