Dallas Cowboys: Full 7-Round NFL Mock Draft Predictions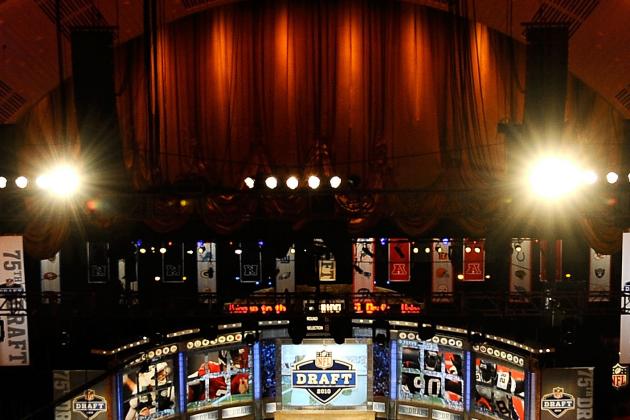 Jeff Zelevansky/Getty Images

As former Dallas Cowboys head coach Bill Parcells used to say, "You are what you are." America's Team was a 6-10 disaster in 2010, turned 8-8 mediocre team in 2011.
So what about 2012?
Let me put it this way—I'm tired of hearing writers, analysts and even fans proclaim each year that the Cowboys have few holes to fill, because they already have so much talent, and blah, blah, blah.
Sure they do.
The Cowboys have seven players which represent cornerstones of a future contender. They are:
QB —Tony Romo
RB—DeMarco Murray
WR—Dez Bryant
OT—Tyron Smith
OLB—DeMarcus Ware
ILB—Sean Lee
DE—Jay Ratliff
As for the rest of the roster, excluding kickers, everybody is either a question mark or simply needs to go.
The 2012 NFL draft is months away, and only a portion of the draft order is in place. But, since Dallas and its fans can finally be honest about the problems, let's look at potential solutions.
With one pick in each of the seven rounds, they each need to count big time.
And forget free agency, because the Cowboys are not going to have a very large war chest. Besides, ask another 8-8 team, the Philadelphia Eagles, how free agency worked out for them.
I am not anticipating other acquisitions in free agency or considering players that could return to school.
Here we go.
Begin Slideshow

»
Aside from protecting its franchise quarterback, threatening the opposing quarterback is the most glaring weakness of the Dallas Cowboys.
You create a great secondary by creating an awesome pass rush. Throwing more corners at this problem would be like trying to stop a freight train with a soda can.
Having said that, I do agree that Terrance Newman is no longer a starting option in Dallas. But, the pass rush has to improve significantly and so does the rush defense.
Whitney Mercilus is a beast of a pass rusher and would immediately force opposing offensive fronts into chaos.
DeMarcus Ware demands a double-team on virtually every play.
Jay Ratliff, moved to end, forces a horrible situation on the offense's right side.
Mercilus, lined up close to Ratliff, creates disaster since opposing offenses can't double all three of these players. If a true nose guard is applied, then it's checkmate in favor of the Cowboys.
Mercilus racked up an NCAA-leading 16 sacks, an NCAA record nine fumbles and—get this—22.5 tackles for a loss.
Is Mercilus available at No. 14 after the NFL scouting combine? I have my doubts, but he's a guy worth trading up for and he would make arguably the biggest difference possible with the first-overall selection.
Seeing as how Anthony Spencer never really took on the role that Mercilus could, it's time for a significant change.
Spencer is possibly gone anyway.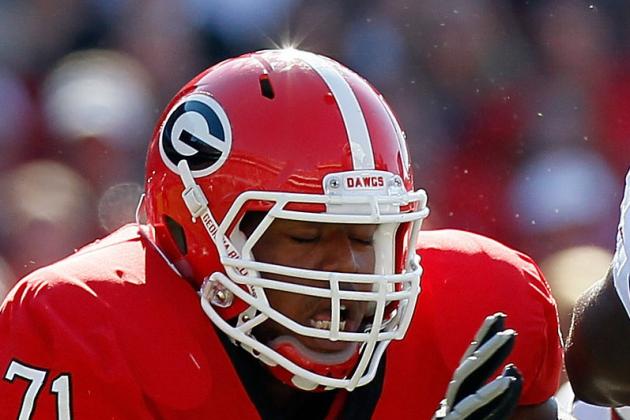 Kevin C. Cox/Getty Images

If you haven't recognized by now that the Dallas offensive line is a complete joke, then you should probably watch more golf.
Tony Romo missed three games in 2008 because an old and aging offensive line could not protect him in Jason Garrett's silly spread offense.
In 2010, Romo missed more than half the season because, again, the offensive line could not protect him.
In 2011, Romo was basically injured twice. If it wasn't a punctured lung and bruised ribs, it was a bruised throwing hand.
Clearly the Cowboys have long-forgotten running the football, as Jerry Jones thinks that tossing the ball around Jerry's World 40-50 times per game will lead to greatness.
This will never happen.
Dallas needs to emphasize the running game more and also has to rebuild the offensive line. This is a project that's only one step toward completion so far, with the drafting of Tyron Smith in the first round of the 2011 NFL Draft.
Cordy Glenn is a massive blocker in the mold of Larry Allen. He's the kind of guy that makes a player like Jason Pierre-Paul think twice about how he approaches the opposing backfield.
Offenses do not win with nothing but good-to-great skill position players. You have to have a line protecting your Pro Bowl quarterback, or he won't be there to use those weapons anyway.
Further, DeMarco Murray is the real deal, and imagine how a pick like this would help his efforts.
Adding a young, powerful guard into the mix is essential if Dallas is going to push for an NFC East title in 2012. The better the running game, the better the passing game. Derrick Dockery and Montrae Holland are never going to make a huge difference in Dallas.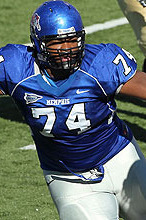 Ever tried to move a guy who's 6'5" and around 350 pounds?
Chances are, you've never even seen one.
If, by chance, you have tried, then you'll probably step in here and make my argument for me.
When a guy this size wants to go somewhere, there are only two questions: How long will it take him to get there, and how many guys will it take to stop him?
I've been saying since 2007 that Jay Ratliff is not a nose guard. No other team in the NFL that utilizes the 3-4 base defense employs a nose guard who weighs less than 320.
A man this size requires two linemen to hold him up, let alone stop him.
Having said that, Jay Ratliff also requires two guys to stop him. From the defensive end position, this is a huge problem for any offensive line.
Let's do the math—Ware requires two, Ratliff requires two and Poe would require two.
There are only five linemen, and the Dallas defensive line would still have another end, and possibly a better outside linebacker—like Whitney Mercilus—attacking as well.
And forget running up the middle with a real nose guard this size.
Case closed.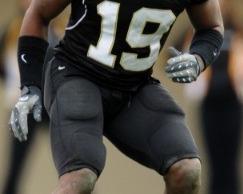 Regardless of what goes down with Terrance Newman, Dallas needs some youth in the secondary.
Corners have always been important. In the league today, you just can't have enough.
The Cowboys really shouldn't go with a cornerback until around this point in the draft, because you're really not going to find anybody special below the top 10 selections anyway.
There are a number of solid, young defensive backs that will be able to capitalize on an improved pass rush if Dallas takes those steps. I doubt they will, but one can only hope.
The wrong assumption is that Victor Cruz's heroics in the final game at New York were solely because the cornerbacks could not cover. Look no further than the play that really put the game away for the Giants. It certainly wasn't Cruz's 74-yard catch-and-run touchdown in the first half.
On the contrary, it was Cruz's 44-yard catch in the fourth quarter that switched field position and gave the Giants more points in what was a seven-point game.
On that play, the coverage wasn't terrible. Cruz made a great catch, even with Orlando Scandrick basically blanketing him down field. Yes, Scandrick could have made that tough deflection, but the point is that he was there.
I argue that Eli Manning should not have been on his feet long enough to make that throw in the first place—and he almost wasn't.
Almost.
Again, the pass rush failed to make a play with literally everything on the line at that point. Remember that this particular play came on third and 7.
Casey Hayward brings a couple of things to the table.
He has no shortage of confidence, and he's physical—meaning he's not afraid to tackle at all. Despite having less than ideal height for a cornerback, he manages to get nice reach into the air and also plays very well in zone coverage. You can find footage of his 50-yard interception return for a touchdown against UConn online.
There are no Deion Sanders-type corners anymore. NFL rules just don't allow corners to play the way he used to, so there's no reason to reach for a franchise cornerback anymore.
You should, however, have a stable of young and confident guys who can stay with their man and be close enough to pick off or deflect poorly thrown balls.
Now is the time for the Cowboys to start positioning themselves to do exactly that.
Hayward could be a late-round steal, while still affording Dallas the opportunity to shore up other more important weaknesses prior.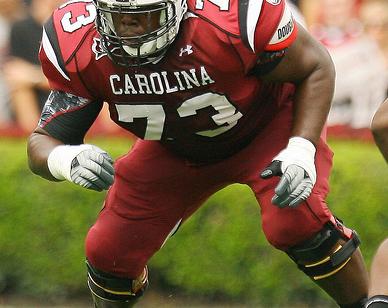 Funny story real quick:
During my last gig as a radio jock, I had a co-worker who was married to a former college football player from Sacramento State—Rolando Flowers—who passed away three months ago.
He told me the story of how it felt to run into former Cowboys great Larry Allen while he was still at Sonoma State.
Rolando, who we called Ro, described the collision that took place on a given stunt, as he called it. As Flowers turned into the backfield, Allen was waiting for him, and the term he used to describe what he felt was, "CRACK!"
Understand that Flowers was playing defensive end, and only missed the 1992 NFL Scouting Combine because of a serious knee injury that basically ended his hopes of playing pro football.
So yes, he was qualified to probably play linebacker in the NFL, at around 6'2" and 240 pounds.
Meet Rokevious Watkins.
Since we've already taken another young, powerful guard in Round 2, the Cowboys can now fill the other really sore spot on the offensive line.
Now look at the photo above. Would you want to run into that?
One word for you: "CRACK!"
Teams freely and liberally blitz the Cowboys for one reason—they can.
And it works.
This must stop.
A guy like Watkins would give Dallas another big, powerful blocker, possibly for years to come. Run blocking would become a tremendous strength, which in itself would create much bigger passing opportunities—and hopefully fewer of those, as well.
Tony Romo's injuries have to stop, and Kyle Kosier has been on the field for all of them.
Kosier's knee injury suffered during the Giants game should finally give the Cowboys the out they've needed for years to part with this expensive and mediocre lineman.
Going from Allen to Kosier was painful, so let's get back to Allen, if you will.
I guess there's something about guys named Tanner that like to go full speed without a helmet.
You might recall running back Phillip Tanner's called-back touchdown against San Diego in the preseason. Well, just west of where that run took place, in Fort Worth, a linebacker named Tanner Brock had the same idea, as the clip above illustrates.
Chances are, after suffering an ankle injury that cost him most of the 2011 regular season, Brock will stay in school another year.
But, if the junior decides to come out, then the Cowboys could possibly capitalize on a major opportunity, much like they did when drafting Sean Lee out of Penn State in the second round of the 2010 NFL draft. Lee had injury concerns as well.
Brock would likely fall several rounds, despite having shown nothing but productivity to this point with the Horned Frogs.
I'll let you research the stats and awards.
Brock knows how to tackle, and Dallas will need to be thinking about a new era at inside linebacker very quickly.
I'd be shocked to see Bradie James back in uniform next year, as his price tag is about to go way up on the open market. He is hardly a difference maker on the Dallas defense, anyway.
James has been a solid contributor for a number of years, but he's just not the kind of presence you really need in this 3-4 defense.
If it isn't Brock, then Dallas must target someone else similar, especially if they keep undersized Jay Ratliff at nose guard.
My fear is that Bruce Carter is being counted on to replace James. This would be a huge mistake, especially without that space eater at nose tackle.
Remember how Zach Thomas fared in this defense in 2008?
Dallas needs a true 3-4 inside linebacker to pair with Lee for the next decade.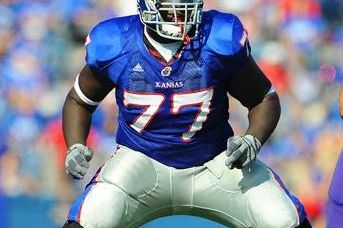 If you are a Dallas offensive lineman not named Tyron Smith, you're on razor-thin ice heading into 2012.
For too long, we've seen the Cowboys try to skimp by with poorly positioned lineman like Andre Gurode, a guard in college who moved to center and never really did learn to snap the ball with professional skill.
Kyle Kosier couldn't cut it at tackle, so he moved inside to guard. He's not very well suited for that position.
Now it's Phil Costa, a second-year player from Maryland who spent most of his time at guard in college. So far, his snaps are not looking like something you want floating around in a future playoff game.
A piece of advice—draft a center who played the position in college.
Jeremiah Hatch would be a nice competitor for Costa until it's determined that he can or cannot do the job. My gut tells me that Costa can be quality depth, but not much more.
Hatch played high school football at Carter High School. You might remember that school as being the opponent of Odessa Permian in the state championship game in the movie Friday Night Lights.
Hatch definitely brings power to the offensive line and also offers enough athleticism to have played tackle his first two years with the Jayhawks.
If Dallas can bring in a young, powerful center, it would all but recreate the offensive line, and this would cure many ills this inconsistent offense has been plagued by for years.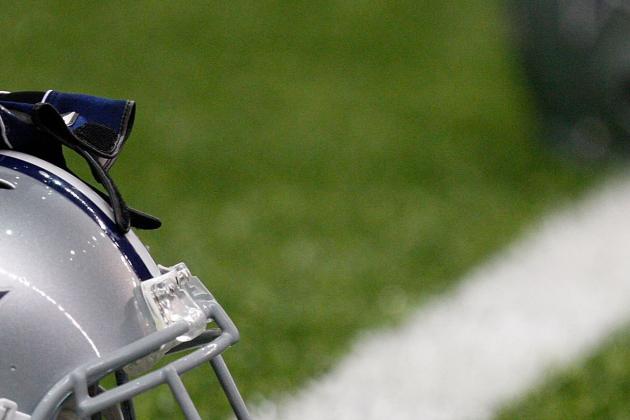 Ronald Martinez/Getty Images

Obviously this mock draft fails to address other needs the Cowboys still show. There will still be needs and holes that perhaps free agency will help fill.
But this mock isn't as much a prediction as it is a proposed solution for Dallas' biggest issues—and we've been witnessing the problems for several years now.
The Cowboys are in rebuilding mode with a modest head start. Those seven players I listed during the intro represent the head start, or better put, the future building blocks for a contender.
You can't fix everything in one offseason. But, with this mock projection, Dallas could get most of the rebuilding out of the way.