UFC 142 Results: Is Chad Mendes Still a Legit Contender?
Use your ← → (arrow) keys to browse more stories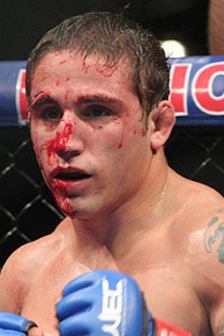 mmaweekly.com
Before UFC 142, many believed that the underdog, Chad Mendes, was the man that possessed the greatest chance to dethrone featherweight dynamo Jose Aldo.
However, the 145-pound champion deftly defended his title in the headliner when he scored an emphatic knockout victory over the unassuming Mendes.
As the HSBC Arena erupted in a roar, with Aldo engulfing himself into the near-riot crowd in Rio de Janiero, Mendes was being attended to inside the cage, having to be reminded of his first career defeat by the gasps yielded by the crowd and surrounding monitors.
The Team Alpha Male stud was able to takedown every opponent he met with inside the cage, that is, until he took on the touted Aldo, who worked with former lightweight contender Gray Maynard leading up to his match with the collegiate wrestler in Mendes.
The training seemed to pay off in spades, as Aldo was able to time each ill-fated shot turned in by Mendes, eventually making him pay with a knee to the face, which was expounded by several ground-and-pound blows.
The first-round finish served as a healthy reminder that Aldo can still finish the fight at any given moment, while displaying Mendes' inefficiencies.
Before Aldo, the Californian never had a problem out-muscling his opponents to the canvas, and once Aldo was able to fend off those first few initial takedown attempts, Mendes' confidence shrunk more and more.
It's a huge learning experience for the 26-year-old, who nearly reached the pinnacle of the sport with just three years of professional mixed martial arts experience under his belt. Mendes is a natural athlete with a bright future, and should he continue to cultivate the game as he has for the next few years, it wouldn't be a surprise to see him back inside the Octagon gunning for the world title.