Detroit Red Wings: Are We Witnessing the Slow Decline of Henrik Zetterberg?
January 15, 2012

Abelimages/Getty Images
It was a thing of pure beauty.
A masterpiece created not with a brush on canvas, but a hockey stick on ice.
True, we've seen it created before, but watching Henrik Zetterberg execute what has simply come to be called "The Forsberg Move" against Phoenix goalie Mike Smith during last Thursday's shootout, one feels as if they're witnessing nothing short of a work of art being made before their eyes.
Clearly, Henrik Zetterberg is still capable of breathtaking on-ice beauty.
However, after 44 games played this season, one wonders if we'll be seeing these things with less and less frequency.
Zetterberg is on pace for what could be his most disappointing season ever.
He may score as few as 14 goals, his fewest ever in the NHL. And, despite being completely healthy, his point totals are tracking far behind those of years in which he was sidelined for long stretches of time.
He has just eight goals this season, which ties him for seventh in team scoring and he's yet to record a single multi-goal game.
Though he is second only to Pavel Datsyuk in assists (24), his meager plus-one rating demonstrates that his once superior two-way play may be listing disappointingly to one side.
As I pointed out in a related piece last week, Zetterberg is getting plenty of ice-time and is putting tons of shots on net. However, he's got relatively little to show for it.These are the facts facing a player and a team that have already entered into what equates to a lifetime contract.
As such, the most pressing question about Zetterberg's lackluster season to date isn't "When will he get out of his slump?" but "What if he doesn't?"
Star players can have bad seasons, and with improved depth, the Wings aren't running short of offense.
What's more, to my mind, star players who have contributed as much to their teams as Zetterberg has to Detroit have earned the right to go through extended periods of under-performance.
I, for one, am not about to give up on Hank, and neither is his team.
Nevertheless, even the best players don't stay that way forever and with Zetterberg's game remaining consistently ordinary this year, wondering if we're watching the decline of a superstar isn't exactly crazy.
Zetterberg is signed through the 2020-21 season and will hit the Wings' cap at over $6 million each and every year leading up to that final season.
He doesn't have a no-trade clause, but the length and cost of his contract effectively provide him the kind of security such clauses are intended to guarantee.
Both he and the Red Wings are committed to each other for the long haul, which at least implies the acceptance of the familiar vow of "for better or worse."Though only a monumental second half will allow Zetterberg to end his season in his customary 70-plus point territory, he still has an opportunity to make everyone forget about what is likely to be a disappointing regular season with an outstanding playoff performance.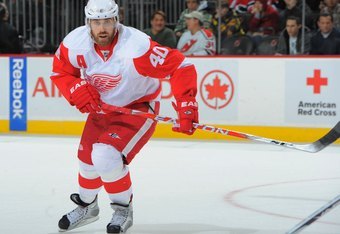 Christopher Pasatieri/Getty Images
That, after all, is what he has delivered for seven seasons and is the primary reason GM Ken Holland committed the time and money he did to Zetterberg in 2009.
If (and I believe, when) Zetterberg once again becomes a dominant playoff force in a few months, any thoughts of his decline will be swiftly forgotten.
However, if he continues to play as he has through the playoffs and into next season, well, we may have to look back to 2011 as what might ave been the beginning of the downslope of a theretofore outstanding career.
Follow Matt on Twitter: http://twitter.com/MAhutter12
Tune in to the Knee Jerks Radio Show on the Sports Geeks Radio Network (http://www.blogtalkradio.com/mkesportsgeeks) Monday January 16th at 7:30pm EST to hear me talk all things Red Wings with Greg Eno and Big Al Beaton!