2012 NFL Mock Draft: Late First-Round Sleepers Who Will Star on Top Teams
January 15, 2012

Patrick McDermott/Getty Images
The NFL tries to achieve parity in its league by allowing the worst teams during the season to draft first and gives the playoff squads the last choices of the round.
This is a great system and certainly helps the terrible franchises get better players and improve over time, but there are a ton of great players this year who are eligible to be drafted.
This means that some players in the latter stages of the first round are certainly going to be stars on good teams.
Let's take a look at some of those guys.
1. Indianapolis Colts (2-14): Andrew Luck, QB, Stanford
Luck is going to be the No. 1 overall pick and deserves it after the body of work he accumulated and skill he showed at Stanford.
2. St. Louis Rams (2-14): Matt Kalil, OT, USC
It would be stupid of the Rams to not trade this pick, but they could do a lot worse than adding a franchise left tackle.
3. Minnesota Vikings (3-13): Morris Claiborne, CB, LSU
Claiborne is one of the best coverage corner prospects in a long time. He should certainly be the first defensive player off the board.
4. Cleveland Browns (4-12): Trent Richardson, RB, Alabama
The Browns had a lot of problems this year and may not even be certain Colt McCoy is their QB, but adding a franchise running back like Richardson could be will help them greatly.
5. Tampa Bay Buccaneers (4-12): Dre Kirkpatrick, CB, Alabama
Kirkpatrick is better in zone coverage than he is in man. He's a physical freak and has the height and speed to match up with any receiver he will facei n the NFL.
6. Washington Redskins (5-11): Robert Griffin III, QB, Baylor
RGIII is going to have to be Washington's choice here. He has the potential to be a franchise QB and the Redskins desperately need one.
7. Jacksonville Jaguars (5-11): Justin Blackmon, WR, Oklahoma State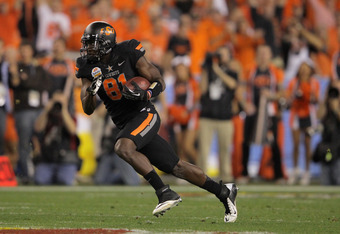 Doug Pensinger/Getty Images
This is the best WR in the draft and used his skill, not size or speed, to dominate in college.
8. Carolina Panthers (6-10)*: Devon Still, DT, Penn State
Still is the best defensive tackle in a weak class. He will help the atrocious Panthers' rush defense immediately.
9. Miami Dolphins (6-10)*: Courtney Upshaw, DE, Alabama
This undersized pass rusher isn't the most athletically gifted player, but he has the heart and determination to dominate.
10. Buffalo Bills (6-10): Riley Reiff, OT, Iowa
This is the second best tackle in the draft and will be a key piece to whoever drafts him offensive line for years to come.
11. Seattle Seahawks (7-9)*: Nick Perry, DE, USC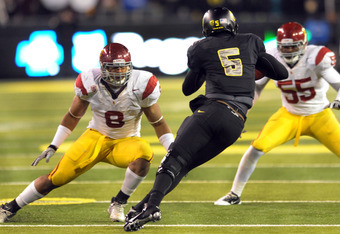 Steve Dykes/Getty Images
Perry is a workout warrior that is going to continue to generate buzz at the combine.
12. Kansas City Chiefs (7-9)*: Jonathan Martin, OT, Stanford
Martin is 6'6", 305-pounds and helped Luck succeed at Stanford. He'll certainly do a fine job protecting his QB's blindside at the next level.
13. Arizona Cardinals (8-8): Melvin Ingram, DE, South Carolina
Everyone needs pass rushers in the modern NFL, which makes even undersized guys like Ingram an early first-round pick.
14. Dallas Cowboys (8-7): Luke Kuechly, LB, Boston College
This guy simply knows the game of football and makes up for his size with his smarts.
15. Philadelphia Eagles (8-8): Michael Floyd, WR, Notre Dame
Floyd is a perfect fit in Philly, as he gives them size and strength to pair with Jeremy Maclin and DeSean Jackson's speed.
16. New York Jets (8-8): Quinton Coples, DE/DT, UNC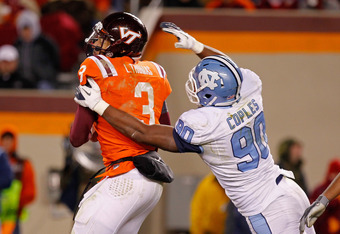 Geoff Burke/Getty Images
Coples was supposed to be the top defender this year, but really fell off when facing double teams and being challenged this year. He's still a first round pick because of his size and potential.
17. Cincinnati Bengals (via OAK 8-8): David DeCastro, OG, Stanford
DeCastro is the best interior lineman in the draft and will help an emerging Bengals' team back to the postseason.
18. San Diego Chargers (8-8): Alfonzo Dennard, CB, Nebraska
San Diego has a lot of other needs, but the value here with Dennard is too good too pass up.
19. Chicago Bears (8-8): Peter Konz, C, Wisconsin
Chicago's line was a mess after Olin Kreutz was let go. They need to take the best center in the draft and start rebuilding it.
20. Tennessee Titans (9-7): Vontaze Burfict, LB, ASU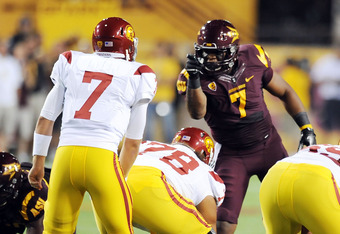 Norm Hall/Getty Images
Burfict has all the tools needed to be a star in the NFL.
He's big, he's strong, he's fast, he's charismatic and he knows how to play the game.
If a coach can get his temper under control, which often gets him in trouble, he will certainly be a stud in this league for years to come.
21. Cincinnati Bengals (9-7): Lamar Miller, RB, Miami
Miller might be the replacement for Cedric Benson in Cincy. He's got more speed and decent size for the position.
22. Cleveland Browns (via ATL 10-6): Alshon Jeffery, WR, South Carolina 
Cleveland needs a franchise receiver and they can address that by adding Jeffery here.
He's got the size and speed to be one of the greats, but hasn't shown consistency during his time at South Carolina.
Hopefully the Browns organization can get him motivated and ready to be a stud.
23. Detroit Lions (10-6): Mike Adams, OT, Ohio State
The Lions give up far too many sacks and need to address that with their pick, even if it means reaching for a tackle prospect like Adams.
24. Pittsburgh Steelers (12-4): Cordy Glenn, OG, Georgia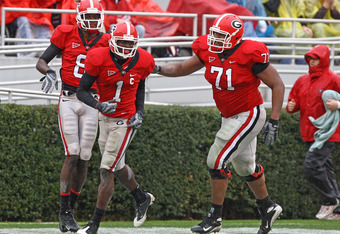 Mike Zarrilli/Getty Images
The Georgia lineman is one of the best guards in the draft and has the size to be a stalwart on the Steelers' line for years to come.
He's 6'5", 330-pounds and will be blocking for whoever is in the backfield in Pittsburgh and helping keep Ben Roethlisberger safe.
As evidenced during the last few weeks of the regular season and against the Broncos in the postseason, Big Ben is getting up their in age and injuries are piling up. He must get hit less if he wants to remain a franchise QB.
Glenn will make sure that happens.
25. Denver Broncos (8-8): Jerel Worthy, DT, Michigan State
Worthy had an up and down ride this season, but finished strong and should be a first rounder.
26. Houston Texans (10-6): Mark Barron, S, Alabama
Houston has a great defense with Wade Phillips calling the shots, but need to add a solid safety to continue improving.
Barron will help and he's got all the tools necessary to succeed in the league.
27. New York Giants (9-7): Zach Brown, OLB, UNC
Brown is a Jason Pierre-Paul type of talent that came into the draft with a small body of actual work on the football field and a ton of athleticism. Can the Giants strike gold twice with a project like Brown?
28. New England Patriots (via NO 13-3): Mohamed Sanu, WR, Rutgers 
Sanu is a talented WR that played in a pro-style offense at Rutgers.
The Patriots need a No. 1 WR with Deion Branch getting older and Wes Welker in the slot.
They aren't a team with too many needs on offense, but Sanu would instantly become one of Tom Brady's favorite targets and add another threat to their potent passing game.
29. Baltimore Ravens (12-4): Dont'a Hightower, LB, Alabama
Another member of Nick Saban's title winning defense is smartly turning pro and going to be a great NFL linebacker. His sideline-to-sideline speed isn't the greatest, but he hits hard and knows the game.
30. San Francisco 49ers (13-3): Kendall Wright, WR, Baylor
RGIII is the toast of the town around Baylor, but Wright helped him by being a consistent and reliable target downfield.
31. New England Patriots (13-3): Janoris Jenkins, CB, North Alabama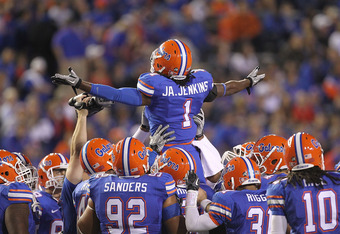 Mike Ehrmann/Getty Images
The Patriots' secondary is suspect and adding a top-10 talent like Jenkins would be great for them at this spot.
Jenkins has had a few off-the-field problems during his collegiate days, but you can not deny his athletic ability.
Coach Bill Belichick isn't afraid of adding guys with character issues and knows his locker room will straighten out even the most cancerous players.
If Jenkins is a stud, it would be another great reclamation project by the organization.
32. Green Bay Packers (15-1): Chris Polk, RB, Washington
This is a good pick for Green Bay, who direly needs to address a weak running game in the draft.
*Order determined by coin flip at NFL Scouting Combine