Tim Tebow: Why Did America Fall in Love with the Broncos Quarterback?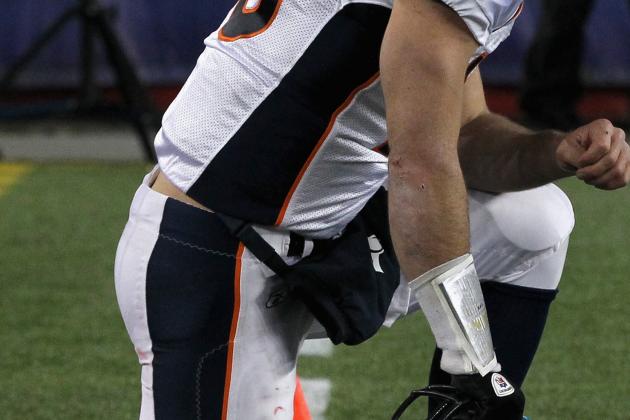 Jim Rogash/Getty Images

I have a big surprise for you. This article is about Tim Tebow.
You know why you're not surprised? Because Tebow has been what everybody has been talking about for most of this NFL season.
However, how did that happen? How did a quarterback who wasn't even the Week 1 starter become such a huge sensation? Why do people care so much about this particular story? Why did I personally get really excited about Tim Tebow?
The answer lies in marketing. I know that most of you here will know me as an MLB Featured Columnist (which makes you wonder why I wanted to write this), but I am also a Business Administration major at the University of Vermont (which answers why I wanted to write this). Marketing is such a fascinating field in cases like this.
In marketing, there is the concept of the marketing mix. Essentially, the marketing mix is the combination of price, product, promotion and place that helps sell a product according to NetMBA. When these factors are balanced in correct proportions, the product will sell.
Therefore, I'd like to apply this model to Tim Tebow. What is so particular about his price, the product he provides on the football field, his promotion and his place that made him a marketing success?
Begin Slideshow

»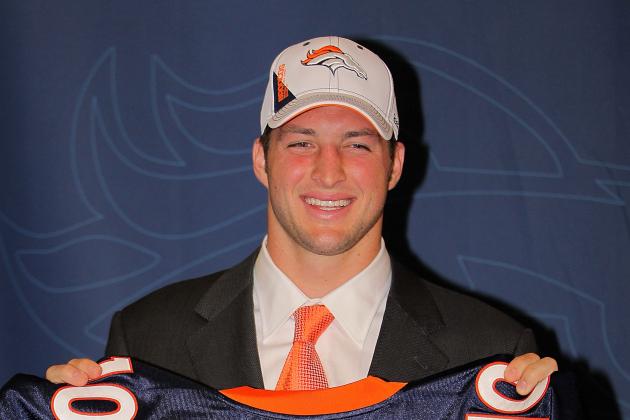 Doug Pensinger/Getty Images

Tim Tebow was drafted 25th overall in 2010 by the Denver Broncos. He was a the second quarterback off the board after Sam Bradford, but the point remains that he was still a relatively low first-round pick. The price was not incredibly high to draft Tebow, and there were the ever-present critics, such as Jimmy Johnson in this Yahoo sports article, who doubted him. That article also mentions the fact that some NFL executives even doubted that he would remain at quarterback. They thought he might end up as a tight end because of his physical size.
All of these factors made him into the underdog. He was acquired at a relatively low price (comparatively in the first round) and was doubted right from the beginning. Whenever someone is given relatively low expectations and then surpasses them, that is going to generate quite a bit of publicity as the underdog or the surprise hero.
If he had been drafted as the undisputed best quarterback prospect in history, he would not have been able to dominate this area of marketing. However, when some people even doubted his ability to remain at quarterback, the fact that he had a successful season only added more to the buzz.
It is pretty easy to see why his price and turned him into the underdog and made him a marketing success.
People love a winner. Sure, some of football is about individual statistics. People care about whether or not their favorite quarterback has thrown for more yards than their hated rival. However, ultimately, all of these individual statistics help create that one statistic that matters the most. Wins and losses are really what help a team make the playoffs or advance towards the Super Bowl.
Tim Tebow helped the Broncos do that. Granted, football is a team sport, and it is inappropriate to attribute each and every comeback to Tebow. However, he was part of the team that made the comeback, and the quarterback is probably the most visible position on the football field.
Actually, the Denver Broncos came from behind six times this season. However, the most dramatic victories came in the first round of the playoffs against the Pittsburgh Steelers in overtime. On the first play of overtime, Tebow connected with wide receiver Demaryius Thomas for an 80-yard touchdown pass to advance in the playoffs.
Wins are great products, and as the most visible Denver Bronco in these efforts, it makes sense that Tim Tebow helped provide a great product to the Denver fans and received plenty of publicity.
Do I even have to talk about this one? Watch the video I posted beside this paragraph (almost 2.5 million views). Look at the fact that according to an ESPN poll, Tim Tebow is the most popular athlete in America. He doesn't even like to talk about himself, but the fact is that his fans do the talking for him.
When the Denver Broncos beat the Pittsburgh Steelers in overtime, 9,420 tweets per second were flying about the heralded quarterback. No other sports moment had never generated this much buzz on Twitter.
The simple fact is that Tim Tebow doesn't like to talk about himself, and his fans love that about him. Therefore, the fans start talking about him, and the rest is history. I admire him for being all about the team, and I wish that was more prevalent in sports in general. However, the promotion piece comes purely from those who support him. They have helped make him into a marketing success.
If Tim Tebow had not been in Denver, the controversy surrounding John Elway's opinion of him would never have erupted. Whether or not the video on the left is too harsh or not is kind of irrelevant. The point is that people cared about the controversy. People wanted to know when he would finally be given the job on a long-term basis.
The controversy brought publicity to Tim Tebow. Again, Tebow did not ask for any of this publicity. The publicity came because of the situation and the media coverage of it.
If he had been anywhere else, John Elway probably wouldn't have made these controversial remarks. Therefore, he also appealed to people by the place he was in