2012 NFL Draft: Michael Floyd and More Players Who Will Be First-Round Steals
January 15, 2012

Al Messerschmidt/Getty Images
It is not often that we equate first-round draft picks as steals, but it does happen from time to time. This year's class features a number of players that have the potential to far exceed their expectations, even as one of the first 32 picks. Someone like Michael Floyd immediately comes to mind. 
Floyd was a star at Notre Dame, is bigger and stronger than Justin Blackmon, who is going to be the top receiver taken, and has better-than-average speed for a 6'3", 229-pound player. He is not going to be strictly a possession receiver in the NFL. 
When you see mock drafts with Floyd's name in them, he usually shows up around 15-20. Our own Matt Miller has him going No. 15 to Philadelphia, after Blackmon and Alshon Jeffery. 
That would be a steal for the Eagles, who are already loaded with playmakers at the skill positions. He would provide a nice contrast to their finesse, speedy players at receiver as well. 
Here are a few other players to pay attention to in the first round. 
Lamar Miller, Running Back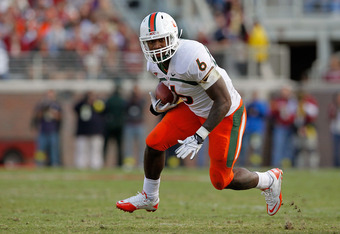 Mike Ehrmann/Getty Images
It is hard to look at a running back and say that he is a steal as a first-round selection, because you can always find productive runners anywhere in the draft. 
That said, Miller is an outstanding all-around back that can help an offense right away. He is not Trent Richardson, but he is just a rung below him as far as tangibles go. 
Someone should be willing to take a chance on Miller in the first round because he can make a difference, especially for a team that made the postseason or was close to getting in. He has tremendous speed, great hands and can contribute on special teams as well. 
Kendall Wright, Wide Receiver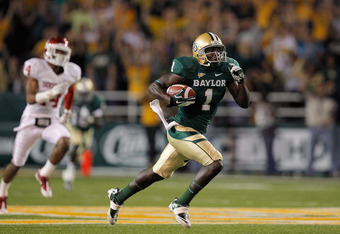 Sarah Glenn/Getty Images
Another receiver, Wright has the potential to be another DeSean Jackson minus the attitude concerns. He is small, listed at 5'10", but he has great speed and the ability to stretch the field. 
The biggest concern with Wright, even more than his size, are his hands. The numbers at Baylor would beg to differ with that assessment—108 catches, 1,663 yards and 14 touchdowns—but he does have a tendency to let catchable balls hit the turf. 
His explosiveness and résumé in college provide a lot of hope for what is to come in the future. He will be the fourth receiver taken, but he could easily end up being the best of the bunch.