Oregon Ducks Darron Thomas' High School Coach Talks About What Really Happened
January 15, 2012

Harry How/Getty Images
On the day after the 2012 Rose Bowl, my husband and I were on the way to LAX for our return flight to Oregon.  We stopped at a gas station to refuel our rental car.  We were flying a Ducks flag and proudly wearing our Ducks gear.
A car pulled in right behind us and the couple in it were also wearing green and yellow.  As celebrating Ducks fans always do on the road, I jumped out to talk to them while my husband filled our tank.
Turns out, the guy was Bob Jones, Darron Thomas' high school coach at Aldine High School in Houston, Texas.  He showed me Darron's Pac-12 championship ring he'd been wearing since Darron gave it to him (it was really cool). 
We chatted long after our cars were filled up, and I specifically remember two things he said that day.  One came when I told him that I was a huge fan of Darron, but there were some naysayers in the state of Oregon.  He replied that he had told Darron when he coached him that the two of them would get all the blame and none of the credit.  I don't know if that was true at Aldine High School, but it was sure as heck true at Oregon.  
The second thing I remember from our conversation was when I asked Mr. Jones if Darron might leave Oregon to enter the NFL draft, and he said "Nope, he's going back for his senior year."
This morning, I looked up the business card Bob Jones had given me on January 3rd and decided it was a good day to give him a call.  In a lengthy conversation, here's what Darron Thomas' high school coach, close friend and advisor had to say about DT's decision to enter the 2012 NFL draft.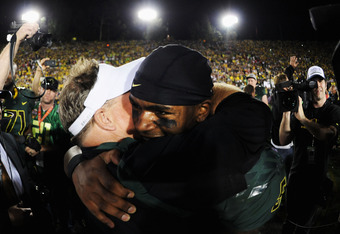 Harry How/Getty Images
My first question was: What changed from the day after the Rose Bowl to yesterday in Darron's thinking?  He answered, "If you look at the group of quarterbacks coming back vs. entering the draft, that changed from the earlier perception.  Guys everyone expected to go out, like Matt Barkley and Landry Jones, decided to go back to school.  Darron's advisors, including Oregon coaches, were surprised at some of the QBs who didn't come out."
Jones continued, "Darron is a cerebral kid.  He always thinks things through.  It became a question of which is a better year for him to go.  He looked at the potential drop-off after Andrew Luck and Robert Griffin III, and decided that this is his time."
But, I countered, what about Kellen Moore, Russell Wilson, Nick Foles?  Jones replied, "Wilson is 5'11", Darron is 6'3", for example, and there are positive comparisons to be made between all the other QBs coming out on other attributes like mobility, leadership qualities, win/loss record, and so on."
Next I asked him if the fear of NCAA sanctions was a factor in his decision, which is getting a lot of buzz around Oregon today.  "Absolutely not!" he answered.  "I was in conversations with Chip Kelly and Darron and it never was mentioned.  As far as I know, there is nothing new to report.  DT and I aren't big on conspiracy theories.  We decided a long time ago that there was only one shooter in Dallas and it was Oswald." 
Was Darron worried about being pressured by Bryan Bennett and possibly losing his starting job this year?  "No way," Jones responded.  "Chip never told Darron he would lose his job.  It was understood by all involved that Darron would continue to be the starter and would be the face of the program this year—would be The Man.  DT loves Oregon and the coaches and fans; he will always be a Duck."    
Did Cliff Harris' decision to turn pro have an impact on Darron's decision?  "No," Jones answered firmly.  "Darron has never been a follower.  His decision came down to a simple 'what year is the best year for me to come out'?"
Did he get a better-than-expected NFL scouting report?  "About as expected--nothing better, nothing worse," Jones said.  "Darron has a good resume: 23-3 as a starter, good size, good leadership qualities."
What can you tell us about Darron's relationship with Miami-based NFL super-agent Drew Rosenhaus, his new agent?  CBS News called Rosenhaus the "real-life Jerry Maguire".  "Drew is the #1 NFL agent and he came to Darron.  He feels that DT is a bit undervalued and will outperform expectations.  Darron is the only quarterback that Drew will represent in this draft.  He's a guy you want on your team and I feel good about the relationship."
So, what happens next?  "Darron will be in Los Angeles tomorrow (Monday)," Jones said.  "He's going to start working with Ken Anderson." 
Anderson is a former NFL great quarterback for the Cincinnati Bengals, who had a 15-year pro career and was known as one of the best passers in the game.  Most recently, he worked with Terrell Pryor, the Ohio State QB to get him ready for the draft.  Pryor credits Anderson with helping him with his mechanics, specifically a focus on footwork and hip motion. 
"Darron is also putting together a team of nutritionists, interview experts and other pieces to help him give it his best shot," Jones continued.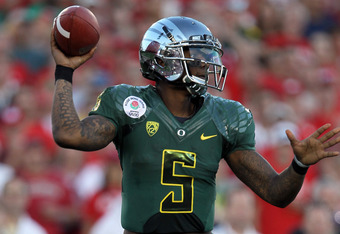 Stephen Dunn/Getty Images
I asked Jones what his feeling is on what will happen to Darron, both in the short-term and the long-term.  "I think he will go higher than people expect," said Jones.  "There is upside for Darron to improve his position and I know he will work hard to get where he wants to be.  I think he might land with a team with an experienced QB, learn from him, and then take over and have a long career."
Anything else we should know?  "DT's mom (Latina Thomas) is hurt by the negative comments about her son on Facebook, Twitter, and other places.  We understand that much of it is from fans who are now worried about Oregon's chances this year, but it's still hurtful."
Maybe we should all just shut up and wish Darron well. 
Please feel welcome to contact me at kbryant@easystreet.net, or find me on Twitter at http://twitter.com/#!/KayJenningsPDX.