UFC 142 Results: Jose Aldo vs. Frankie Edgar Fantasy Breakdown
January 15, 2012

After events like UFC 142, fans love to do two things—talk about how the fights went and who the winners should face.
Some are more realistic then others, but a fight between lightweight champion Frankie Edgar and featherweight champion Jose Aldo really could happen. Edgar has always been undersized at lightweight, but he has still managed to beat larger men to win his title.
A fight between the two would be even as far as size goes.
Skill sets would be a different story.
Aldo is known for his vicious leg kicks and Muay Thai striking. In his fight on Saturday, he showed wrestling takedown defense that ranks up there with some of the best in the sport.
Edgar is known for his boxing, wrestling and his ability to move in and out before his opponent can get to him. More than anything though, he is known for his iron chin.
It would be fascinating to see Aldo try to break Edgar's chin with his knees as he has with so many other opponents. Considering the larger Gray Maynard wasn't able to finish Edgar either time after hurting him badly in the first round of their last two fights, it might be impossible.
Edgar's speed would be a step below Aldo's, but his tenacity and ability to endure pain would help him handle the damage to his legs that would result from the leg kicks he would be peppered with. How long he could stop them from hampering his speed is debatable, but Edgar's desire to win would push him further then most of Aldo's former opponents.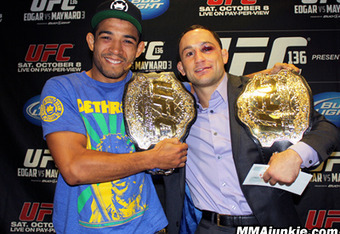 What weight the fight would happen at is another part of the breakdown. Edgar doesn't really have to cut weight to make his fights, which leaves him with extra energy that his opponents don't have. If he and Aldo were to fight for the lightweight title, then it would mean a fast-paced fight with both men having extra energy in the tanks.
A fight at featherweight could help Edgar have a power advantage, but it would mean both men would sacrifice cardio. It could also lead to one of the fighters getting taken out before the end, but with both fighters' track records that isn't likely.
The fight is more fantasy than fact at this point, with Edgar facing Benson Henderson in Japan at UFC 144 in a fight that should be just as entertaining as this one would be. If Edgar can get past Henderson, this fight might happen.
A champion versus champion fight could make the UFC a lot of money while also showing off the smaller weight fighters.
Until then, fans just have to dream and wait.