Virginia vs. Georgia Tech: 5 Keys for the Cavaliers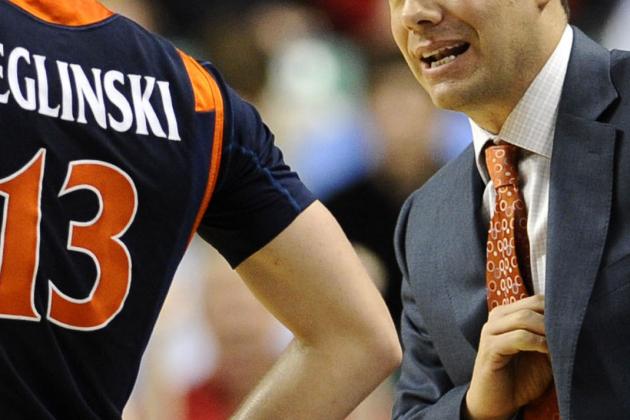 Jeff Zelevansky/Getty Images

Virginia has had a long time to think about the loss to Duke.
The Cavaliers have fought to an impressive 14-2 record, but they know their season depends on winning as many games as possible in a sub-par ACC.
Georgia Tech appeared to be on the verge of collapse, dropping four straight games before turning things around in conference play. Yet, despite a nice win against North Carolina State, Maryland exposed a few weaknesses in College Park.
The Yellow Jackets are playing without a true home as their new arena is being built, but they will host Virginia in a critical contest for both teams.
The Cavaliers know better than to take Georgia Tech lightly, even if they have won five of the last six contests in the series (including three straight on the road).
The Yellow Jackets pose a threat to Virginia as they try to get back on track after a one-week wait.
Here are the five keys to a Virginia victory to get them back to the top tier of the ACC standings.
Begin Slideshow

»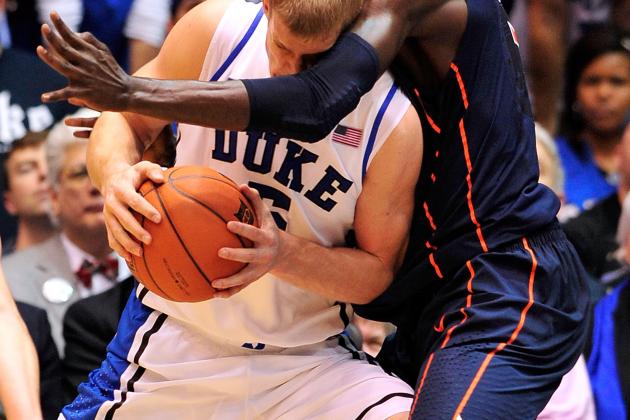 Grant Halverson/Getty Images

Georgia Tech came into the Maryland game rebounding 35 percent of their missed shots.
Virginia came into the Duke game as one of the best offensive rebounding teams in the country.
Both know that the rebounding margin will help indicate the winner of this contest.
Virginia's rebounding dominance has had more to do with their opponents than some might have wanted to believe. Against Duke, the Cavaliers out-rebounded them by five and had eight more offensive boards—but had a few critical missed opportunities in the final minutes.
Virginia's poor shooting at times helps the rebounding numbers because it gives 7'0'' Assane Sene and forward Mike Scott an opportunity for point blank tips.
While they stumbled a bit more than normal on the road, Virginia knows they have shown great grittiness in making big plays on the glass in games.
Georgia Tech gave up 11 offensive rebounds against Maryland and looked undisciplined with 10 more fouls than the Terrapins.
The Yellow Jackets cannot give Virginia extra opportunities, or the Cavaliers will burn more clock and make them work. Georgia Tech is not an overly patient team and they want to go out on fast breaks.
Rebounding will control the tempo, and the tempo could decide the winner.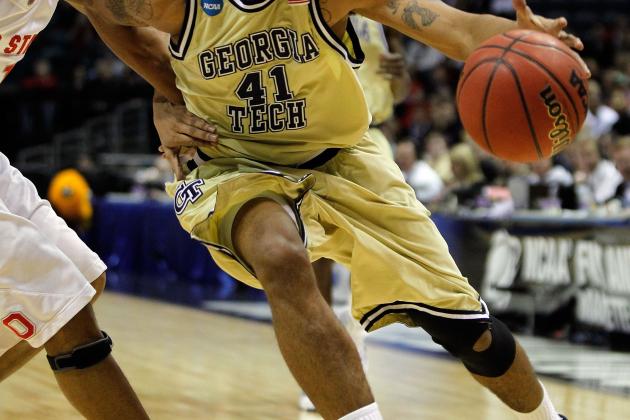 Jonathan Daniel/Getty Images

Two of the best players in the ACC will do battle.
Mike Scott is the fourth leading scorer in the conference, Glen Rice Jr. is 10th.
Scott and Rice are also in the Top 10 in rebounding, as well as Top Four in field-goal percentage.
These two know how to be anchors for their teams. Scott has been the leading scorer in all but three games for Virginia this season and has averaged 23 points in his two ACC contests against Miami and Duke.
Not to be outdone, Rice has led his team in scoring six times but only scored six points against Maryland this past weekend.
It would be too simplistic to argue that the winner of this showdown will win the game. After all, there are eight other guys on the court and their impact will be equally meaningful.
However, both have proven that they can take over games, and if one of them does that on Thursday, his team will be on the road to victory.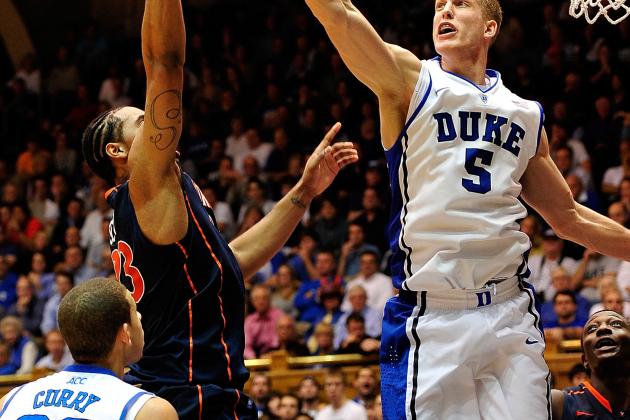 Grant Halverson/Getty Images

Our third point ties into our second point.
Virginia cannot be one-dimensional on offense and expect to win in the ACC.
The pressure on forward Mike Scott is intense. If he plays anything less than spectacular, Virginia is in danger of losing every game the rest of the season.

That is how a team like the Cavaliers can beat Oregon, LSU and Michigan but also barely survive a game against a Towson team that entered the game with a losing streak of over 30 games.
Even with a great effort by Scott, Virginia needs shooting guard Sammy Zeglinski and guard/forward Joe Harris to lift the load off the big man's shoulders.
Zeglinski led the team in scoring in Virginia's final two non-conference games, but has gone ice cold since then. Against Duke, the usual sharpshooting was replaced by an 0-for-8 performance that most Virginia fans are still griping about.
These two have the offensive ability to give Virginia a chance to keep up with some of the better shooting teams in the league—especially considering the limitations of some of the other players on the roster.
If Virginia cannot find balance and make outside shots, they make Georgia Tech's defensive game plan much easier. The Yellow Jackets have more options on offense and can make things difficult for the Cavaliers if their shooting goes cold again.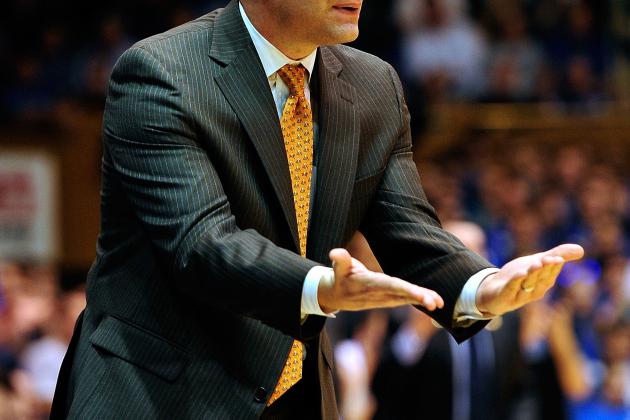 Grant Halverson/Getty Images

Playing on the road is tough, particularly in the ACC.
If you do not believe me, look at Clemson losing at Boston College or North Carolina's dismantling by Florida State in Tallahassee.
The old saying has been, "win your home games and steal a few on the road."
No offense to the Yellow Jackets, but this is one of those games Virginia has to steal to be an NCAA tournament team. Georgia Tech is one of only two ACC teams with a losing record, and have not fared well against Virginia recently in the series.
Still, Georgia Tech is not going to just hand this game to the Cavaliers. They are upset with how poorly they performed against Maryland and will want to get their season back on track against a Top 25 opponent.
The Yellow Jackets will threaten Virginia, they will make runs and the crowd will get excited. Virginia must stay smart and weather the storms.
Give the Cavaliers credit—against Duke they were able to calm the crowd after the Blue Devils looked like they were pulling away about halfway through the second half.
The lead swelled to nine, but Virginia narrowed it back down to three in the closing seconds. Even great Virginia teams in the past have watched those small deficits turn into big ones at Cameron Indoor.
While Virginia has constantly shown determination this season in battling back, they have not always been sharp against certain opponents. In fact, the Cavaliers have often played to the level of their competition—they escaped a Seattle team with two wins on the season at the time.
Virginia cannot afford to take Georgia Tech lightly simply because they played Duke closely. They need to put the hammer down on the Ramblin' Wreck and try to build a comfortable lead.
If they come out flat, the Cavaliers will have a difficult time turning it around.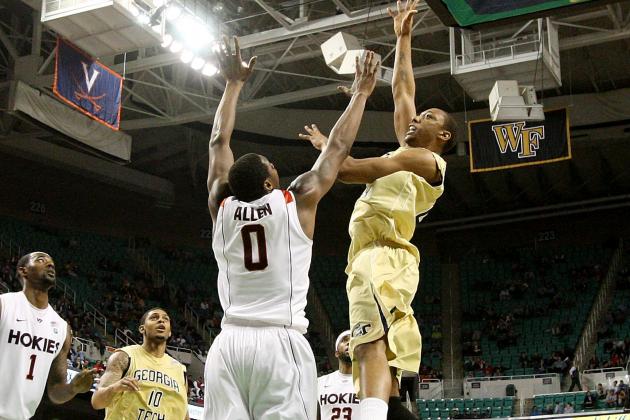 Streeter Lecka/Getty Images

Georgia Tech is not a team that likes to play slow, methodical, half-court offense.
They have athletes and they want to give them space to take shots.
Virginia has one of the best defenses in the country, allowing only a league-leading 51.1 points per game. Their pack-line defense frustrates ball-handlers and allows fewer than seven assists per game.
Georgia Tech did not do a good job dealing with Maryland's defense and has a taller task this time around.
However, if Virginia turns the ball over, that gives the Yellow Jackets an opportunity to score in transition.
Those fast break points have been an Achilles heel for the Cavaliers. It was a big factor in the Seattle game where they scored the most points on the Cavaliers all season.
It also contributed to the run that gave Duke a comfortable margin last Thursday.
Those easy points also lead to confidence and allow opponents to start making shots they were missing before because they were not in rhythm. It also makes Virginia's offense sometimes go too fast with point guard Jontel Evans looking for revenge.
Virginia is not a fast team, but they are an effective team. They need to be careful not to waste possessions and give opponents the chance to play against a defense that is not set.
Virginia's experience makes them very good at communicating and anticipating, but that advantage is blown every time the Cavaliers turn the ball over.